NYCC Reveals A Very Special 'OUAT' Episode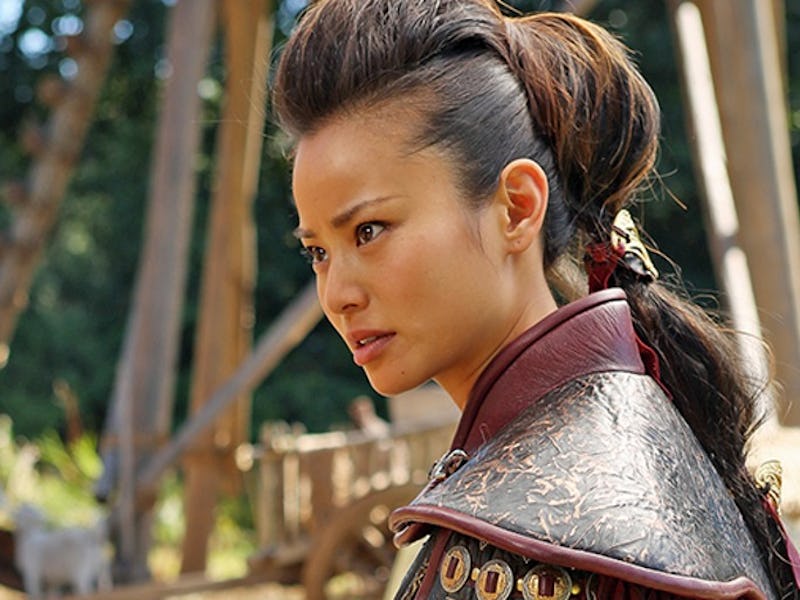 New York Comic-Con is an exciting place to be in general, but it's even more exciting for a fan of Once Upon A Time. During a panel for the show featuring Adam Horowitz, Edward Kitsis, and Jennifer Morrison, the creators dropped some bombshells about upcoming episodes. Such as the fact that Mulan, Ruby, and Merida will have a special episode arc in November in which the three heroines go on an adventure together. We didn't get any more detail than that, but just the fact that two returning favorites will be joining forces with the most independent princess in Disney canon (Elsa being, you know, an independent Queen) is just about the most amazing thing ever.
Mulan and Ruby are two beloved characters from Once Upon A Time canon, but their appearances on the show have been... shall we say spotty? Ruby was slowly phased out of the show despite the fact that, you know, Snow White has totally needed her best friend around. Meanwhile, Mulan disappeared after trying and failing to confess to Aurora that she was in love with her. However, both women have been said to be returning to the show, and now we know that they're coming back for a storyline even more amazing than we previously thought. Because they'll be teaming up with Merida to do... well, anything, really, and I would watch it.
I'm already hoping that this episode arc will be the beginning of something long-term for the three women, because I miss seeing Ruby and Mulan on the show all the time, and Brave was one of my favorite movies. Once Upon A Time is pretty much known for being all about the girl power, and women supporting women, and women teaming up with each other to save the day, but there's a difference between that and the Charlie's Angels-esque adventure I'm imagining is coming our way. Or should I say Mulan's Angels?
Images: Jack Rowand/ABC