Man Without A Penis Has A Super Active Sex Life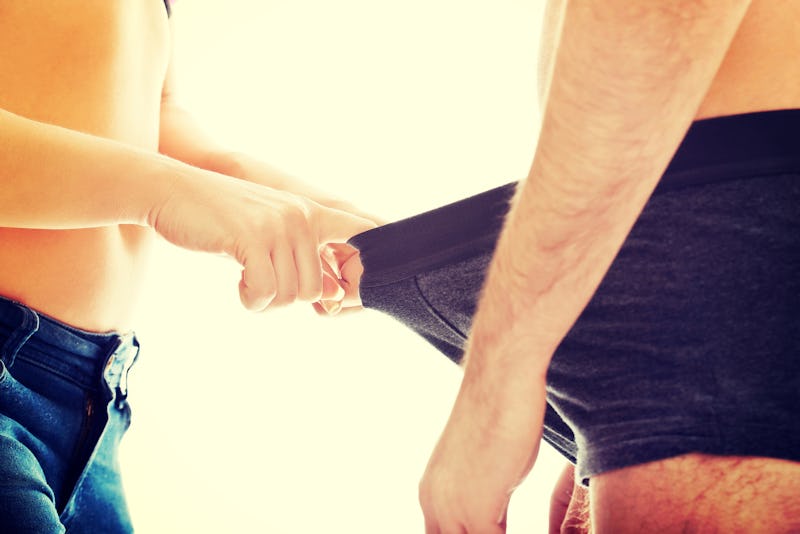 You'd notice if the man you were naked with didn't have a penis, right? Think again, because this man without a penis has a super active sex life, allegedly without many of his female partners even noticing. Andrew Wardle, a 40-year-old from Manchester, England, was born with his bladder on the outside. Though doctors were able to correct the condition surgically, it meant that he never grew a penis in the womb. His story, as shared in the TLC documentary Man with No Penis, is a strange one.
Wardle claims to have gotten sexual with over 100 women, most of whom never noticed that he has no penis. Apparently, this was achieved by him distracting them, orally or otherwise, until they were finished (and didn't much care to examine his genital region as a follow-up). Whether you consider that "counting" as having sex with them is neither here nor there, and even if Wardle is overestimating his number of sex partners by a factor of 10, that's a pretty interesting feat. While many of us have encountered a man who's slightly below average in penis size, it's obviously much more surprising to meet a man who's altogether bereft.
I'm of two minds here. On the one hand, this guy obviously goes out of his way to please his partners, which is more than you can say about many dudes, so good on him. On the other hand, there's some serious deceit going on during these encounters. You're not obligated to bare your soul and expose your deepest darkest secrets to everyone you happen to meet, but if he slept with some of these women more than a few times, it was probably in order to explain to them the, uh, situation. Using drugs as an excuse for not being able to perform, while understandable, is a bit of a red flag. At least Wardle has come clean with his current long-term girlfriend, and they've talked it through by now (though maybe this would have gone better not on television).
Far be it from me to judge someone who found himself dealing with such a personal, unusual problem, of course! And psychology tells us that humans have an extraordinary ability to adapt to their circumstances, even seemingly dire ones like losing limbs. But I hope that the wonders of medical technology can give Wardle the opportunity for a new kind of sex life than he has experienced before. He's currently undergoing a long and painful series of procedures to construct a (hopefully functioning) penis out of tissue from his arm. Maybe TLC will do a follow-up documentary called Man with a Penis to update us.
Image: Piotr Marcinski/Fotolia, Giphy