How To Pull Off Those Tall Boots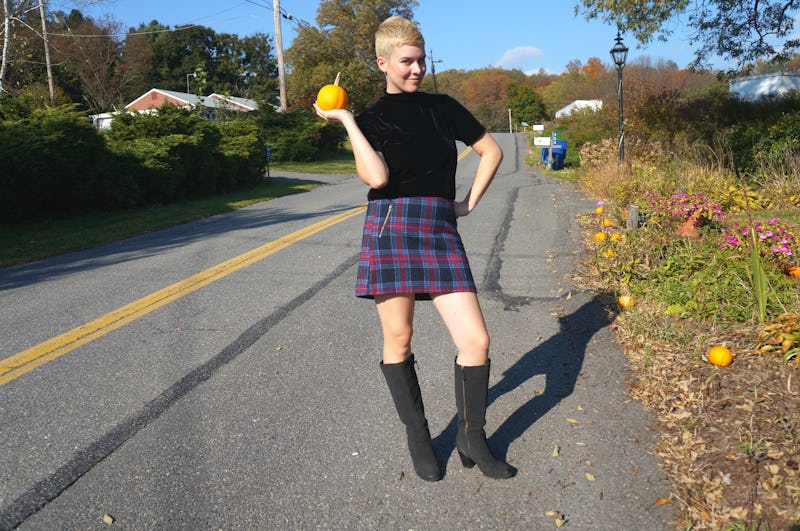 We're deep in the midst of fall right now, and that means it's time to talk about boots. If you're thinking about updating your boot collection this fall, I strongly suggest getting your hands on a pair of tall black boots if at all possible. Ankle boots are great and all, but sometimes you just need a tall boot. Ankle boots often look more casual, so they aren't the best for every occasion. I love a good tall, black boot because it helps you really show off your killer gams and generally leads to a more polished outfit. Plus your legs will be a bit warmer!
There's a tall boot variety out there for everyone, whether it's knee-high and flat or thigh-high with killer heels. Of course you can choose a color other than black, such as brown or oxblood, but black is a good choice just because it goes with everything. Once you find a pair (or two) that you feel comfortable in, it's time to consider how you're going to wear them. I put together three different fall outfit ideas using the three pairs of tall boots that I own to help give you some inspiration.
How To Wear Flat Knee-High Boots
I like every pair of boots that I've tried from däv and these Lexington Boots are no exception. They're waterproof and slip-proof with a warm fleece lining, plus they fold up for travel. (Tip: definitely go up one size, as with all of their boots.)
As for what to wear with them, black leggings or skinny jeans look best with this kind of boot because it helps to create a clean, straight line all the way up your legs. If you're looking for an office-appropriate outfit, you probably don't want to wear jeans (unless your workplace is casual). In that case, choose black leggings that are made out of a very thick, opaque material or, better yet, ponte pants (which are thick leggings pretending to be pants). I also like these Betabrand pants, which are a cross between leggings, yoga pants, and dress pants. They're tailored enough to wear to work, stretchy enough to be comfy, and snug enough to fit into knee-high boots.
As for the other half of your outfit, choose something a little looser on top for balance, like a flowy shirt or bulky sweater. (Your sweater doesn't have to have a sassy message but it certainly doesn't hurt.) Add a cool moto jacket and you're all set for strutting around town in your boots like you own the place.
Get The Look
Zara jacket; Express leggings; Forever 21 sweater; däv Lexington Boot; H&M Pants; Forever 21 Jacket
How To Wear High Heeled Knee-High Boots
My favorite thing to pair with these knee-high boots (which I got from Target last fall) is a mini skirt. It shows off just the right amount of leg, and if it gets chilly I add a pair of black tights.
Like any good '90s child who is obsessed with Clueless, I chose a plaid mini skirt. I also chose a velvet turtleneck top, although I stopped short of adding brown lipstick and a choker (it's not a Halloween costume, after all).
Go with a simple, muted color palette and keep accessories simple to keep the outfit looking modern and grown-up. The mini pumpkin is optional. And if you need a jacket, I strongly suggest throwing on a classic trench coat to continue with the preppy vibe.
Get The Look
Theory Turtleneck; Asos skirt; Marc Fisher boots; Torrid Boots; Modcloth Skirt; Halogen Sleeveless Tee
How To Wear Sexy Thigh-High Boots
I feel like thigh-high boots are the sort of boots that stump women the most. There's a few keys to making them work. First off, choose a pair that's suede instead of a shiny leather (or pleather) to avoid the Pretty Woman look. I'm all for leather, but it can be more intimidating for first time knee high wearers.
Then all you have to do is pair it with the right kind of dress — and there are actually so many types of dresses that look great with this sort of boot. The main trick is to avoid anything with cutouts or a lot of cleavage; this look is all about the leg.
I like how my Zara dress flares out at the bottom so that it's not a bodycon dress, and the long sleeves and high neckline combine to make me look appropriately covered-up for work despite the little flash of thigh. This one is sold out but Zara has lots of other dresses in a similar shape (I chose one below).
Black suede thigh-high boots also look great with a cozy turtleneck dress or a crisp shirt dress. If you really don't want to show off your upper thighs, say while you're at work, then instead opt for a flowy midi dress for a groovy '70s vibe, such as this knee-length printed dress.
Get The Look
Zara dress; Ivanka Trump Saffri Boot; ASOS Curve Dress
Personally, I usually wear the flat boots on weekends, the heeled knee-high boots with tights to work, and reserve the thigh-high boots for dates. That said, you can make any tall boot work for pretty much any occasion if you style it well, so experiment and have fun with it this fall!
Images: Josh Kirby