7 Ways I Wore My Summer Denim In The Fall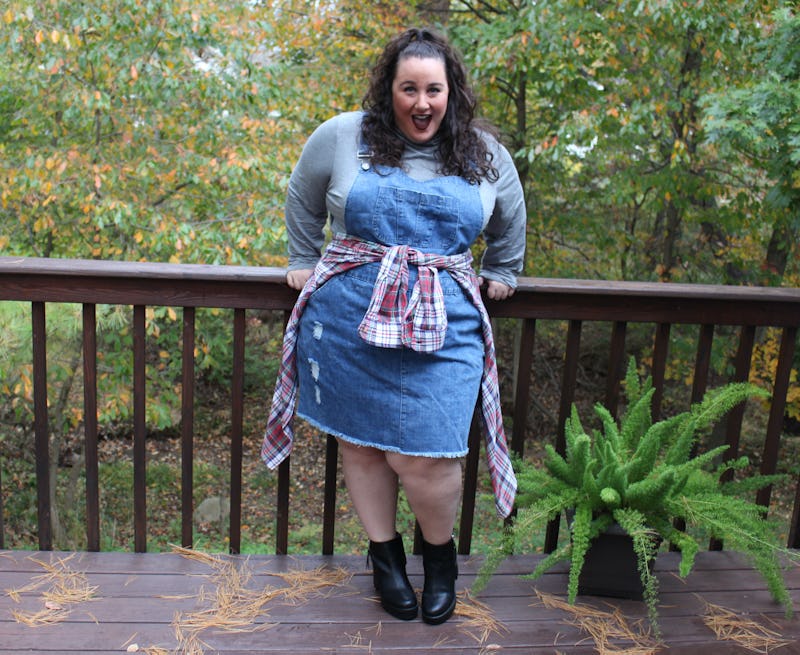 When you hear "fall fashion," you might just conjure up an image complete with plaid scarfs, warm capes, and a pumpkin spice latte in your hand. But denim for fall is really not that different from its spring or summertime counterparts. You can incorporate denim pieces of all kinds seamlessly into your autumnal wardrobe and do it all without wearing jeans.
After living in Atlanta for a year where there are basically two seasons — super hot and kind of cold — it has been quite the adjustment to go back to the Midwest's four distinct seasons. I have started to realize that I cannot wear sandals until November and that I actually have to invest in more than one sweater. As I took advantage of end-of-season summer sales, however, I realized I wasn't ready to let go of all of my summer denim favorites.
In the name of forgetting the so-called fashion rules forever, I found that I could make these pieces transition to fall without must hassle (and do it all without taking the easy route, which would have just meant jeans). If a plus size denim bikini existed, you bet I would've tried to make that work too. So before you pack away all of your summer denim, take a look at some ways to style your warm weather essentials throughout the fall.
1. Light Wash Denim Jacket
The denim jacket itself is often considered a fall-ish item, but since mine is a very light wash with an open weaving pattern on the sleeves (and on the back in the shape of a heart, which is adorable), it lends itself more towards summer.
I decided to pair this vintage white wash denim jacket from Future No Future Vintage with a sleeveless jumpsuit from H&M, but you could definitely do a three-quarter sleeve jumpsuit instead and still pair it with a jacket. While I would normally wear a jacket like this with shorts or a skirt and crop top, combining it with the jumpsuit creates a fall-ready silhouette.
2. Acid Wash Denim Skirt
The Bettie bodysuit from Proud Mary Fashion was probably my favorite part of summer and I often paired it with an acid wash skater skirt. I wanted to find a way to keep wearing it as the seasons changed, so I grabbed a gray cape from my own collection Ready to Stare and combined it with black opaque tights from We Love Colors.
Even though I can comfortably fit into a 3X in most bottoms, I know that 3X tights and my thighs do not get along. Thanks to the suggestions from a few fellow plus size friends, I luckily found We Love Colors, which offers tights up to a 4X.
3. Denim Pinafore Dress
When I got this denim pinafore dress from an end of season sale at City Chic, I wasn't so sure how I would style it after summer. But once I thrifted this super soft gray turtleneck, I grabbed a flannel and ended up looking very Topanga Lawrence from Boy Meets World.
I am always down to channel my favorite Millennial middle school icons, and ASOS has a lot of great denim looks still in stock including a very similar midi pinafore dress.
4. Chambray Romper
Admittedly, this is a lot of look. But follow me on this one: During the summer, I wore this chambray romper by itself with some sandals. It was an easy go-to ensemble since it didn't require much additional styling. For fall, I went full-on statement-maker by adding a pair of tie-dye tights from We Love Colors and a shag fur sweater.
Although the local store I purchased the sweater from doesn't have an online shop, there are so many similar coats and sweaters trending right now, like this this shaggy fur jacket from Simply Be.
5. Acid Wash Denim Bag
When I found this acid wash denim bag at a flea market for $3, I knew it had to be mine. To add more fall flair, I tied a paisley scarf onto it. While it's not a huge change, it transforms the bag from casual summer to chic fall. I finished the look with a tan floppy hat from Rainbow and a turtleneck knot dress from ASOS that I found via plus size styling service Dia&Co.
6. Denim Vest
The change in weather is definitely no reason for me to stop showing some skin. Personally, I'm going to find a way to do it even when it's 50 degrees out. This look incorporated a basic denim zip-up vest that I could probably wear in the summer just with the black crop top. Instead, I added a long sleeve mesh top from Sugarcoma Clothing over the other crop but under the vest. I finished it all with a skintight skirt from Rue 107.
7. Chambray Shorts
These chambray shorts really scream summer to me, so I had to really think about how I could wear them for fall. I decided to pair 'em with a one-of-a-kind plaid crop top from Chubby Cartwheels, leggings, a sweater cape, chunky boots, and a pumpkin just for the effect. Although my cape is something I thrifted a few years ago and is pretty much a glorified blanket with a tag in it, Re/Dress has some amazing plus size cape options available now.
So while you may be trading popsicles for pumpkins, there's no need to fully swap out your summer clothing just yet.
Images: Alysse Dalessandro