Old School Fashion Icons Who Still Have Influence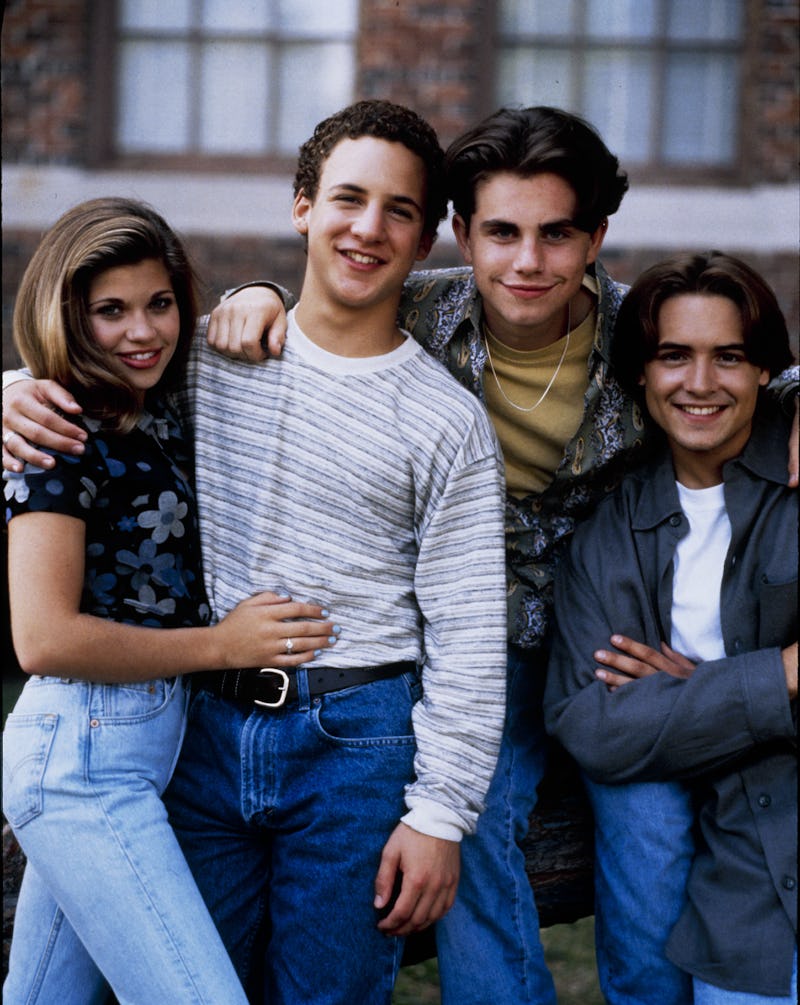 Looking back at middle school, the best way to describe it is "the best of times and the worst of times." Late '90s and early '00s fashion was obviously influential when it came to finding Millennial middle school fashion icons. Personally, I was able to learn the beauty and power in individualism and experimentation, thanks to those icons who still contribute to the way I dress today. While I was most bullied for the way I dressed "for my size," this was also the time when I became most confident in my personal style. I didn't look to anyone I knew in real life for inspiration, but to the girls I saw in music videos, TV, and movies. My room was plastered with posters from Bop Magazine, and my sketchbook was full of designs that I would someday dress my celebrity clientele in.
Looking up to these pop culture icons gave me a sense of freedom, and a hope that one day I could dress how I wanted without being bullied for it. And in the process, I learned the value of adding one extra accessory, keeping your skirt short, owning a jacket made of plastic, and wearing as much fake fur as possible. Here are the 15 most influential middle school icons most Millennials probably turned to at one point or another.
1. Lizzie McGuire And Miranda Sanchez
If there's one thing I learned from Lizzie McGuire and her BFF Miranda, it's that you can never have too many butterfly clips or furry hair accessories. The duo was forever changing their hair and over-accessorizing like preteen pros.
How To Get The Look:
'90s Pastel Butterfly Clip Lot, $5.60, etsy.com/shop/Idlized
Fluffy Hair Ties, $22, macymarie.storenvy.com
'90s RAVE rare electric blue PVC jacket, $41.35, etsy.com/shop/FatVintage
The key to getting Lizzie and Miranda's look is putting all of your accessories in your hair, like these pastel butterfly clips and marabou hair ties combined. Finish the look with a PVC jacket that's sure to get Ethan Craft's attention.
2. Topanga Lawrence
While Cory (and pretty everyone else in middle school) was always trying to fit in on Boy Meets World, Topanga Lawrence was doing pretty much the opposite. When it came to her hair, her sartorial choices, and her overall attitude, she was an independent free thinker who taught us all the value of being weird.
How To Get The Look:
Lace Concho Choker, $26, v idakush.com
Plus Natalie Lace Wide Sleeve Swing Dress, $35, boohoo.com
Women's 1460, $108, drmartens.com
Topanga's middle school style had all of the Boho-inspired goodness that is trending again for fall 2015. So crimp your hair, get yourself some Docs, and make sure to get everything in lace.
3. 3LW
Although Adrienne Bailon and Kiely Williams may be better known to some as one half of the Cheetah Girls franchise, they will forever be two-thirds of the R&B group 3LW in my heart. When their video for "No More (Baby I'ma Do Right)" started getting heavy play on TRL, I was hooked on their style. I wanted to rhinestone all my bandanas and rip up my jeans. When you look at the body and belly chains in that video, it becomes clear that I'm still influenced by the group.
How To Get The Look:
Varsity Muse Halter Top, $25, dollskill.com
Layered Gold Body Chain, $49, etsy.com/shop/readytostare
Carkamona Denim Jogger, $179.15, asos.com
If you wanna do the 3LW look right, it's all about belly-baring crop tops, distressed denim, and, of course, the aforementioned body chains.
4. Kat Stratford
When 10 Things I Hate About You came out in 1999, Julia Stiles' character Kat Stratford became my life icon. She was full of the sass, crass, and the perfect quotables about not caring what anyone else thinks, which I so desperately needed to hear in middle school. When it came to her fashion choices, her style wasn't as trendy as the other characters in the movie, but it was fitting in an "I-don't-give-an-eff-what-you-think-anyway" kind of way. I still wear my hair in a messy braid because of Kat.
How To Get The Look:
Ask Me About My Feminist Agenda, $29.95, feministapparel.com
Women's Plus The Pixie Ankle Pants, $42, o ldnavy.com
Lavish Fuck, $70, y-r-u.com
Kat definitely did her own thing. Her in-your-face attitude and casual punk style are still applicable to feminists who want to wear their message on their tee (or their shoes, for that matter).
5. Moesha Mitchell And Kim Parker
Brandy is more than the only Cinderella I'll acknowledge or the source of some of my favorite '90s jams ("Have You Ever" forever!). She's also a damn good actress. Moesha was a UPN staple for six seasons, four of which included Countess Vaughn as Kim Parker, before she got her own spin-off. Kim was one of the few plus-size girls who I remember seeing on TV at that time. Kim and Moesha inspired me to take fashion risks with busy patterns and bright colors.
How To Get The Look:
Melt Button Up, $88, unifclothing.com
Becca Denim Flare Skirt, $16.99, fashiontofigure.com
Adorelee, $160, jeffreycampbellshoes.com
Moesha and Kim always knew how to work that '90s girl look flawlessly. This melt pattern shirt paired with the denim flare skirt and platforms is a look that I am forever trying to recreate.
6. Carmen Ferrara
I don't remember much about WB's short-lived teen drama Popular, other than that it was another rare instance of a plus-size character in a teen show in the early 2000s. Sara Rue played Carmen Ferrara, one of the not-so-popular girls on the show (still waiting on a show with a fat popular girl, television folks). Her wispy bangs and big smile found her way right into my chubby teenage heart.
How To Get The Look:
Huntington Jacquard Cardigan Jacket, $99, heygorgeous.com
Front Button Denim Skirt, $69, eloquii.com
Gabriella Rocha Harness Wide Calf, $119, zappos.com
Although Carmen's look wasn't very in-your-face, I could see her styling fall basics like a pro.
7. Meghan Rotundi
Felicity taught me to never follow a guy to college (obviously) or cut my long curly hair really short on a whim. But it's not Felicity herself who really influenced me as an impressionable middle schooler; it was her wonderfully goth roommate Meghan Rotundi, who taught me the value of faux fur and sheer shirts with patterned bras.
How To Get The Look:
Neon Barbie Cropped Fur Coat, $101.61, i
Nasty Gal Insider Fishnet Top, $38, nastygal.com
Blair Leather Shoulder Chain, $309, jakimac.com
Megan's look is probably one of my favorites. She wasn't afraid to be sexy and fun at that the same time, so this bright fur coat paired with the chain harness and fishnet top is something Megan wouldn't shy away from.
8. Lil Kim, Mya, Christina Aguilera, And Pink
I admittedly did not understand what most of "Lady Marmalade" really meant as a middle schooler, but I knew every word, ad-lib, and dramatic gesture that Lil Kim, Mya, Christina Aguilera, and Pink performed in its music video. In 2001, this video and song were my everything. Unlike a lot of the girl groups at the time, who always seemed very matchy-matchy (which I also totally appreciate), this crew's fashions were strongly individual, all while owning their bodies and their sexualities.
How To Get The Look:
Gloria V-Bodysuit, $44, americanapparel.net
Woven Cargo Joggers, $24.99, stylesforless.com
Multicolor Buckle Rivet Pumps, $35, romwe.com
When I think about the gals of "Lady Marmalade," I definitely think about playing with color and overly sexy items, mixed with traditional masculine pieces.
9. Destiny's Child
Speaking of girl groups who matched, no one — absolutely no one — did that better than Destiny's Child. I still look regularly to these one-of-a-kind Ms. Tina Knowles creations for inspiration. She always found a way to take a fashion trend and put her own spin on it ... times three individual coordinating looks.
How To Get The Look
Bodycon Dress With Ring Front, $68.08, asos.com
Strap Camo Printed Bikini Top & High Waisted Swimsuit Bottom, $13.78, melodicday.com
Callie, $159, shopcourtneynoelle.com
There are so many iconic Destiny's Child looks to find inspiration from, but I decided to go with the "No No No Part 2," "Survivor," and of course, the "Bootylicious" music video looks.
10. Tia Landry And Tamera Campbell
Whenever my best friend and I get asked if we are twins, I get proud Sister, Sister flashbacks. This show ended just as I was entering middle school, but Tia and Tamera's love of plaids, denim, floppy hats, and matching with your bestie stuck with me. Now if only if my childhood neighbor turned out to be as cute as Roger.
How To Get The Look:
Plus Size Acid Wash Denim Jacket, $42.99, charlotterusse.com
Yellow Sunflower Print High Waist Denim Shorts, $19.90, choies.com
Mini Pillbox Hat, $34, urbanoutfitters.com
Denim reigned in the late '90s, and now high-waisted printed shorts and oversized jackets are back. Add a throwback style hat, such as this mini pillbox, to complete the look.
11. Sabrina Spellman
Although it was difficult for Melissa Joan Hart to ever live up to the fashion icon that was Clarissa Darling, Sabrina Spellman put her best spell on us with velvet dresses, chokers, miniskirts, and fuzzy sweaters on Sabrina The Teenage Witch for seven seasons.
How To Get The Look:
Daisy Mae Dress, $49, chubbycartwheels.com
Blue 90s Bubble Bag, $18.48, isolated-heroes.com
Black WITCHAcrylic Necklace, $14, etsy.com/shop/imyourpresent
OK, so maybe Sabrina wouldn't really wear this super fly WITCH necklace, but it definitely gives me all of her late '90s teen witch vibes.
12. Raven Baxter
Full disclosure: I never watched That's So Raven, because I was already in high school by the time it premiered in 2003. But when I asked my younger cousin about her middle school fashion icons, Raven was on the top of her list. She described Raven as someone she looked up to because she wasn't afraid to wear crazy outfits, she wasn't a size 00, and she once used $100 that her dad gave her to buy a calculator for school on a new dress. I'll take fashion over math any day.
How To Get The Look:
90s Furry Pleather Moto Jacket, $42, etsy.com/shop/EarthAngelVintage
Senorita Red Rose Hair Flower, $12, pinupgirlclothing.com
Pretty Bonnie Tartan Tights, $25, lordandtaylor.com
It doesn't take a teen psychic to tell you that Raven's sometimes over-the-top and over-accessorized style is totally cute for fall. I'm pretty sure that vintage fur and denim jacket is straight from the costume archives for the show.
13. Madison And Alex
I loved pretty much every movie that Mary Kate and Ashley Olsen made from 1999 to 2002 (and there were quite a few), but Holiday in the Sun was my personal favorite. I think I may have liked it so much at the time due to the multitude of beach hunks, but now I appreciate pieces that I might wear today — such as a Fendi bucket hat and bandana bikini top.
How To Get The Look:
Halter Bodycon Mini Dress Black Bandana Print, $40, missguidedus.com
Stussy Stock Leather Bucket Hat, $35.95, zumiez.com
Blue Mirrored Aviator Sunglasses, $7.47, nyandcompany.com
This combination of items probably makes MK and A look a little more badass than they really were in the movie — but hey, they did get caught up in an international smuggling ring.
14. Zenon Kar
Futuristic fashion was big in the late '90s / early '00s, and the Disney Channel original movie Zenon: Girl of the 21st Century was one of the first times I remember seeing the trend. I still want to wear everything and anything holographic and say "zetus lupetus" when something excites me.
How To Get The Look:
Light Up Crop Top, $49.97, electricstyles.com
Silver Metallic Party Skirt, $40, sugarcomaclothing.com
Chariot Platform Wedge, $79, dollskill.com
Zenon's style is truly out of this world, so who better to wear a light up jacket, metallic party skirt, and rainbow platform wedges?
15. Fran Fine
It's nearly impossible for me to pick a favorite look from the impressively high-fashion and gaudy looks of Fran Fine on The Nanny. And while she was nowhere near middle school age herself, her individualism made an impact on me. I still find myself extremely inspired by her big teased hair, her love of a crop tops, and her ability to rock a coordinating patterned suit — even one covered in bricks. You remember her laugh, but I'll always remember her outfits.
How To Get The Look:
Cyclops Black Dress, $299, shop.discountuniverse.com.au
Croise-f2, $165, jeffreycampbellshoes.com
Kissin' Clutch, $32, proudmaryfashion.com
As soon as I discovered Discount Universe, I knew their sequin bodycon dresses were totally something Nanny Fine would've sported. Add some furry heels and this lips clutch and you've got a look that even Niles would compliment.
*Sigh* We might not be able to turn back the clock, but we can definitely still channel our favorite middle school icons.
Images: American Broadcasting Company; Disney Channel; Courtesy Brands; Stan Rogow Productions; Michael Jacobs Productions; 3LW/Vevo; Touchstone Pictures; Jump at the Sun Productions; Murphy/Matthews Productions; Touchstone Television; De Passe Entertainment; Finishing the Hat; Brookwell-McNamara Entertainment; Dualstar Entertainment Group; De Passe Entertainment; Columbia Broadcasting System (CBS)