13 Halloween Costumes You Can Pull Off Year-Round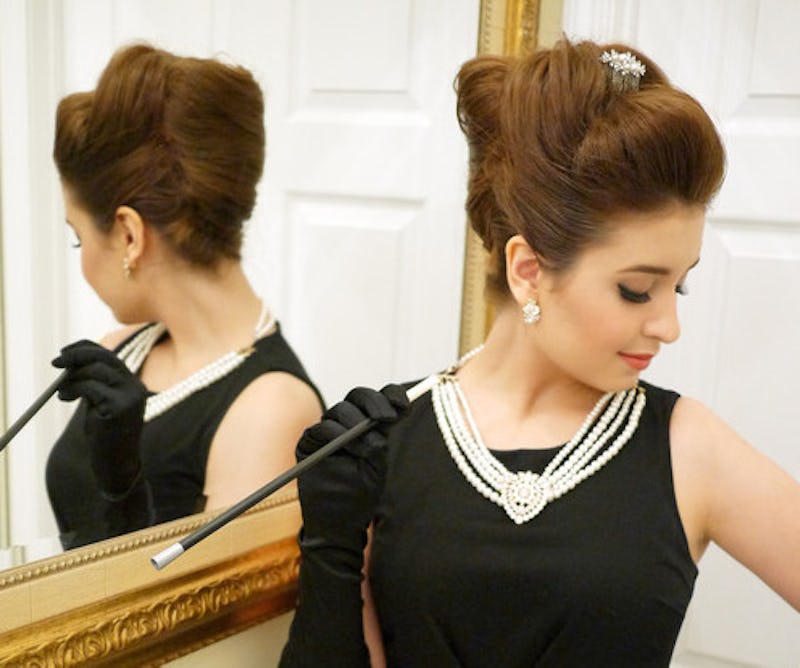 What's a girl to do with a sexy sailor or Wonder Woman costume post Halloween? Most likely nothing (unless you're down to casually show up for your 9 to 5 dressed as a superhero in November). When there are plenty of Halloween costumes you can wear year-round, there's no need to splurge on a getup that's good for one night only. Besides, all of the effort spent on a costume you're only going to wear once is so not worth the space it'll take up buried at the back of your closet for all of eternity.
Now there's certainly nothing wrong with going all out with a unique and elaborate costume — in fact, I applaud those who stray from the overdone sexy nurses, black witches, and furry animals with headband ears. However, it may be difficult to incorporate such Halloween-specific costumes into your everyday wardrobe. Luckily there are plenty of amazing costumes you can make from your own clothes or flip into an outfit for a workday or date night if you do decide to make a Halloween purchase. You'll be turning heads all year round with these costume ideas.
1. Wednesday Addams
Cheryl Long Sleeve Collar Bodycon Dress, $26, Boohoo
In all black with some braids you'll be easily recognized as Wednesday. However, you probably have her everyday outfit hanging in your closet already!
2. Elle Woods
Having a Shindig Hot Pink Midi Dress, $54, Lulus
Whimsy Wrap Dress by Kiyonna, $98, Lane Bryant
So maybe you wouldn't always go head to toe pretty in pink like Elle, but pieces of her wardrobe are definitely functional in the real world.
3. Marilyn Monroe In The Seven Year Itch
Unique Vintage 1950s Style Ivory Midtown Halter Swing Dress, $74, Unique Vintage
There's no denying that Marilyn's white halter dress can function as a regular outfit! Just add your favorite leather jacket and booties for everyday wear.
4. Sandy From Grease
Lily Off The Shoulder Crop Bardot Top, $10, Boohoo
Lara Coated Tube Jeans, $44, Boohoo
I'm sure you've spotted plenty of similar looks on your casual Friday night out!
5. Olivia Pope from Scandal
Once Upon a Thyme Coat in Almond, $150, ModCloth
Women's Bi-Stretch Twill Trouser Pant, $21, Target
All hail the most work-appropriate costume ever.
6. 1920s Flapper
Contemporary Beaded Drop Waist Dress, $45, Forever 21
Joanna Hope Fringe Lace Dress, $68, Simplybe
Silver Sequin & Feather Stretch Headband, $14, Unique Vintage
Um, yes. A sequin dress canbe an every day thing.
7. Clueless
'7 Days Waiting' Cher Yellow Tartan Baazar & Skirt Set, $95, Big Cartel
'3 Weeks Waiting' Dionne Black Checkered Blazer Set, $95, Big Cartel
Grab your closest gal pals for this best friend costume idea and you can all look like total betties post Halloween.
8. Audrey Hepburn as Holly Golightly
Lady Love Song Dress in Black, $90, ModCloth
Four-Strand Pearl Necklace, $20, Charming Charlie
Extra Long Black Gloves, $12.99, Party City
If an LBD isn't a regular year-round staple, then we don't know what is! Plus, it's likely you'll be able to DIY this Holly Golightly costume with an LBD you already own!
9. Cookie From Empire
Leopard Print Bodycon Dress, $15, Forever 21
Leopard Print Surplice Bodycon Dress, $20.99, Wet Seal
Leopard Print Satin Fedora Hat, $7.99, Candy Apple Costumes
Any of Cookie's signature (usually animal print galore) looks can work well in your everyday life. Plus, I smell the potential for the best couples costume if you can snag a Lucious to play along!
10. Katniss Everdeen
Bethany Festival Mac, $16, Boohoo
SONOMA life + Style Twill Utility Pants, $29, Kohls
Boys Toy Bow and Arrow Accessort, $7, Target
You can even rock Katniss' signature side braid year-round!
11. Jessica Rabbit
Club L Tie Back Sequin Maxi Dress with Thigh Split, $86, ASOS
Truly You Eyelet Plunge Front Maxi, $80, ASOS
Maybe you won't rock these to work on a regular basis, but they'll certainly come in handy for winter weddings or holiday parties you have to attend post Halloween.
12. Sim
Remove the plumbob (yes, the diamond floating above a Sim's head has a name and it's DIYable) and you're back to your same old self! No purchases necessary.
13. Catwoman
Marti Basic Long Sleeve Disco Catsuit, $35, Boohoo
Catwoman Mask, $24.99, Halloween Megastore
Just ditch the mask and cat ears and you've got a basic jumpsuit you can dress up or down. Who knew Halloween costumes could be so versatile?
Images: Courtesy Sara Du Jour (2); Courtesy Brands; Giphy; FOX; MGM