20 Easy Last-Minute Halloween Costumes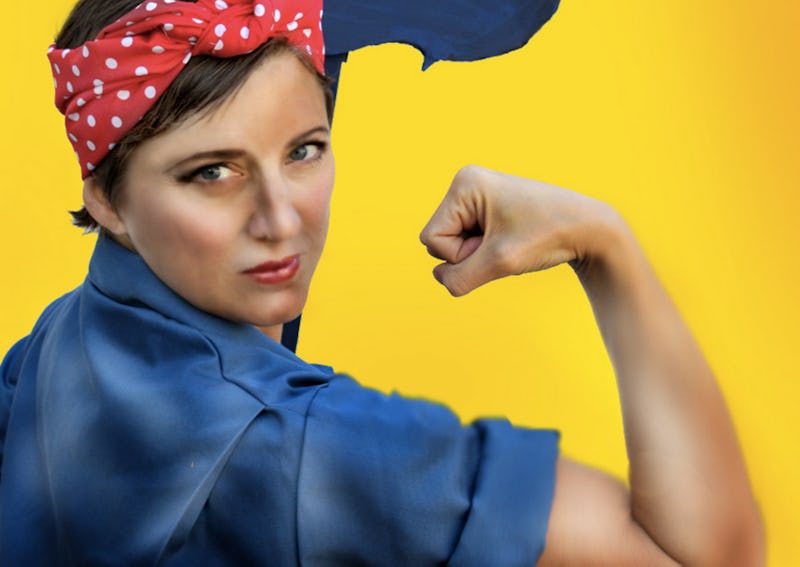 Alright, how the heck is it already October? I feel like it sneaks up on us, every single year. Before you know it, there will be little Elsas and Buzz Lightyears at our doors — and you are frantically trying to find easy Halloween costumes of your own. I mean, think of it this way: we are expected to be an adult the other 364 days of the year. But on this one glorious day of Halloween, we can be ridiculously ridiculous. I am so into it.
Granted, Halloween is like a dream come true for crafty folk. But I get it — not everyone is a DIYer. This can be difficult when you want to put together a rad costume, but just don't know where to start. That's why I scoured the web for easy ways to create a costume. Many of these ideas require little to no crafting skills; some outfits just need you to put on clothes. You do know how to do that, right? Right.
With that said, I promise you don't need to be Martha Stewart to put together a costume. Often, it's just about looking at ordinary items in different ways. A lot of these ideas use normal objects like balloons and t-shirts. Plus, it's not a big deal if your costume isn't perfect. It's all about having fun in it. And it's not like you'll have to wear it anytime soon... that is, unless you want to dress up as a bunch of grapes or a cupcake every day. You do you, girl.
1. Grapes
How fun is this bunch of grapes costume? All you have to do is blow up purple balloons, and hot glue them to a purple shirt. Throw on a green beanie, and you are all set.
If this was me, I would totally be holding a glass of wine. Because irony.
2. Scarecrow
To turn into a non-scary scarecrow, wear a pair of overalls over a plaid button-up. Top it off with a straw hat, and slip into a pair of brown boots. Use eyeliner and blush to create "stitching" on your face. If you don't want to use makeup from your own stash, head to the drugstore for some 99-cent versions.
To really complete the look, stuff your overalls and boots with straw or raffia. You can buy this in the floral section of any craft store, unless you happen to have some laying around.
3. Popcorn
This popcorn costume is adorably corny (hah, get it?) in so many ways. For a super easy version, wear a white dress or shirt painted with vertical red stripes. Don't have time to break out the paint brushes? Use red duct tape.
Now, here's the fun part. Hot glue yellow balloons along the collar of the dress. Vary the size of each balloon to create a more natural "just popped" look.
If you want to make a headband, just take a few more balloons, and hot glue them to a headband from the dollar store. Snacks on snacks, ladies.
4. Freudian Slip
Psychology buffs will adore this one. Print out your favorite psych terms, and hot glue (or tape) them onto a slinky slip. Easy peasy.
If you still need to find a slip, check out the thrift store for some inexpensive finds. You might also be able to find affordable versions at stores like Target or Forever 21.
5. Beyoncé in "Flawless"
Make an ode to Queen B with this perfectly "Flawless" costume. The best part is that all of the pieces can be used after the Halloween festivities. With fall in full swing, you won't have a hard time finding a red plaid flannel and some killer black boots.
Pair it with some high-waisted acid wash frayed shorts, a chunky black belt, and your favorite statement necklace. Finally, bring in the hairspray, and give your 'do some major volume. For full-on Beyoncé status, show off your awesomeness like the rad chick I know you are.
6. Facebook
Social media mavens, here's the costume for you. To turn into the social platform of all social platforms, print out Facebook icons and wear them over a blue and white outfit. Take a tip from this clever lady by attaching the printouts to a strand of white ribbon to create a sash. Don't forget to mentally prepare yourself for people trying to push your buttons.
7. Mermaid
Getting in touch with our inner siren is far too easy. Take a blue or purple bra, and hot glue shells until you can't glue anymore. This is a great way to use up those beach finds from this summer. If not, you can snag a bag of shells from the craft store.
For an extra magical touch, add a sprinkling of glitter or sequins. Wear it with a pearl necklace and a flowy maxi skirt for an instant mermaid costume.
8. Tampon
While not everyone will understand or appreciate a tampon costume, it sure is one way to honor the female body. Take a white dress or shirt, grab some red fabric paint, and go wild. Your best bet is to splatter on the paint randomly, without rhyme or reason. To really complete your look, hot glue rope to the back of your dress.
9. Thing 1 or 2
This is the type of costume that can be made at the very last minute. It's also excellent for dressing up with your best friend, sibling, or significant other. Simply print out "Thing 1" and "Thing 2" icons, and tape them to a plain red shirt. Throw on a blue wig, and you're done!
10. Wednesday Addams
I'll say this right now: Wednesday is my homegirl. To channel your inner doom and gloom, wear a black shift dress over a white button-down. Tie your hair into braided pigtails, bring in some ghostly makeup, and don't smile. Ever.
11. Gnome
If you're a fan of plants and whimsical gardens, consider dressing up as a charming gnome. This one's real easy, too. Wear a dress or a blue top with red bottoms, a red hat (beanies work!), and a Santa beard. You can also substitute the blue and red clothing for a cottage-style dress from the thrift store.
12. Tweedledee or Tweedledum
As an Alice in Wonderland fanatic, I adore this costume pairing. Like Thing 1 and Thing 2, this costume works best with a partner-in-crime. To take this one on, wear a yellow shirt, a red bottom, and a blue bow tie. Don't stress too hard about making an actual bow tie; you can make one out of paper, or some blue ribbon.
Of course, we can't forget the hat. Take a red baseball cap, and glue a little paper or fabric flag on top. Too cute.
13. Superman
You'll need two supplies for this costume: a blue shirt, and a printer. All you need to do is print out a Superman logo, and attach it to your shirt. If you want to take it up a notch, wear a blazer and a pair of specs.
14. Rosie the Riveter
When it comes to easy costumes, it doesn't get any simpler than our girl Rosie. You'll need a denim or blue button down, a red bandana, and your best woman-powered flex. You can do it, Bustlers.
15. Strawberry
For a simple and sweet costume, turn a plain red dress into a strawberry. Hot glue some green fabric (leaves) along the collar, and add paper teardrops (seeds) all over the dress. If you still want to use the dress after Oct. 31, you can stitch or tape the leaves and seeds.
16. Cupcake (or Ice Cream)
While we're on the topic of sweet outfits... this one totally takes the (cup)cake. Start off with a plain white t-shirt, and paint on multi-colored rainbow sprinkles. You can also hot glue short strands of pipe cleaners or ribbon. Pair it with a tan skirt, or a pair of jeans for waffle cone vibes. Finally, glue a red balloon to a headband for the cherry on top.
17. Waldo
Here's another costume for the ultimate non-DIYer. Wear a red and white striped sweater, blue jeans, and a beanie for a last minute Waldo costume. I'd recommend wearing a red and white striped beanie, but a solid red version works just as great. And of course, don't forget the glasses.
For extra Waldo cred, bring along a pair of binoculars. Try checking out the toy store, or take a chance at the thrift shop.
18. Emoji Twins
This is another one of those looks that feels more complete with a second person. Grab your bestie or sister, and slip into matching black leotards. If you can't find leotards, a black shirt and shorts combo would work just as great. Wear some cat ears, and you are good to go.
19. Candy Corn
When it comes to sweets, there's nothing that says "autumn" more than candy corn. For a no-sew version of this adorable look, take a white dress or shirt, and paint blocks of orange and yellow. Looking for an even easier project? Hot glue thick strips of orange and yellow fabric for an instant costume.
20. French Kiss
OK, so maybe I love puns way too much. But this costume is gold, and you know it's true. All you need is a striped shirt, a beret, tons of face paint, and a glass of red. You might as well grab a baguette for good measure (and snacking).
Images: SBT4NOW/Flickr