13 Couples Halloween Costumes For 2015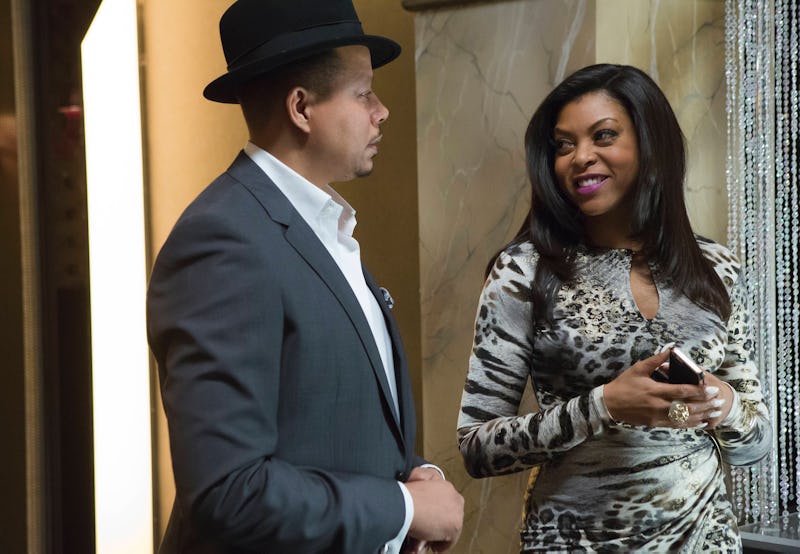 The year isn't even over yet, and it's already been pretty crazy. From the truly disturbing (Kim Davis) to the incredibly uplifting (Pizza Rat), the pop culture, political happenings, and more of 2015 have spawned some awesome Halloween costume ideas for couples.
I'm a firm believer in couples costumes, considering I've been coupled for the past five Halloweens. It's just more fun if you and your significant other go together — plus, it opens up a lot more options, costume-wise. People might not get it if you go as Wayne from Wayne's World by yourself, but it'll make total sense if you have Garth rocking along with you. I'm not saying that all couples have to do the couples costume thing. Sometimes you have your own idea you wanna run with. I feel you. But if you're struggling to think of a costume, maybe a couples idea is the way to go. It's always better to have someone to laugh with if your costume is a bit on the silly side.
Whether you're going for the literal or the abstract, here are a few ideas inspired by the people and events of 2015 that will take you and your significant other to Halloween costume greatness.
1. Imperator Furiosa And Max Rockatansky From Mad Max: Fury Road
They weren't a couple in the film (which was a good thing), but they still hung together to take down King Immortan Joe. If you really want to go all out with your costume creation, Mad Max Costumes has a lot of detailed tutorials and suggestions for both Furiosa and Max.
Vintage Goggles, $4, Amazon
Furiosa requires a lot of belts, a ruched shirt, some goggles, and black eye makeup, among other things. Max would be nothing without his iconic leather jacket and boots.
2. Pizza And Rat
Some people saw a rat in over his head. Others saw a hard-working single father trying to feed his teenage ninja turtle children. Either way, Pizza Rat deserves all the costume consideration in 2015.
Rat costumes can be a bit ugly, so I suggest a cute rat kigurumi and a pizza costume to go with it.
Just don't try to push your pizza-costumed significant other down any stairs.
3. Same-Sex Marriage
One of the most awesome things that happened in 2015 so far was same-sex marriage becoming legal in the United States.
His/His Wedding Band, starts at $20, Overstock
Throw on your best rainbow and pride gear — like the "Love Wins" or "Don't Hate" T-shirts, rainbow slip-ons, or coordinated his/his or hers/hers rings.
Costume tutorial: Polyvore
4. Donald Trump And America
Donald Trump loves America. Like, really loves it. So much so that he's been subjecting us to his combover on regular TV and not just The Apprentice lately. All your significant other would need for the Trump outfit would be a blue suit and a wig and you could dress in your best red, white, and blue garb.
Donald Trump Wig, $23, Buy Costumes
Or you could go a different route, and be Donna t. Rumpshaker and cool guy America. I can't make this stuff up.
Donna T. Rumpshaker Costume, $70, Yandy; Adult Stars and Stripes Party Suit, $100, Spirit Halloween
5. Google And Alphabet
For the last 17 years, Google has just been Google. But in 2015, it also became Alphabet, because why not?
Google T-shirt, $7-12, Amazon; Foam Letter Magnets, $16, Amazon
Get yourself or your significant other a Google T-shirt and then glue some of those foam alphabet magnets on a white T-shirt or dress to complete the change. All of your IT friends will really dig it!
6. Cookie And Lucious Lyon From Empire
2015 has been the year of Empire. Or rather, the year of Cookie being a bad-ass motha and your new favorite TV queen. Either way, she and her ex-hubby Lucious would make for fabulous Halloween costumes or daily outfits.
For Cookie, you need some heels, an animal-print dress and a faux fur coat. For Lucious, you'll need a slick suit, a fedora and lots of attitude.
7. Finn And Rey From Star Wars
I cannot tell you how excited I am for Star Wars: The Force Awakens to premiere at the tail end of the year. But just because the movie isn't out yet doesn't mean Halloween will pass by Star-Wars-less. You could always go the Han and Leia route, or you could up your game with Rey and Finn.
I highly suggest making Rey's costume, since the commercial one is a bit blah. You'll mostly need a lot of beige clothing and some beige material to wrap around — Cosplay Savvy has a pretty good breakdown of the materials. And don't forget her goggles and staff.
Rey Costume, $30, Amazon; Goggles, $14, Amazon; Staff, $21, Amazon
Finn is pretty easy, with his dark pants and shirt and brown leather jacket. Hot for Tatooine, but great for cool fall nights. And he'll need the Skywalker Lightsaber, of course.
Leather Jacket, $20, Amazon; Luke Skywalker Lightsaber, $14, Target
8. Zombie Cubs Fans
For once, it's actually a good year to be a Chicago Cubs fan! The team hasn't won an NL title since 1945, and hasn't won the World Series since 1908, so people have been waiting a long time to see them play as good as they have been. And since the last time they won, most of our grandparents weren't even alive, you can put a little zombie spin on the fandom.
Zombie Makeup Kit, $6, Amazon
Snag some Cubs' jerseys (you can get them from the official site or try to find some at a thrift store), and then apply your zombie makeup. This tutorial can show you how to achieve that undead look.
9. The Whip And The Nae Nae
This is one of those "Haha, I see what you did there" sort of costumes. Just like "Gangnam Style" dominated Halloween in 2012, so too should 2015's dance craze — the Whip and the Nae Nae.
Basically, just write "Whip" on one shirt and "Nae Nae" on another with fabric paint or fabric marker, and prepare to do your respective dances all night long.
Tulip Mini Writers, $15, Amazon
10. Owen And Claire From Jurassic World
One of my favorite movies this year was Jurassic World. And the movie's dynamic duo make for a perfect couples costume.
Purple Tank, $5, Buckle; White Blouse, $15, H&M; Red Wig, $15, Amazon; Velociraptor, $19, Amazon
For stylish Claire, you'll need a white midi skirt, a purple tank, a white blouse, and of course, those controversial heels. You can also carry around your cell phone (since she used hers a lot), and throw on a ginger wig to complete the look. For Owen, grab a gray button-down, some jeans, a brown tactical vest, some boots, and your trusty Raptor pal Blue.
Costume tutorial: Polyvore
11. Right Shark And Left Shark
Luckily, Katy Perry and commercialism have pretty much taken care of this costume for you. Curiously enough, I found way more Left Shark costumes than Right Shark — though they're literally the same costume.
Shark Costume, $69, ebay
Shark Costume, $68, Amazon
The store-bought versions can be a bit pricey, but TheSorryGirls also have a great YouTube tutorial on how to make your own. One of you will have be on point, dance-moves-wise.
12. Netflix And Chill
I mean, what else would you be for Halloween? "Netflix and chill" has gotten so big that my mom even knows what it means — and there are a few ways you can put it together.
Personally, I'd go with the very literal interpretation. There's still time to order a pair of custom shirts and you can just wear pajamas or something more bedroom-worthy with them.
13. Ariana Grande And A Doughnut
Ah, yes the infamous Ariana Grande doughnut licking incident of 2015. People will get it, I promise.
I tried to re-create one of Ariana's outfits from when she played the Forum, because with the cat ears, it's basically a costume already. Get a black romper, thigh-high boots, a ponytail wig, and a mic to transform yourself into the diva. Your SO will rock a doughnut costume like it's nobody's business.
Doughnut Costume, $20, Walmart
Costume tutorial: Polyvore
For more Halloween ideas, check out Bustle on YouTube.
Images: Kennedy Miller Productions/Village Road Show Pictures; Amazon.com ; Mad Max Costumes; Global.Ratuken.com; Yandy.com ; Spirit Halloween; HBO; Amazon.com; Amazon.com; Amazon.com; FOX; QVC.com; Suitsandmore.com; Disney/Lucasfilm; Amazon.com; Giphy (2); Universal Pictures; Amazon.com; Halloweencostumes.com; Getty (7); Polyvore (4)