Makeup Ideas For A Punny Halloween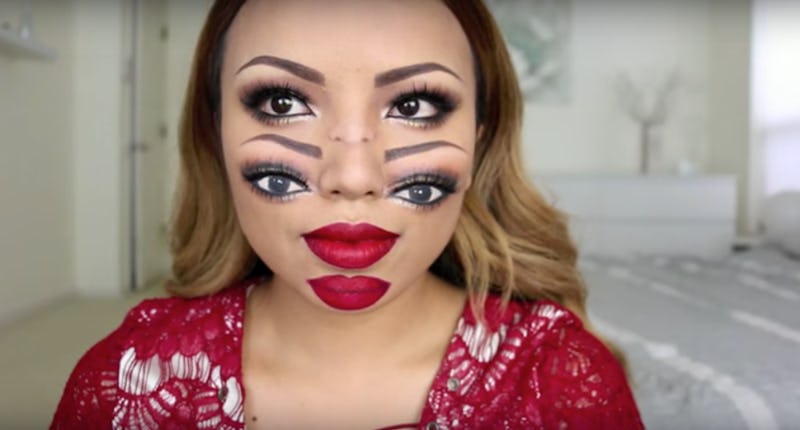 If you're not feeling a character costume and you'd rather highlight how charming and funny you are instead, these Halloween pun makeup ideas will help you wow your friends with your cleverness. There will be tons of cats and zombies around on Oct 31, but I doubt there will be too many repeats of the ones on this list. Pun costumes are not only super fun, but also super unique.
And since your makeup helps complete any look, these easy tricks will help take your costume to a whole new level. From throwing a blanket over your shoulders and painting a pig nose on your face to for a "pig in a blanket" costume to giving the phrase "four eyes" a new meaning, these makeup ideas are sure to be crowd-pleasers. They're cute, funny, and way easy to pull off. So, if you didn't have your Halloween costume sorted out just yet, you will now. Plus, you'll be able to skip all of the trouble of buying an elaborate costume and use your makeup for maximum impact.
See nine ideas for makeup to complete your punny look. You're sure to find one that makes you chuckle, and that's the whole point. Follow your sense of humor and dress up as your favorite pun this Halloween!
1. Pig In A Blanket
Get this adorable pig face paint look, wrap a blanket around yourself and bam! Costume sorted.
2. Starry-Eyed
Glitter Starz , $8, BA STAR
Get yourself some star shaped glitter and be starry-eyed all night long.
3. Four Eyes
With this look, you'll literally have four eyes. Get it?
4. Lipstick
Take inspiration from this makeup and apply a wood grain to your lips. Then, your lips will look like sticks, and you'll have a "lipstick" costume. Brilliant.
5. Black Eyed Peas
Give yourself a fake black eye and tape the letter "p" to your shirt, and you've got your very own black eyed pe costume.
6. Hot Mess
Rock a messy bun, great makeup and disheveled clothing to be a hot mess on Oct. 31st.
7. Blown Away
Rusk Thicker Hairspray , $15, Ulta
Use hairspray to blow your hair to one side. Add leaves and twigs if you'd like, and pull off a perfect blown away look.
8. Mermaid
Pair mermaid makeup with a french maid costume and be a punny mermaid. Cute, huh?
Want more beauty tips? Check out the video below, and be sure to subscribe to Bustle's YouTube page for more hacks and tricks!
Images: Ulta (2); BA STAR (1); Screengrab/YouTube