Here Are The Most Googled Costumes Of 2015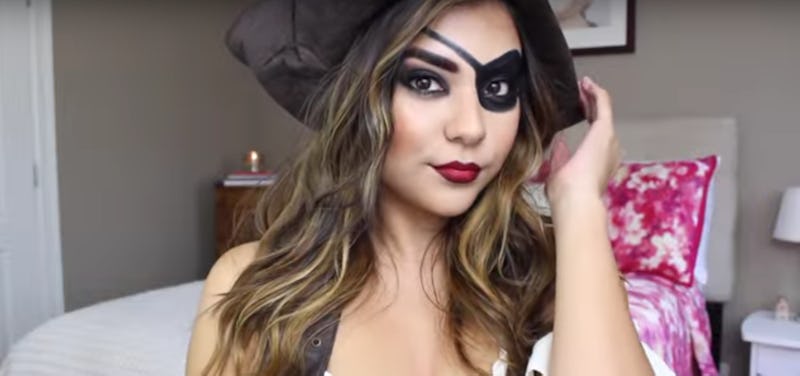 If you're still not sure of what you're wanting to be for Halloween, then why not go with something trendy? These most-Googled Halloween costumes of 2015 are popular for a reason, so if you can't beat 'em, join 'em. According to Vogue, things like "Star Wars," "Harley Quinn" and "pirate" are getting searched, so why wouldn't you go with the popular option as far as costumes are concerned?
Even if there are lots of other people dressed as the same character, there's lots of variety within these search terms so that your look will still stand out. Because I mean, if you're going to be a cat (which is number six on the list, by the way), you might as well be the cutest cat you possible can be, you know?
Check out the top seven most-Googled costumes of the year, and then see how you can get the looks for yourself. These tutorials are super helpful and will make it easy for you to do yourself. Because DIY-ing your look will add a little extra touch of personality. That way, you won't blend in with all of the other Star Wars characters and cats, because there's bound to be a lot of them.
1. Star Wars
Go as one fashionable C-3PO and be super popular at this year's Halloween party.
2. Pirate
Why not be a super adorable pirate for Halloween? Come on, everyone's doing it!
3. Superhero
Choose from a wide variety of women with superpowers.
4. Harley Quinn
Dye those pigtails and pull off your very best Harley Quinn.
5. Batman
Batman may be a popular costume, but not everyone's going to go all out with their makeup. With this tutorial, you most certainly can.
6. Cat
So, they'll be plenty of cats, but will they have a cat ear hairstyle? I don't think so. You're bound to be better than the other kitties if you follow this tutorial.
7. Minions
A Minion look is easy to pull off and is also super adorable.
Want more beauty tips? Check out the video below, and be sure to subscribe to Bustle's YouTube page for more hacks and tricks!
Image: Screengrab/Youtube