21 Ways To Upgrade Your Basic Cat Costume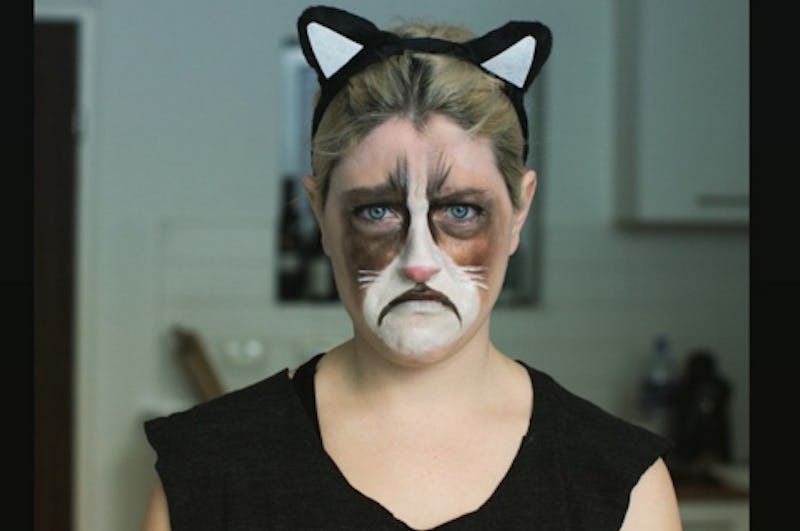 It may get a bad rap for being basic, but there's nothing easier than putting together a simple cat Halloween costume — and with Halloween right around the corner, easy is what you need. You've probably already figured out your party plans, scary Netflix queue, and pumpkin decor. You might have even already figured out what you're doing with all the leftover candy after Halloween. Somewhere in the chaos of the best holiday ever, you may or may not have forgotten to round up your actual costume. Don't lie, I see you cringing from here.
Fortunately, I can guarantee that you're not the only one. It's not uncommon to suddenly realize that Halloween is so close that it's spooky. That's where the classic cat costume comes in, right? Well, not really. Because it's been done so (SO) many times, your average cat costume can get a little boring. Sure, it might be the easiest costume of all easy costumes. But it doesn't hurt to bring it up a notch, either. Because why the heck not?
When it comes to this sort of thing, I got your back. I scoured the web for some unconventional cat costumes, just in time for your Halloween adventures. From subtle upgrades to full-fledged transformations, there's something for everyone in this cat lady-approved list.
1. Floral Kitty
It may be autumn, but that doesn't mean a girl can't show her never-ending love for flowers. To add a little something extra to your cat costume, sport a pair of floral cat ears. Make your own by hot gluing mini faux flowers to a cat ear headband.
Not sure where to find mini flowers? Head to the floral section of your local craft store. Feel free to mix and match colors for a look that's all your own.
2. Grumpy Cat
With a little creativity and a lot of grumpiness, you can transform yourself into everyone's favorite miserable cat. This downer of a feline is so recognizable that you'll totally win Halloween. Paint a big ol' "NO" on a t-shirt, wear cat ears, and bring in some white and brown face makeup. Don't forget to leave your biggest smile at home.
3. Lisa Frank Cheetah
Kids of the '90s will take one look at this costume and just get it. After all, Lisa Frank characters are like the trendy girl's icons of the best decade ever. To take this amazing look on, adorn your body with inexpensive black eyeliner and vibrant eye shadow. Head to the drugstore if you're hesitant about delving into your stash.
If this doesn't say "cat costume upgrade," I don't know what does.
4. Hello Kitty
Transform your average cat outfit into everyone's favorite feline, Miss Hello Kitty herself. All you need is a pair of white cat ears, and a big red bow to pull off the look. For full-fledged Hello Kitty status, bring in a pair of overalls, and draw a yellow circle on your nose. This combo is so iconic, anyone that's anyone will know who you are.
5. Nyan Cat
While we've got a kitschy cat theme going on, let's just talk about how spot-on this Nyan cat costume is. So simple, but so good. Made with nothing more than cardboard, paper, and a rainbow flag, this outfit is the perfect last minute look. Besides, who doesn't want to walk around with a rainbow trailing behind them?
6. Lion
Turn yourself into a badass lion and rule the jungle... or, uh, party. Keep an eye out for a tan-colored jacket with faux fur trim at the thrift store.
However, we totally get how much thrifting depends on luck. If you can't find a similar piece, you can take any tan jacket, and add faux fur trim with hot glue. Let me hear that roar, ladies.
7. Cat Beanie
For most of us, Halloween falls during a chilly time of the year. Come night time, the brisk October air can get a little nippy, too. For a costume that doubles as a source of warmth, try sporting a beanie with cat ears. Aside from keeping your head cozy, this accessory will help you look pretty darn cute.
You can also glue felt ears to a beanie. You can also even cut off the ears from a store-bought headband and add them on.
8. Cat Hoodie
If you want to take the kitty coziness up a notch, opt for a cat-eared hoodie. You can transform any old hoodie into a feline version by attaching ears to the hood. Just like the cat beanie, you'll be able to wear this adorable number well past Halloween.
9. Bow-Tie Cat
Turn yourself into a glam kitty with the simple addition of a bow-tie. Your best bet is to check out the boys' section of clothing stores for a darling clip-on bow. Add some bling with rhinestones or studs for instant style.
10. Sequined Cat
When it comes to Halloween, I'm all about sequins and flashy embellishments to really accentuate a look. I'm loving these sequin cat ears (and the spot-on spotty leopard makeup, too!). To create your own pair, add wire to a headband in the shape of cat ears. Add strands of sequin trim with fabric glue. You can also add sequins individually, if you'd like.
For even more sparkle, cover a pair of normal cat ears with sequins. Lots of them.
11. Dr. Seuss' Cat in the Hat
It goes without saying that our childhood friend, the Cat in the Hat, is quite the major upgrade from a basic cat costume. This one is super easy, too! You'll need a red and white striped top hat with a red bow-tie.
To make your own top hat, take a red (or white) top hat, and hot glue strips of ribbon around it. Easy peasy.
12. Cats the Musical
Embrace your theatrical side with a full body costume inspired by Cats, the legendary musical. You'll need to adhere faux fur to leggings, a shirt, and leg warmers. Top it off with a furry wig and a full face of makeup.
Needless to say, this costume isn't for the timid. Non-serious Halloween lovers need not apply.
13. Beanie Baby Cat
Take it back to your childhood with a Beanie Baby cat costume. All you need to do is print out a "ty" logo, and wear it around your neck with your cat costume. Instant throwback.
The best part? This idea can be used to turn any animal costume into a Beanie Baby. It's basically one of the best (and easiest) girl gang costumes out there.
14. Lacey Cat
For another feminine spin on the classic cat outfit, top off your look with a pair of lace cat ears. To make your own, bend two strands of wire, and wrap the ends around a headband. Add glue along the wire, add lace on top, and cut away the excess once it's dry.
Looking for a simpler way to take this look on? Glue lace to store-bought cat ears in a contrasting color.
15. Studded Cat Ears
What's Halloween without a little edge? I'm loving the idea of studded cat ears. Equal parts badass and cute, this particular costume upgrade is easy to make yourself. Just glue flat-back studs to cat ears and you're good to go.
16. Glam Cat
Get real fancy this Halloween with an embellished cat mask. Simply take a plain plastic mask, and bring in the sequins, rhinestones, and glitter.
17. Cat Onesie
If the beanie and hooded sweatshirt isn't warm enough for you, slip into a cat onesie. Talk about the easiest costume ever.
18. Non-Black Cat Ears
Black cats may be the unofficial animal of Halloween, but that doesn't mean you can't bring in some color. While we love all-black everything, switching it up with a different color can instantly upgrade the traditional cat costume. With that said, keep an eye out for non-black cat ears; you never know what you'll find.
You can also wrap the ears with faux fur scraps in the color of your choice. All you need is a trusty hot glue gun, or some needle and thread.
19. Colorful Cat
For even more color, take a tip from Instagram user @the_bellamuerta, and use vibrant eye shadow and eye liner to create an vibrant cat face. For best results, start off with an all-white face to let the colors really pop.
20. Tutu
Let's be real. Aside from Halloween, when would you wear a tutu out in public? Luckily, this holiday is the perfect chance to do just that.
21. Faux Fur Vest
Stay warm and stylish with the easy addition of a faux fur vest. Don't be afraid to mix and match prints and colors for an interesting look!
For more Halloween ideas, check out Bustle on YouTube.