Get Nostalgic With These '90s Halloween Movies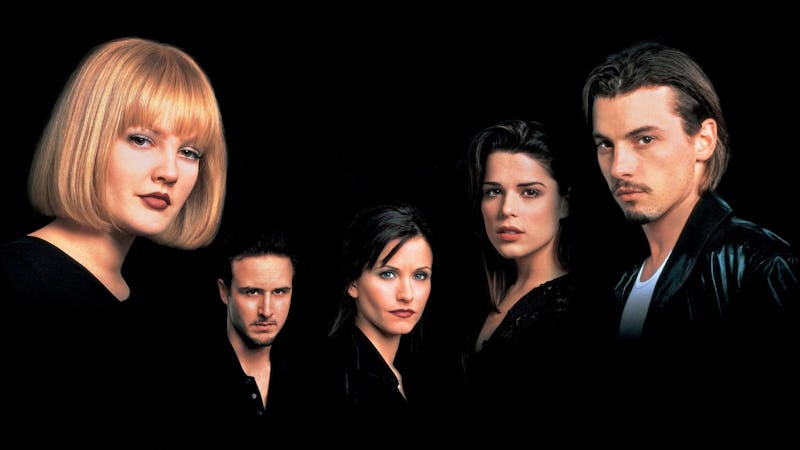 The leaves are crunchy, the pumpkin spice lattes are steaming, and the sweaters are out of storage. But the very best thing that the month of October has going for it is that it's finally acceptable to spend hours upon hours of my life watching scary movies. And it's common knowledge that the greatest selection of Halloween movies comes from the 1990s. I don't know what it was about that decade that brought out the best in funny-scary and scary-scary filmmaking, but the output was tremendous. Lots of classic choices are available to stream right now, so there's no excuse not to grab the candy corn and embark on a marathon. I've found seven essential '90s Halloween movies on Netflix that you can watch right now.
There's something for every '90s kid in the Netflix library, whether you want to remember the first time you didn't actually see what was terrorizing that film crew in the Black Hills or sing along to "I Put A Spell On You" with Winifred Sanderson and her sisters. These movies will remind you of sugar-fueled sleepovers and sneaking into R-rated showings, but mostly of what an awesome holiday Halloween is for themed entertainment. Take that, Christmas.
1. The Addams Family
This movie is the one to watch if you want to celebrate your dark side. The Addams clan may eschew every color but black and terrify their square neighbors with their casual attitude towards violence and pain, but they also love each other. Morticia and Gomez are the ultimate goth relationship goals.
2. The Silence Of The Lambs
This 1991 film is a masterpiece of horror, and a rare critical and awards season hit in the genre. Clarice Starling is an iconic female character, and Hannibal Lecter is just as chilling on screen as he was in the Thomas Harris novels.
3. The Nightmare Before Christmas
You can double-dip this stop-motion classic over the next few months, since it's as much a Christmas movie as it is a Halloween one. With breathtaking detail and a score that stands the test of time, The Nightmare Before Christmas shows me something new every time I watch it.
4. Scream
The slasher movie genre was reinvented in 1996 with this satire. But none of the sequels ever stood up to the fun and originality of the very first Scream.
5. Vampire In Brooklyn
The kind of movie that could only have been made in the '90s, this Eddie Murphy and Angela Bassett horror-comedy flop is worth a watch just to marvel at the very fact that it happened.
6. Alvin & The Chipmunks Meet Frankenstein
Forget those CGI Chipmunks of the '10s and give me the originals.
7. The Blair Witch Project
Audiences have The Blair Witch Project to thank for the ongoing trend of found footage horror films. Give it a rewatch and decide for yourself if it stands up to the hype that surrounded its release back in 1999.
You may need to sleep with the lights on after some of these, but you know it's worth it. Happy Halloween!
Images: The Weinstein Company; Giphy (7)