Watch Tom Hiddleston Perform As Hank Williams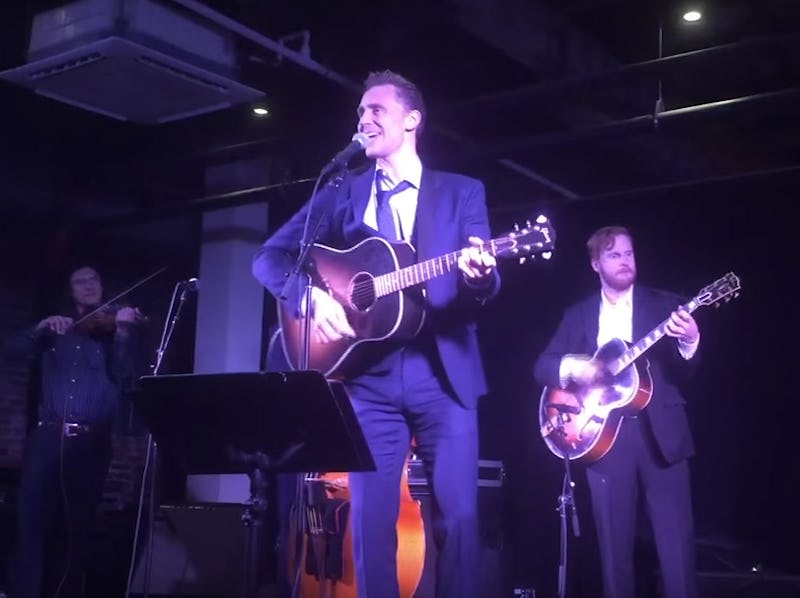 We've been getting more and more glimpses at Tom Hiddleston as Hank Williams in the upcoming I Saw the Light, but now we can see the actor channel the singer live. Hiddleston performed as Williams at the movie's Nashville premiere. Not only does it prove that Hiddleston has the chops to pull off the part, it's likely a once-in-a-lifetime chance to see him sing in front of an audience. All I can say is, thank goodness the glory was captured on video!
Although the set was short, Hiddleston sang "Hey Good Lookin,'" "Why Don't You Love Me Like You Used To Do," and "Move It On Over." And, as we've all been expecting, he sounded amazing. (Note: He also played the guitar!) The role demonstrates Hiddleston's range as an actor and singer, but it was a long road to get to this point.
"When I met him, it was a completely gut reaction," director Marc Abraham told Entertainment Weekly. "I had seen him in a couple of films — this was before he popped. […] I just kept going, 'That guy is so charismatic.' When I sat with him, we had dinner for two or three hours. Halfway through the meal, I know this sounds hippie-dippy, but I had this really strong feeling that I was sitting with the person who should be this guy. His natural intelligence, his native instincts. At the end of it, I asked him if he wanted to do the movie. And he said, 'Yes, but just give me some time to prepare for the reading. Promise me.' And I said, 'You don't have to [read]. Let's do it.'"
Hiddleston worked with country music's Grammy-winning Rodney Crowell to prep for the role. "It was spine-tingling just to spend a day playing some of Hank's greatest hits like 'Hey Good Lookin'' and 'Long Gone Lonesome Blues' with such a gifted musician," Hiddleston told the Daily Mail back in 2014. "He's already expanded my vocal range and given me a few pointers about adapting my own tone to sound like Hank. Rodney has furnished me with his beautiful J45 Gibson to practice with. And he'll be on hand throughout the shoot."
Did the hard work pay off? You can see for yourself in the video above!
Image: ComicBook.com/YouTube