6 Crazy Things Meghan King Edmonds Did On 'RHOC'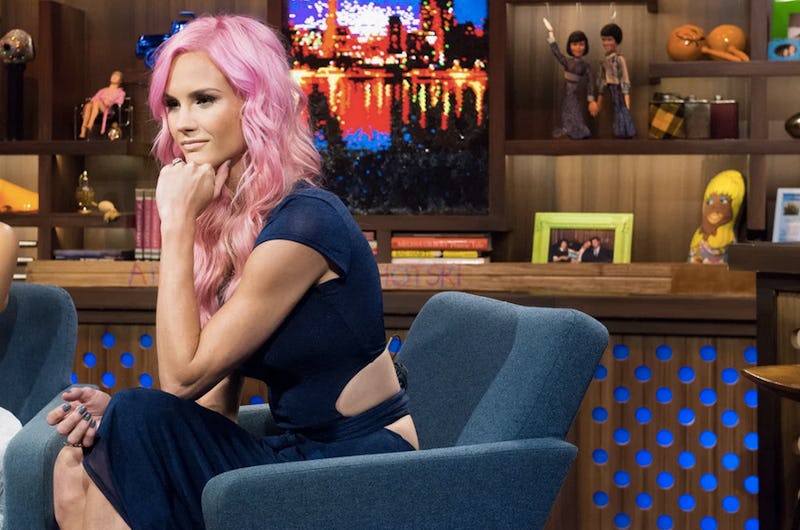 On the current season of The Real Housewives of Orange County , Meghan King Edmonds really stepped up her reality TV show game, whether that meant feuding with Vicki Gunvalson, who has had just about enough of her, putting on her private detective overcoat and making it her mission to investigate Brook Ayers, or taking down Shannon Beador with all the calmness in the world. Whether you love her or think she has become a bit too big for her britches, you can't deny it: Meghan has made it her mission this season to let the other Housewives know she is an outspoken force to be reckoned with.
The 31-year-old pink-haired beauty spent a great deal of Season 10 sharing her life with viewers and, for the most part, the audience had the pleasure of getting to know a loving young wife who is also a doting stepmom and fiercely defensive of that role. My adoration for her only increased when people realized Meghan wasn't about to let Vicki run her life and wasn't afraid to call her out for trying to do so.
But the ultimate I-Love-Meghan moment came when she proved her commitment to her stepchildren after Jim Edmonds' ex-wife Leann Huntley Edmonds-Horton died of colon cancer. Meghan handled it with class and dignity and has made it her mission to increase cancer awareness, in part, through her trucker hat business called Mother Trucker & Co.
Of course, this being a reality show, along with the touching moments come the crazy ones. So, as viewers still try to digest what happened last season, here's a look back at six times Meghan's behavior and words were totally shocking.
1. When She Called An Imaging Center To Investigate Brooks' Cancer
Meghan can't seem to shake the feeling that Brooks is lying about his cancer diagnosis. While chatting with some of the other Housewives, she called BS on a text Vicki sent out: "Vicki never mentioned that Brooks has masses in his abdomen. That's a big deal in the cancer world. That's weird, who doesn't mention a mass?" Meghan did a little investigative work on her own time by calling Newport Imaging (the center Brooks said he visited) to ask if they do Pet-CT Scans, and she claimed they told her they stopped doing the scans for Hodgkin's Lymphoma in 2008. Only Brooks knows what is really going on, but the main question this left fans with is whether Meghan was even justified in becoming involved in the first place?
Brooks has made clear that he does have cancer, and in a recent interview with E! News said of the imagining center, "Newport imaging referred me to Hoag Hospital, where I did the actual test, and the results came back on Newport Imaging letterhead."
2. When She Called Brooks' Ex-Girlfriend
Meghan has some serious detective skills. She said she was so invested in finding out the truth about Brooks in order to obtain justice, that yes, she contacted one of his ex-girlfriends in order to learn more about his health history. On her blog, Meghan admitted: "I searched online for information because I wanted to know the truth about The Cancer. I contacted his ex-girlfriend to find out more information. Did I go too far? Yes. I should have let it go. I am embarrassed that I dug so deeply. I didn't trust Brooks or Vicki and I wanted to find an answer, but the way I went about it was wrong."
3. When She Posed As A Cancer Patient To Get To The Truth About Brooks
I started to really worry about Meghan when she openly admitted to calling Brooks' doctor and pretending she was a patient with cancer in order to get answers. I'm not sure what she was even expecting since most top-notch docs would rather be burned at the stake than break patient confidentiality. As usual, she had an excuse: "People I love have cancer, and if you fake that, I'm going to get to the bottom of it — legally." Meghan claimed the doctor told her he doesn't "do" cancer at all.
4. When She Agreed To Lighten Up On The Rules
Meghan tries to be the best stepmom possible, but Jim, who has been largely MIA this season, decided she needed to be more lax about rules, particularly when it came to Hayley, with whom she has been desperate to bond. The former model delivered this utterly bizarre, not-at-all-like-her statement: "It's not about what I think should happen. It's about conforming myself to the child that has been produced by a mother and a father that doesn't include me." After Hayley invited a bunch of friends over to their house and they basically wrecked the place, you have to imagine a rule-less society isn't going to work very well, is it?
5. When She Told Off Shannon Beador
Shannon Beador used the word "pot stirrer" and all hell breaks loose. Shannon accused the Housewives of stirring the pot and Meghan matter-of-factly replied, "Like you tonight," and then followed it up with the best series of facial expressions ever. Her cool demeanor throughout the confrontation sealed the deal: She's far more badass than you thought.
6. When She Called Vicki Gunvalson A Bitter Old Woman
Poor Heather Dubrow just wanted peace and to throw a lovely lunch for frenemies. Never having heard of polite lunch conversation, Meghan began questioning Brooks' cancer treatment, which she says she researched, and this pretty much made Vicki lose it. Meghan argued that Vicki got involved in her business, so why is it wrong for her to do the same, prompting Vicki to tell her to go away. The worst part? Meghan began crying and insisting she'd only gotten involved in this in-depth investigation out of concern for Brooks — before calling Vicki "an old woman who's pissed off and bitter at the world." Ouch.
I'll say this for Meghan: She may no longer be a RHOC sweetheart, but she's got fans wondering what she'll do (and say) next season. At this point, nothing would surprise me.
Image: Charles Sykes/Bravo; Giphy (3)