How To Dress Like 'House Of Cards' For Halloween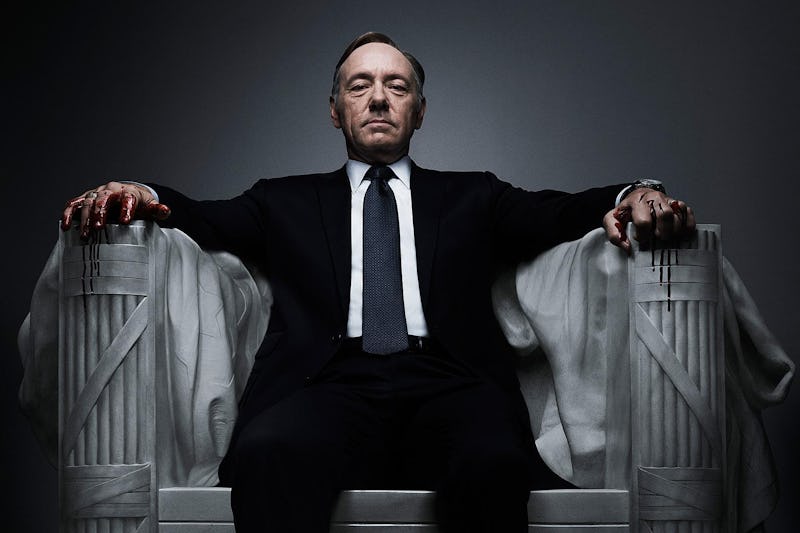 Here's a scary October fact for you: it's almost Halloween, and if you haven't started planning your costume yet, you're running out of time. While making your costume could be a day-long activity, it's deciding on what to be for Halloween that takes the most mental energy. Obviously you want your costume to be cute, clever, and pop culturally on point, but you don't have to settle for the basic Miley Cyrus costume (or worse, the super offensive Caitlyn Jenner one) in order to show that your Halloween costume is relevant. This year, instead of going as a specific person or character, why not just embody an entire show? The Netflix original series House Of Cards is the perfect choice for a costume, and no tie is required.
Sure, you could do the couples costume thing and go as Frank and Claire Underwood if you are attached, but that would require mighty uncomfortable shoes and a potential raid of your dad's closet. Instead, you can go as a literal house of cards, which is a perfect costume for rolling up to a party solo or with a crew of friends dressed as some of your other shows. (Come on, you just know that you have a friend who would come up with a killer clever concept for Orange Is The New Black.)
So how can you dress up as an actual house of cards? Here's what you need to embody the Netflix series.
Brick Tee Shirt
You want people to know you're a house, and the easiest way to evoke that is by showing that you're a brick... house. (Cue the Rick James, please.) You can purchase this tee shirt from Yo Clothing Online for $29.99, or you can DIY a white tee shirt by painting it with red and brown fabric paints. Just make sure it dries before you go to the next step...
Two Decks Of Playing Cards + Fabric Glue
Now here's the fun part: Get some quality fabric glue (you can purchase an 8 oz. bottle of Aleene's Fabric Fusion from Michael's for $12.99) and start gluing the cards onto the shirt. Pro tip? Don't do this when the shirt is on your body: wait at least 24 hours for the glue to dry before attempting to put back on the shirt, and avoid putting cards on any creases so you can easily slip it on.
A Key Necklace
This accessory will remind people that you're not just a deck of cards, but a house of cards. The good thing is, key necklaces are pretty in right now: there are a ton of varieties out there, and you can buy this one from Walmart for $15.99.
Now go forth and make your Halloween costume with the ruthless precision of Frank Underwood himself.
Images: Netflix; Yo Clothing Online; Giphy (2); Walmart