The 'Stitchers' Halloween Special Is Spooky Fun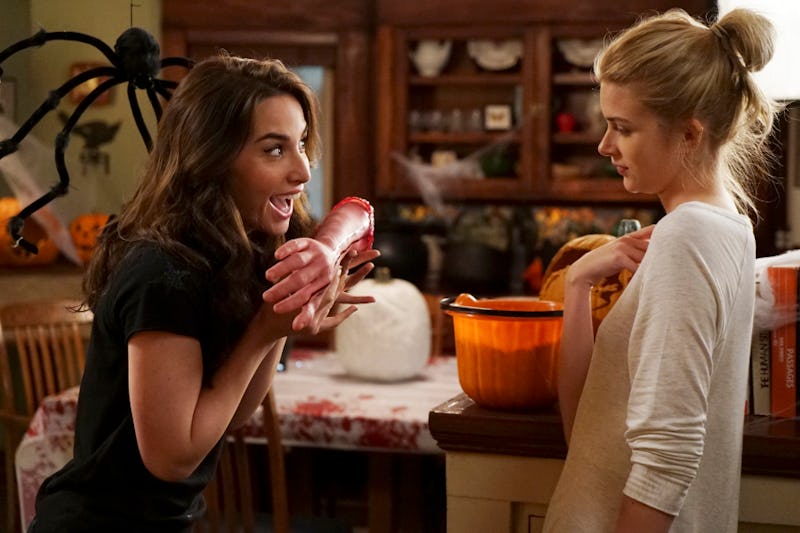 No guys, it's not a trick, Stitchers is back for a brand-new Halloween episode on Tuesday night. Unfortunately however, we won't actually find out any major information about the Season 1 finale cliffhanger, aka whether or not Cameron has survived Kirsten stitching into his brain. You may be asking yourselves, how is that even possible if the show is airing a new episode? Well, Tuesday night will actually premiere the Stitchers Halloween special as a standalone episode — part of ABC Family's 13 Nights of Halloween programming. And, while we may not know precisely what happened with Cameron yet, the Halloween special will still provide us with enough stitching and a dose of our favorite characters to tide us over to Season 2. Bustle recently caught up with the cast at New York Comic Con to find out just what to expect from the Halloween Special and the actors all had one very important thing to say: It's going to be spooky and very, very fun.
It turns out the story of the special revolves around a stitch, possibly a stalker, and Camille's big annual Halloween bash. Kyle Harris aka our beloved Cameron, instantly brought up the goofiness that the cast got to experience on set during the shooting of the Halloween special. "It was the last episode that we shot in the first season," Harris said. "We end Season 1 on a big dramatic note and the next week our cast gets to shoot some fun Halloween goofy episode. And, it's a big Halloween party. We all kind of get to dress up as our favorite-whatever."
So, who does Cameron dress up as for Halloween? I know I personally would love to know that answer, and Harris did not disappoint. "I go as the Flash or ABC's Family's version of the Flash as much rights as we could get," Harris said. "So, it's basically just a red tight suit and knee-high boots. It's really bad."
As for the rest of the cast's costumes? Ritesh Rajan and Allison Scagliotti might top everyone else with their choices. "I'm dressed as Vampire Barbarella... I mean we can't actually call it Barbarella but our amazing wardrobe designer found this vintage like gold bodysuit and chains. It's great," Scagliotti said of hers. "And, I'm basically a sexy rockstar version of a Jedi," Rajan added. "Originally they wanted to do Yoda but we couldn't get the rights. So, we were like, 'aw sh*t let's put something together.'" (Can you guys even imagine just how perfect all of this is going to look?)
But, the show is more than just costumes and parties. There will be some stitching going on in the episode and the story behind it is where the show gets a bit scary. "We do a stitch that ends up being some guy who's kind of been stalking Kirstin, maybe," Emma Ishta, who plays Kirsten, said. Then she quickly added, "No spoilers." Salli Richardson-Whitfield and Damon Dayoub, who play Maggie and Fisher respectively, also revealed that the location in which they shot the Halloween special was also pretty creepy. The house was run down, old, and had an almost American Horror Story-esque atmosphere.
"It was like, 'Here, we're locking you in. Deal with it,'" Dayoub said of filming. "It was really creepy. We had a lot of fun. You know, we were roaming around in Aspen. Good time. But, yeah, it's a little creepier this episode, but it all falls on the same theme from the first season."
For those people who are looking for any connection between the Halloween special and the drama and secrets we saw unfold in the Season 1 finale, the cast is adamant that it's not a follow-up to Season 1, but an episode all its own. There really is nothing here for to spoil what's to come. "I would guess that it probably fits into the end of the first season in terms of where the characters are at relationship-wise," Ishta said. "But it's not — it definitely doesn't continue on."
That is a bummer indeed (because I really need to find out Cameron's fate), but there's no way fans should miss the special regardless of the lack of storyline continuation. Scagliotti described the episode best saying, "Hijinks and spooky, sexy hilarity ensue. It's scary." Clearly this Halloween special is guaranteed to be ridiculously entertaining.
Reporting by Samantha Rullo.
Images: Eric McCandless/ABC Family