'Inside Out' Fans, We've Got Some Good & Bad News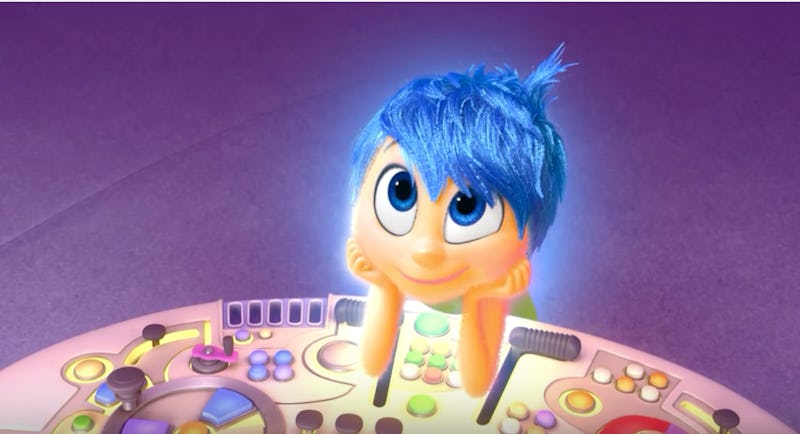 Joy, Sadness, Anger, Disgust — it's hard to imagine a time before we knew you. However, with Inside Out currently in limbo between its theatrical run and impending DVD release, it's getting easier. Pixar's latest hit, about a tween, Riley, whose emotions get away from her (literally) after her family uproots and moves from Minnesota to San Francisco. While Riley struggled to adjust to her new life, the emotions in her head, Joy (Amy Poehler) and Sadness (Phyllis Smith), get lost in Riley's mind. Inside Out was the definition of a box office hit — playing in theaters throughout the summer and well into fall. Now that Inside Out has mostly disappeared from movie theaters, however, fans are left waiting for the movie to come out on DVD and streaming — and they're especially wondering when Inside Out will be on iTunes.
Inside Out is actually already available to purchase on iTunes, but only in HD, meaning that the movie could be yours for a higher price. Currently, Inside Out HD is available for purchase and download via iTunes and Amazon Video for $19.99. The film won't be available for purchase in SD until Tuesday, Nov. 3, on the same day as Inside Out's DVD and Blu-ray release. In SD, Inside Out will be available for download on iTunes and Amazon Video for $14.99.
So, Inside Out fans, if you want to watch Inside Out from the comfort of your own home, be prepared to shell out a bit more money than you may like. And getting the DVD from Netflix isn't an option just yet: Inside Out won't be made available to rent from Netflix until Dec. 1, almost one full month after its official release. (And let's not even mention how long we'll have to wait for Inside Out to hit Netflix Instant Watch.)
To make matters even worse, the movie's not available to rent on iTunes, either. Still, there's hope; other films, like Disney's Tomorrowland, have been made available for rent and purchase on iTunes on the same day as their DVD release. So, it's likely that Inside Out fans will be able to rent the film for either $5.99 in HD, or $4.99 in SD in just a few weeks' time. I know, I know, you want it now, and even next month seems so far away, but before you get too sucked into Sadness, remember that there is always hope! If you're upset by Inside Out's lack of cheap streaming options, and you have $20 to spare, odds are you won't regret an Inside Out purchase. Need an added incentive? A digital purchase of Inside Out on iTunes includes special features, like the short Riley's First Date. Pixar fans, I'll leave you to your shopping.
Images: Disney; Giphy (2)