Exclusive 'Jurassic World' Clip Shows More Claire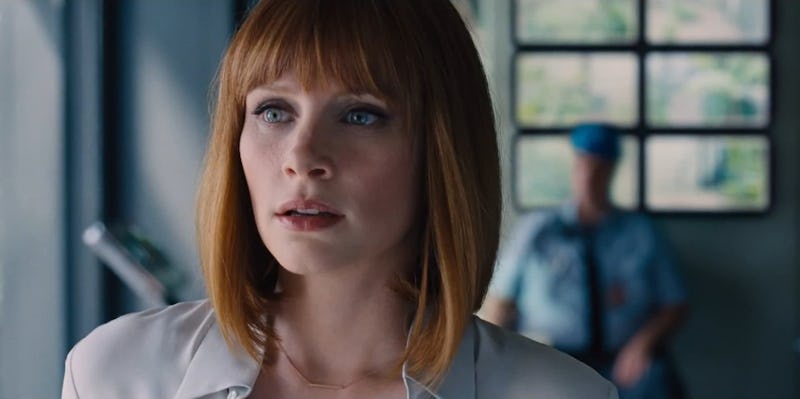 Realistically, you caught at least one showing of Jurassic World this summer, either because of your love of the original series, your undying lust of Chris Pratt, or a reverence for CGI dinosaurs. I mean, after breaking box office records there must have been a variety of reasons people filled theaters. However none of these reasons point directly to Claire Dearing, who through her emotional journey of the film, could be considered the overlooked protagonist. And now, in this Bustle exclusive clip, we get another glance at Jurassic World's polarizing character Claire.
Even with all the bold praise of the must-anticipated sequel, there's been a lot of discussion about Claire and whether her presence (and journey) in the film reads as anti-feminist. Among the critiques most discussion hilariously revolved around her choosing wearing her heels throughout the movie. Incidentally, director Colin Trevorrow said in an io9 interview that star Bryce Dallas Howard "felt like surrendering the heels felt like surrendering the femininity of the character." An intriguing way of looking at it, and I think there could be valid arguments for Claire's strength throughout the film. I mean, I've never conned a T-Rex to fight a genetically-engineered super dinosaur... in heels or otherwise.
The clip shows off how super cute Howard is, as she cheers for her character's growth throughout the movie, and clarifies that she wasn't hired for her throwing skills. "I don't want anyone to get clocked, like, in the eye" she says before her big T-Rex baiting scene. Love her.
Jurassic World comes out on Blu-Ray and DVD October 20. Until then, check out this behind-the-scenes peak that explains why Claire just might be the REAL heroine of Jurassic World.
Image: Universal Pictures (1)