'Rock the Kasbah' Takes On The World Of Reality TV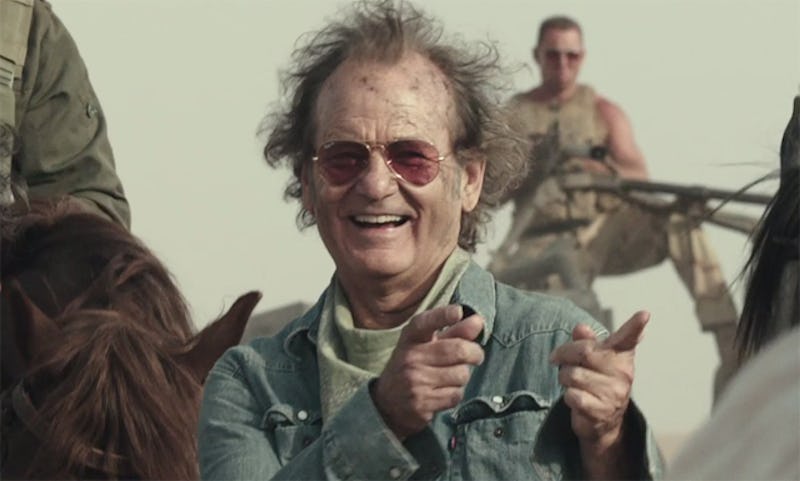 In legendary director Barry Levinson's (Rain Man, The Natural) new film Rock the Kasbah , everyone's favorite human Bill Murray stars as Richie Lanz, a washed up music manager who takes his client (Zooey Deschanel) to Afghanistan for a gig, where she promptly dumps him. Left alone and broke in one of the most war-ravaged countries in the world, Lanz discovers a talented Afghan teenager named Salima (Leem Lubany) who wants to become the first female contestant on Afghanistan's version of American Idol, Afghan Star. Lanz then makes it his mission to guide her to stardom, showing that he still has something left in the tank. The movie marks the first time Murray has taken the sole lead in a straight up comedy film in ages (which is something everyone should be excited about), and it also seems like a relatively plausible tale, leading me to wonder if Rock the Kasbah is based on a true story.
Despite its (somewhat) realistic plot, Rock the Kasbah is a total work of fiction. Richie Lanz is an invented character (though Murray was inspired by Van Morrison's old manager), along with everyone else in the film. However, even though it isn't based on a true story, Rock the Kasbah still touts the always vague "inspired by a true story" tag. So what could the studio possibly be talking about?
For starters, Afghan Star is a real TV show in Afghanistan. In fact, it's one of the most watched programs in the country. And even though female contestants have competed ever since the first year, after 12 seasons there has never been a female winner. A large reason for this is the nation's taboos against both against women's liberties and the act of singing. Before the Taliban was overthrown, public singing and dancing were outlawed, as was television, and women were often banned from leaving their homes without male accompaniement. The country has come a long way, but there is still much work to be done in the culture to get women the same opportunities allowed to men.
Levinson told The Huffington Post that screenwriter Mitch Glazer wrote Rock the Kasbah seven years ago after having been inspired by a particular female Afghan Star contestant who received death threats due to her performance on the show. It's likely that Glazer was inspired by the events of the show's third season, which aired in 2008. Two women made it to the final four contestants that year. Setara Hussainzada was eliminated first, and while on air she danced without a hijab, receiving death threats as a result. Lima Sahar was the next to go, making it further than any other woman on the show and causing a national controversy over the place of women in Afghan society. Sahar, like Salima in the film, is of the Pashtun ethnic group, and she, too, seemingly showed no remorse for pursuing her dream in the face of intense resistance.
So even though the events of Rock the Kasbah are mostly fictional, there's still some truth behind its message. And while it may not have the impact of say, I Am Malala when it comes to women's rights, it might just end up inspiring some good.
Images: Open Road Films; giphy (2)