13 Stages Of Learning That 'GG' Could Come Back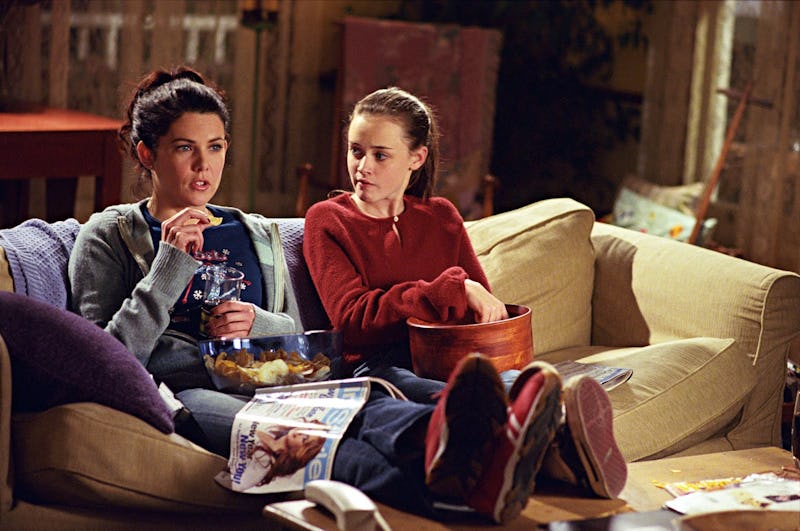 Monday, Oct. 19 started out as just a normal day. A busy morning, a slice of pizza for lunch, a few meetings in the afternoon. And then, suddenly, everything changed: It was announced on TVLine that a Gilmore Girls revival is reportedly coming to Netflix (the company tells Bustle that "we are not commenting" at this time). Like any preteen of the early '00s who grew up dreaming of Stars Hollow and imagining Jess as my future husband, I did not take this report quietly. Meaning: I freaked out, shed some tears, and immediately started texting every person I knew lots of coffee cup emojis. Basically, I went through, like, 12 emotional stages of dealing with the alleged Gilmore Girls revival, in the span of approximately 30 seconds.
I mean, what do you expect? I'm a Gilmore super-fan, and the report from TVLine claiming that a revival of the show was allegedly in the works had me feeling all sorts of things. I'm excited, of course — I'm off-the-walls excited — but I'm also worried (what if it's not true?), scared (what if they mess it up?) and more than anything, very, very, overwhelmed. It's a lot to take in, and honestly, I'm still processing it all. Here's what my mind (and that of any Gilmore fan, I'd imagine) has been like since I heard about the alleged revival:
1. Total Shock
The report was shown to me by my co-worker, and at first, I didn't understand what she was saying. Gilmore Girls, reportedly coming back to TV? It just did not make sense in my mind.
2. Disbelief
After a few seconds, though, it turned into utter disbelief that this news was potentially real. A Gilmore Girls revival?! Is this real life? Am I dreaming? Am I dead?
3. Spazzing. Absolute Spazzing
No, that wasn't me you saw running around the office, yelling to everyone I passed to check their computers ASAP. No idea who that maniac was.
4. Nearly Crying
It's just that a Gilmore Girls revival would be so wonderful! I'd get to see Rory and Lorelai and Luke and Jess and all of my beloved characters again!
5. Actually Crying
Oh my god, I might get to see Rory and Lorelai and Luke and Jess and all of my beloved characters again.
6. Calm
For a few, brief seconds, I just let the report sink in, and tried to process it. It was peaceful.
7. Panic
Just kidding, calm gone. Now it's time to worry frantically that the alleged Gilmore Girls revival will be horrible, and that it won't make any fans happy, and that this is basically the worst news ever. What if Lorelai's not with Luke? What if Friday Night Dinners are over? What if Michel's not there?!
8. Commiserating
Thankfully, I am surrounded by fellow Gilmore fans, and we all have taken some time this evening to deal with our emotions together.
9. Renewed Hope
After talking through my feelings, I've decided that I'm actually pretty excited about a potential revival, and it outweighs all my fears. Yeah, I'm very excited.
10. Sudden Heartbreak
What do you mean, Melissa McCarthy might not be in the alleged revival? This is outrageous. Sookie has to be there. And, does this mean Jackson won't be there, either?!
11. Frustration
If I don't get answers to these questions ASAP, I will not be a happy camper.
12. Impatience
I. Need. This. Revival. Now.
13. And... Back To Giddiness
Who cares when it arrives? A Gilmore Girls revival could be happening! This makes me happier than Lorelai and a cup of coffee — no, happier than Richard and Emily when Rory got into Yale. What a day, guys. What. A. Day.
Update: TV Line reports that there will be an eight-year time jump and that all of Rory's boys will be back for the show! Also, Lauren Graham has shared something very cryptic on Twitter about her involvement.
Images: Screengrab/WB; Giphy (11); tvismylife, fckyeahgilmoregirls/Tumblr