How To Watch The 'Gilmore Girls' Revival In Style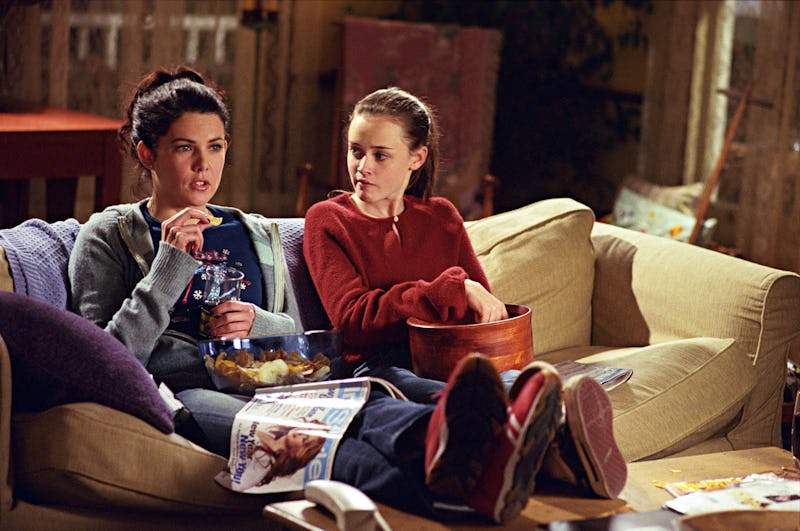 The binge-watching event of a lifetime is on the cusp of happening, and there's only one way to truly appreciate it: with a Gilmore Girls Netflix revival viewing party that feels straight out of Stars Hollow. Since the show ended in 2007, fans have been dying for a revival or reboot, and it looks like it's finally happening. According to TVLine, there are currently talks in session about bringing a four-episode revival run of the hit show to Netflix.
Bustle has reached out to Netflix, who said they're not commenting at this time, and the revival has not been officially confirmed. But according to TVLine, the revival could would be comprised of 90-minute episodes featuring many of the major cast members — if they sign on.
There will be some big names missing, however. Edward Herrmann, who played Richard Gilmore, passed away recently, while Melissa McCarthy's career has exploded since ending her role as Sookie. But even if we have to make do without them, at least there's a glimmer of hope in the future that Gilmore Girls will once again be part of our lives.
And since Stars Hollow is basically one non-stop party, the only appropriate way to celebrate a new era in Gilmore-ness is to kick it off right with a viewing party for the ages. And it couldn't be simpler.
Stock Up On Food. A Lot Of Food
When I say you need a lot of food, I mean a ton. We're talking pizza, tacos, Chinese food — and don't forget the french fries. Channel Rory's first night at college and sample every delivery food service in your area. And whatever you don't eat can last as leftovers all week!
Basically Drown Yourself In Coffee
If you and your friends are going to get through four separate 90-minute episodes, as well as have time to discuss and freak out between each episode, you're going to need some coffee. It's the lifeblood of the show, and any viewing party without it would be downright criminal. But the good thing is that you can also have coffee-flavored treats and goodies instead of downing cup after cup. Because that could get a little intense.
Pregame With The Best Episodes
Thanks to the glorious service that is Netflix, all of the old Gilmore Girls episodes are available to stream via Netflix. Before starting the new episodes, definitely check out old favorites, to remind you of exactly why you love this show so much. Or catch up on the last season to remember how things left off. Because let's be honest — we all kind of tried to forget about those last few episodes.
Don't Be Afraid To Get Tipsy
On one hand, you want to be 100 percent sober in order to take in every glorious moment. But at the same time, alcohol is definitely one way to get a party going. And anyway, Rory's all grown up now and you know that she probably enjoys a nice glass of wine with her Netflix (which you know she's in a committed relationship with). Embrace what will probably be a very adult revival, and just go for it. You know Lorelai would approve.
No One Goes Home Until They're In A Sugar Coma
Rory and Lorelai would be ashamed if a single guest went home without having possibly given themselves a cavity and fallen into a sugar induced craze. If it has sugar, it must be at the party. And it must be eaten.
Make It A Marathon
Stars Hollow loves marathons. Remember Dance-a-thon? And Knit-a-thon? Not to mention all the town hall meetings that felt never-ending. Go big or go home, and make a full day of it. Just try to make this marathon a much happier event than some of the Stars Hollow marathons.
Obviously once the revival hits Netflix, we're all going to watch it constantly. I'm all for watching it alone in silence so you can catch every detail, but this revival is only going to happen once. So make the most of it, go big, and stuff yourself so full of marshmallows and pizza that you can't eat for a week.
Images: Warner Brothers Television; Giphy (6)