Revisit The 'Back To The Future' Soundtrack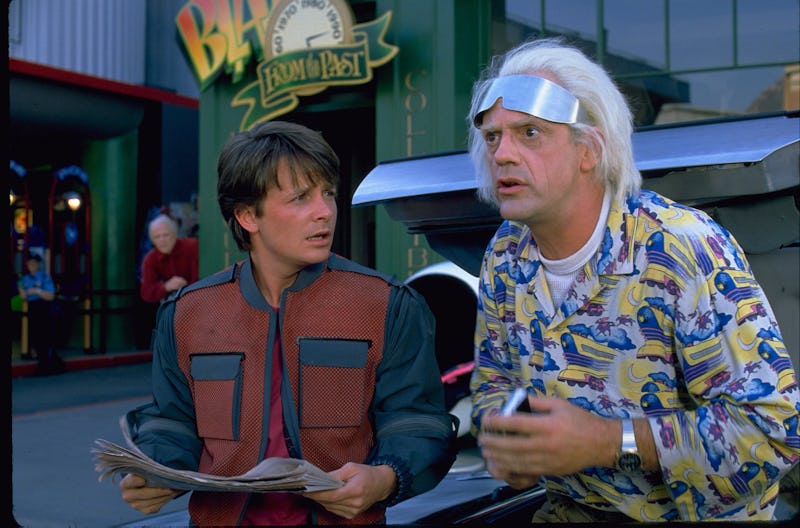 Wednesday marks one of the most important days in the calendar, and it's one that's been a long time coming. I can't count the number of Facebook hoaxes I've seen in the past five years that tried to trick good, honest fans into believing it was the most sacred of days already — and now, the real day is finally here. You know the one I'm talking about, right? Back to the Future Day, of course! That special date in Back to the Future Part II when Doc (Christopher Lloyd), Marty McFly (Michael J. Fox), and Jennifer (Elisabeth Shue) traveled to 2015 in Doc's DeLorean, accompanied by the most killer soundtrack of all time.
I'm sure you've all got your outfits at the ready — aka, red bodywarmers and self-lacing sneakers — in celebration, so all you need now is an invite to a Back to the Future Day party. If, like me, you didn't get any invites, it might be time to put the soundtrack on and dance around your room playing an air guitar that Marty himself would be proud of instead. After all, there can be no shame on Back to the Future day. It's the most wonderful time of the year! (Well, next to Halloween, am I right?)
So, put your seatbelt, and let's check out why the Back To The Future soundtrack is worth an immediate revisit.
1. "The Power Of Love," Huey Lewis & The News
One of the most iconic songs of all freaking time, whenever I heard this song as a kid I thought of Back to the Future. Upbeat, memorable, and totally retro, there's no better song to kick off a film or a soundtrack! It was even nominated for an Academy Award for Best Original Song. Kudos!
2. "Johnny B. Goode," Marty McFly, With The Starlighters (But Really Sung By Mark Campbell)
When he finds himself in the '50s, Marty gets roped into playing guitar at the Enchantment Under the Sea dance (which he's taken his mother to as a date ... erm, yeah, OK). He convinces the band to play something new to liven things up a little, which leads to a pretty extreme guitar solo. "I guess you guys aren't ready for that," he says to a room full of stunned expressions. "But your kids are going to love it."
3. "Mr. Sandman," The Four Aces
The first time I heard this oft-covered song was in Back to the Future, and I have total, never-ending love for it now. Originally recorded in 1954, and featured in a million movies and TV shows (including several of the Halloween movies), its appearance in Back to the Future is by far my favorite. You never forget the first time you heard a song like this.
4. "The Original Score," Alan Silverstri
Up there with Star Wars, Indiana Jones and Superman as a completely iconic and unforgettable movie score, the instrumental music from Back to the Future holds a dear place in the hearts of many. Well done, Alan Silverstri, well done. It totally encapsulates my childhood, and I can't help but sing along with that orchestra every single time.
5. "Earth Angel (Will You Be Mine)," Marvin Berry and The Starlighters
OK, so in the interest of full disclosure, Marvin Berry and The Starlighters don't exist. They were the fictional band in Back to the Future and get credited with this all important song. It was really recorded by a guy called Harry Waters, Jr.! Nice work, Harry. (And, cool name.)
If you haven't already, I highly recommend you find your old CD collection or hit up iTunes for the soundtrack now. You won't be disappointed, and it'll make you want to re-watch all the movies immediately, which can never be a bad thing. Happy Back to the Future day, all!
Images: Universal; Giphy (4)