These Obscure Horror Shows Are Spooktastic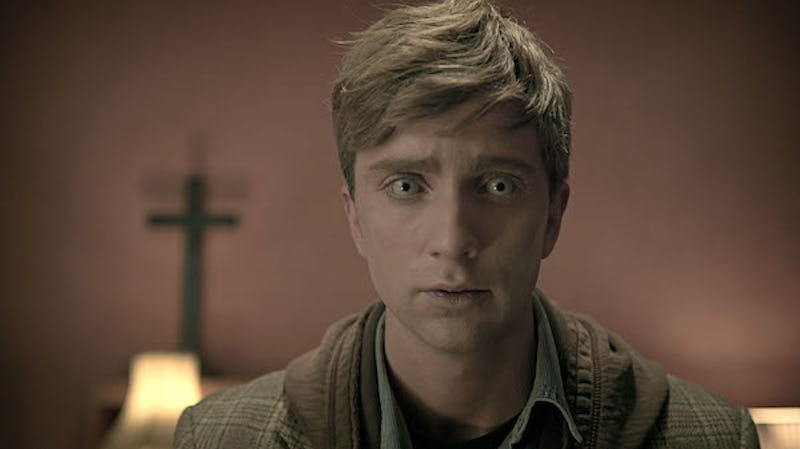 Horror TV has always been a lucrative business, but the genre has exploded in recent years. Some shows like The Walking Dead and American Horror Story get all the love, but there are plenty of lesser known horror TV gems just waiting to charm (and terrify) you with their ghoulish delights. If you are looking for something spooky to watch this Halloween and you aren't in the mood for a scary movie, then try one of these 13 horror TV shows instead. If you have the major streaming sites, or are willing to shell out a few bucks on Google Play or iTunes, then these shows are just waiting for you to discover them.
No surprise here, many of the shows on this list are British because British horror is almost always stellar and overlooked stateside. From half-hour twisted comedies to a downright profound series about unlikely supernatural roommates, these horror shows represent every corner of the genre. Prepare to be horrified by just how long it took you to watch these amazing TV creep-fests. Grab your remote, Halloween candy of choice, and settle in for some scares from the most unexpected places — trust me, you will still want to watch all of these shows long after Halloween ends.
1. The Fades
A one-season wonder from the UK, The Fades boasted an impressive cast — Game of Thrones' stars Natalie Dormer and Joe Dempsie, Marvel's Agents of S.H.I.E.L.D.'s Iain De Caestecker, and Lucifer's Tom Ellis — and a unique take on the end of the world. Full of scares, great acting, and even better dialogue, The Fades is a six episode treat for fans of apocalyptic storytelling.
Where to watch it: Hulu
2. Lost Girl
There is a Buffy the Vampire Slayer feel to Lost Girl thanks to succubus Bo's group of friends, but the show stands out for being an incredibly sex positive series. If you want all the goodness of dark, mythology-based storytelling alongside a feminist lead, then Lost Girl is for you.
Where to watch it: Seasons 1-4 are available on Netflix
3. Inside No. 9
A brilliant anthology series, Inside No. 9 blends pitch black comedy with twist endings so unsettling they stay with you for days after you watch the episode. The Twilight Zone fans who want an extra edge of modern deviousness are sure to love this show. The best episode so far is easily the silent episode, "A Quiet Night In."
Where to watch it: Amazon Streaming
4. In The Flesh
What if zombies could be rehabilitated? That is the question In the Flesh poses in a beautifully complex two-season tale of a teenager adjusting to life after death, grappling with his sexuality and mortality.
Where to watch it: Google Play & iTunes
5. The Returned
Another take on life after death, the French series The Returned has probably been on your to-watch list for a long time now. Trust me, you need to bump it up your list and bask in the growing unease of this town where loved ones returning from the dead really is too good to be true.
Where to watch it: Netflix
6. Being Human
A werewolf, a vampire, and a ghost move into a flat together and the result is the most unexpectedly moving, blood-splattered coming of age tale to come out of TV in years. Being Human never pulls its punches, and the show has one of the most shocking endings of all-time. I envy anyone who hasn't seen it yet. (Just to be clear, you have to watch the UK version, not the US remake.)
Where to watch it: Netflix & Hulu
7. Psychoville
Billed as a comedy, Psychoville has a decidedly twisted sense of humor. Its group of unhinged characters push the viewer to handle weirder and grosser stories with each passing episode. The series is not for the faint of heart.
Where to watch it: Hulu
8. The River
ABC tried to capitalize on the found footage craze with a show about a group embarking on a voyage down the Amazon to find a lost explorer. The River didn't always work, but when it did it was one of the scariest shows on TV. I still have nightmares about the tree full of dolls.
Where to watch it: Hulu
9. iZombie
If you haven't tuned in to iZombie yet, you are seriously missing out. Liv Moore is a zombie/medical examiner who eats brains and solves crimes. The show can be genuinely scary and heartfelt often in the same scene. It is by far one of the most underrated shows on TV.
Where to watch it: The CW, Netflix, & Hulu
10. Carnivàle
Set during the Great Depression, Carnivàle is an atmospheric, gothic wonderland full of early Americana flourishes and a constant sense of foreboding. It is a shame the series didn't last longer, but the two seasons HBO offered up were mesmerizing.
Where to watch it: HBO Go
11. Black Mirror
Black Mirror is gaining American fans now that the series has made its way to Netflix, but if for some reason you love horror and haven't watched yet, you owe it to yourself to check it out. The series is hardcore, content-wise, so if you like your scares soft, this is not the show for you. Everyone else enjoy the mayhem.
Where to watch it: Netflix
12. Intruders
Sadly, BBC America axed Intruders after one season, but that doesn't take away from the body-snatchers style horror the eight existing episodes offered up. Plus, John Simm was the star and there is nothing Simm doesn't make better just by being in it.
Where to watch it: Google Play & iTunes
13. Dead Like Me
A toilet falls out of the sky and kills the apathetic Georgia. Her life gets a whole lot more interesting after that as she becomes a reaper of souls, gets an office job, and grapples with being undead. Bryan Fuller of Hannibal fame created this brilliant show, and even though he left early in the first season his influence can be felt throughout.
Where to watch it: Hulu
Your favorite new show is almost certainly lurking on this list — let the horror TV marathoning commence!
Images: BBC America; ABC; fircyca/Tumblr; ladyavenal/Tumblr; swordfightingpsychopath/Tumblr; raise-the-posterior/Tumblr; rebloggy; Giphy (7)