7 Baking Makeup Tutorials You Need To Watch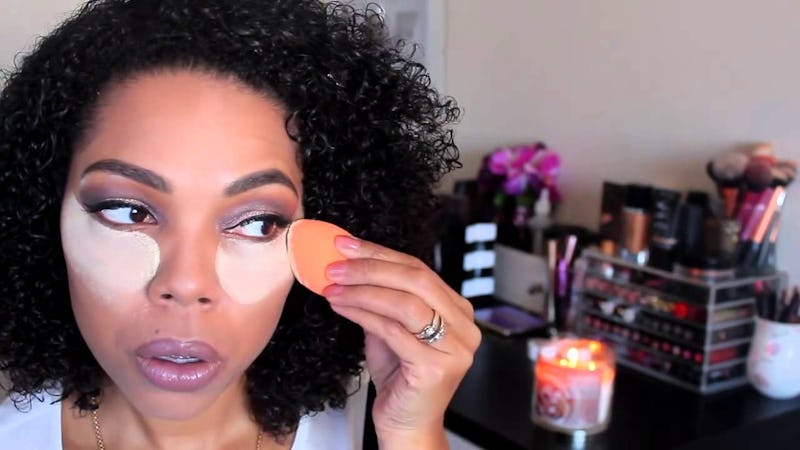 We all want to know how to make our makeup last longer and look better, no matter what we're up to. Whether you're trying to make your Halloween makeup last all night, or you want to keep foundation on until the end of the office day, there are plenty of tricks. The latest craze will help you do so. Here's the best baking makeup tutorials you absolutely should watch because this technique is super duper important.
First, what the heck is baking? Baking, or cooking, your makeup is layering setting powder in extreme amounts on your skin, and then dusting it off minutes later. This technique helps set your makeup to the extreme, highlights and brightens your face, and photographs extremely well. It sounds like a new technique, but baking has deep roots in drag and Hollywood. It's a great alternative, or addition to, primers and setting sprays and it's relatively easy to do.
Ideally, you should put the setting powder in heavy amounts on top of your foundation and concealer, allowing body heat to warm it up and blend the powder and cream products in a way that sticks. Like all trends, there are pros and cons to setting your makeup this way, but I'm sure there's a technique that will work for you. Here's the best YouTube videos about baking.
1. Baking for Oily Skin
Baking creates an ultra matte look. If you're naturally dry or prefer a dewy finish, this technique may not be for you.
2. Baking for Dark Under Eye Circles
If you can't get smooth, hydrated, and bright under your eyes no matter how much concealer you pack on, then baking may be the extra step you need. You can mix a highlighter in with setting powder for a super bright eyed look.
3. Baking as a Highlight
If you want a more natural highlight versus a shimmery glow, baking is the best technique to achieve a brightened look.
4. Baking for Mature Skin
Baking can, unfortunately, highlight fine lines and wrinkles. But not to worry! This tutorial illustrates how to use the technique in a way that looks fresh.
5. Baking to Sculpt Your Face
Baking can help sculpt your face in the same way highlighting and contouring can accentuate your features. Here's how to effectively blend all three techniques.
6. Baking for Deeper Skin Tones
Packing on light setting powder when you have medium to deep skin can sound like a disaster in the making. This tutorial shows you how to look bright without washing out your color.
7. Baking for Pale Skin
Pale skin tones can have a hard time finding the right shades and techniques that complement their skin. This tutorial is a lighter, step-by-step guide for a more normal, everyday look.
Image: Curls N Lipstick/YouTube