The 9 Best Halloween Movies On HBO Go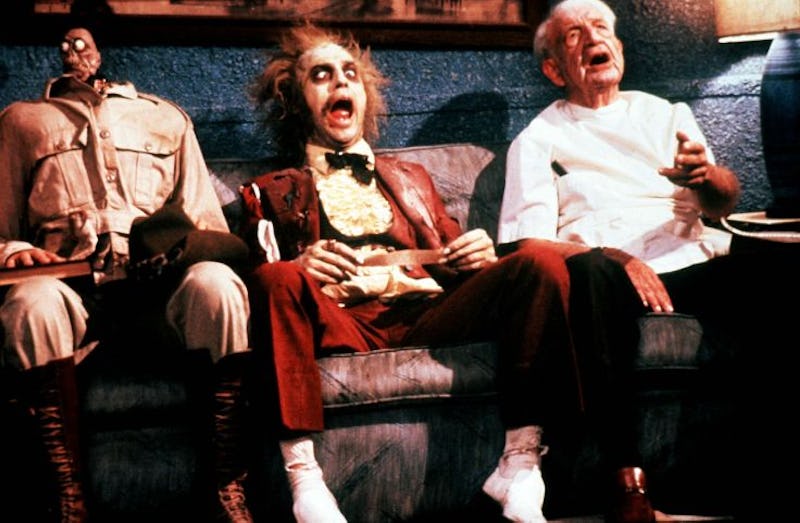 If your new adult way of celebrating Halloween involves staying in and streaming holiday-themed movies, you're in good company — lots of people are planning to put down their cat ears and plastic wands and pick up their TV remotes, instead. The entertainment industry knows this, and they've decided to make your life easier by providing a ton of Halloween movies for your viewing pleasure this month. One major player in the Halloween movie game is HBO, which offers a ton of films related to the holiday. But with so many options, how can you narrow down the list to select the best Halloween movies on HBO GO and HBO Now? Let me help.
The first thing to take into consideration is that just because a movie isn't in the horror genre doesn't mean it's not a great Halloween movie. If you need evidence, I have two words for you: Hocus Pocus. That being said, some of the season's best films are super scary. Other ones are just creepy or surreal, and even more are simply scary dramatic. Here are my suggestions, in no particular order, for the best movies to watch on HBO Go and HBO Now this Halloween, whether you prefer straight horror, creepy thrills, or something in-between.
1. Trick 'R Treat
Halloween traditions and tales get terrifyingly tanged in this horror comedy. It's a perfect tribute to all things related to Oct. 31.
2. Gone Girl
If you liked the book Gone Girl , you'll love the movie. Ben Affleck is equal parts lovable and suspicious as Nick Dunne, and the story's famous twist plays perfectly on screen (I won't ruin it for you!).
3. Mulholland Drive
This erotic thriller is the brainchild of David Lynch (of Twin Peaks and Blue Velvet fame), so you know it'll be sexy, seedy, and spooky. Although, none of his works are as creepy as his short film Eraserhead... let's just say that HBO Go is doing you a huge favor by not having that one available for streaming.
4. Dawn Of The Dead
Can't get enough of zombies? Zack Snyder has you covered with this 2004 remake of George Romero's classic horror movie about the undead.
5. Beetlejuice
This is an example of a Halloween movie that isn't technically a horror film... but it still scared the sh*t out of me as a kid. Tim Burton really knows how to creep you out.
6. House On Haunted Hill
Ali Larter and Taye Diggs star in this remake of the 1958 horror flick that shows the things people will do for a million bucks — specifically, staying overnight in a haunted insane asylum.
7. The Rocky Horror Picture Show
You can't go wrong with this cult classic. Extra points if you dress up to watch it.
8. Hannibal
If you didn't get enough of Hannibal Lector in Silence of the Lambs, this sequel might whet your appetite. Pretend not to notice that Jodie Foster has been discreetly replaced by Julianne Moore as Clarice Starling.
9. Don't Tell Mom The Babysitter's Dead
Christina Applegate is the baddest betch ever in this kooky comedy from the early '90s.
With this many top-notch Halloween movies on HBO Go, you'll be set for the month of October. Just be sure to pace yourself— with both your streaming and your candy corn consumption. Sugar hangovers are as scary as some of these movies.
Image: Warner Bros