The Kate Spade Holiday Campaign Is Everything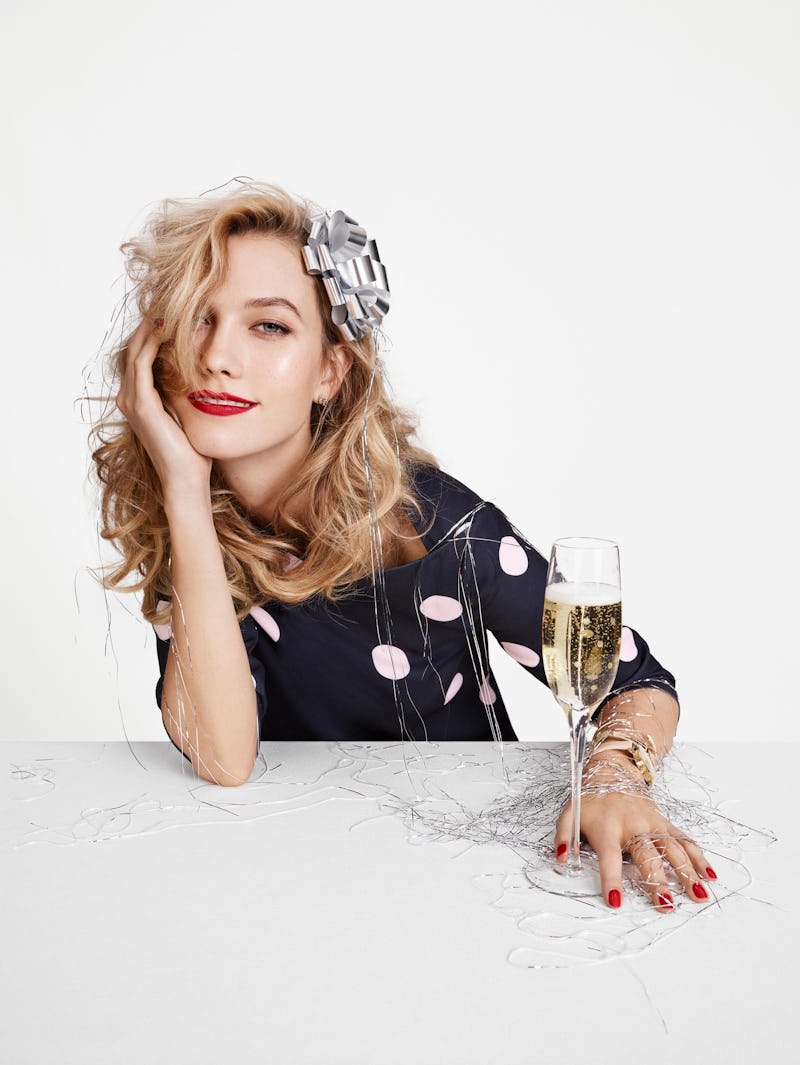 When it comes to campaigns, no one does 'em better than Kate Spade. This holds true for the brand's latest release, the 2015 Kate Spade holiday campaign. Featuring model Karlie Kloss, Vanity Fair journalist Derek Blasberg, and others, the photos capture the fun, festive theme of the holidays while also staging some lust-worthy pieces, from handbags to heels to polka dot dresses.
Kate Spade is one of those brands that consistently puts out campaigns that look like they were a hoot to photograph. Whether it's hailing a taxi cab in New York City, or even sitting on the floor of a library and reading books, the campaigns always have a fun, engaging story to tell, while also perfectly aligning themselves with the brand's feminine and chic style. And this year's holiday campaign isn't much different. While Kloss may be a returning face (she starred in the S/S 2015 campaign alongside fashion icon Iris Apfel), the characters, the clothes, and the setting are all different. Surprise, surprise, they're all fabulous.
The campaign features Kloss and Blasberg (who are real-life friends), as well as a assortment of other well-known industry names. Singer Alice Smith and her daughter, Lulu Greenwood, actress and photographer Sasha Frolova, literary agent Anne Brochardt, and the Matsuura family are all photographed. Dressed from top to toe in impeccable Kate Spade designs, they act out typical scenes we can all relate to during the holiday season, from riding in a taxi to get to a party, to opening presents, to even drinking a little too much champagne. The photos are witty, relatable, and absolutely adorable.
One of my personal favorite images from the campaign has to be the one of the models all sitting in the back of a car surrounded by gifts and Kate Spade handbags, wearing gorgeous printed pink and black clothes. I imagine Kloss is telling a charming story about casually lunching with Anna Wintour and how they bonded over adoring polka dot prints. Or maybe she was gushing over the fact that her dog chewed up one of her Louboutins? Or perhaps they're all exchanging beauty secrets?
Another favorite is this one of Blasberg with an adorable dog, some gifts, and some champagne.
Or maybe this one of Kloss is my favorite? Because let's be real — champagne is strong.
Everything about Kate Spade's latest campaign is perfectly festive without being over-the-top. Plus, the clothes are hardly your run-of-the-mill green and red holiday attire. They're printed, whimsical, and super pretty, and can easily be worn after New Year's Eve.
This isn't the first time the brand has aced a holiday campaign. Let's look back on some of Kate Spade's holiday campaigns and compare, shall we?
1. 2014
Featuring Anna Kendrick, confetti, and lot's of sparkles, this campaign certainly capitalized on the glitz and glam of the holidays.
2. 2013
Wouldn't you want to relax on a chaise lounge, cuddling up your kitten in an extremely sparkly dress, all while sipping on champagne and waiting for your lover to call you on your pink phone? That's what I thought.
3. 2010
The brand certainly knows how to translate "jolly and bright" into clothing and accessories. Pink cardigans? Blue tights? Sparkling headbands reminiscent of Blair Waldorf? I want it all!
4. 2012
Rethink those white tights and throw on a green frock. Oh, and don't forget to DIY all your holiday decorations this year. If Kate Spade says it's in, then it's in!
5. 2008
Mistletoe is always chic. As are a feathered clutch, a satin gown, and some dangling earrings.
6. 2007
Santa is tired and needs a nap. If I were lugging around a ton of Kate Spade handbags and clutches all night long, I would be worn out too!
Want more fun fashion? Check out the video below, and be sure to subscribe to Bustle's YouTube page for more hacks and tricks!
Images: Kate Spade