The Best Crop Tops From J Biebs' "Sorry" Vid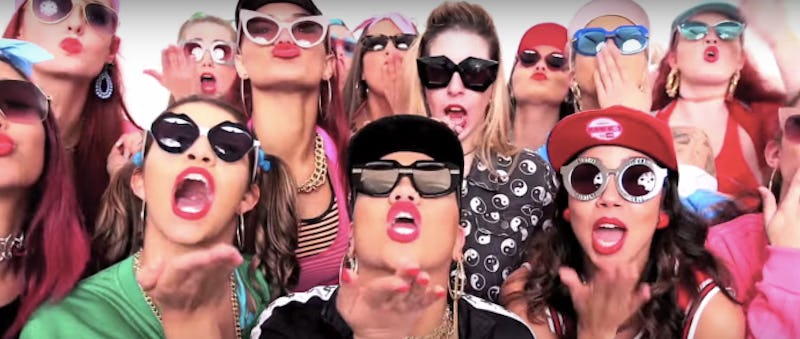 Justin Bieber isn't messing around with his new singles. First, "What Do U Mean" had me hearing clocks for weeks, and now, "Sorry," which has me hearing drums 24/7. The Biebs released the music video for "Sorry" today, and I've got to say, he didn't disappoint. But aside from the instant adrenaline I feel when that beat drops, I also black out from excitement when I see all the different outfits in this video. Below, find our favorite crop tops from the "Sorry" music vid.
First of all, love the concept of this video. It's an all-girls dance party, where the colorful dancers are giving some serious moves. I had to rewind during five or six separate occasions, I was that captivated. It's a feel-good song with an even feel-better music video. The dancers are clad in pinks, oranges, blues, the rainbow — you name it. Patterns reign supreme, and hats, sunglasses, and hoop earring are all the rage. But the best part? The CROP TOPS.
Okay so maybe I'm just feeling nostalgic for summer, but I am obsessed with all of the crop tops the dancers are sporting. From bralettes, to jerseys tied up to reveal some midriff, to sweaters, the crop tops came in all different types of shapes and sizes, and I must say, I need to have them all. You know, in case a spontaneous dance party happens to break out. Or, Coachella.
Without further ado, may I present to you my favorite crop tops from "Sorry."
1. This Patterned Beauty
This crop brings me straight back to the '80s. Okay, so maybe I wasn't born yet, but still. If I was, I picture myself wearing this top.
2. This Jersey Crop
Next Game Day, I'm rocking this look. Cause like, it's just team spirit, right?
3. This Black & White Beauty
Never underestimate the neutrals — Even in black and white, this set of separates slays.
4. This Polka Dot Number
With that matching blue bandana like that? Sold. Could this be my next gym look? I'd probably be stuck in the locker room taking selfies.
5. The Classic Solid
Of course, nothing is better than a classic. Jazzercise anyone?
6. This...Cheese?
Is it pizza? Is it fried chicken? Is it cheese? Who knows. But I'm a major fan of that long-sleeved orange crop with matching hat.
If you haven't seen this music video yet, do yourself a favor and WATCH NOW. You won't regret it.
Images: YouTube