These 'GoT' Season 5 Costumes Are Super Easy To Do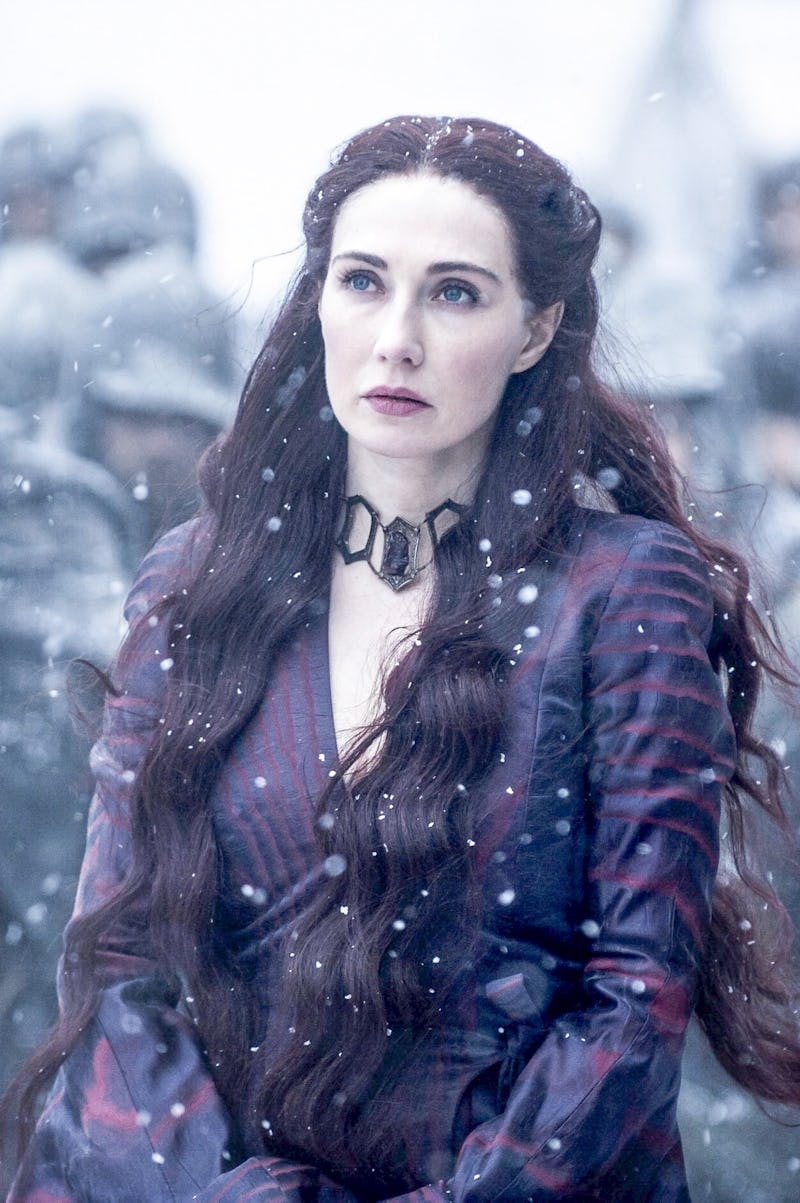 With Halloween right around the corner, it's really time to figure out what you're going to dress up as. If you're reading this article I'm going to assume that you're not only a Game of Thrones fan, but you've also waited till the last minute to get your costume together. Not to fear though, you can dress up as Game of Thrones characters quite easily and luckily if you're really in a pinch, Amazon Prime will be your best friend this week. Whether you're dressing up as our dearly departed Jon Snow (who's probably not dead) or the red witch, Melisandre, there are simple ways to channel all your favorite Game of Thrones characters from Season 5 for Halloween.
Season 5 of Game of Thrones saw the horrifying death of Jon Snow, the rise of the White Walkers, and the lowest point of Cersei Lannister's life. It introduced us to the Sand Snakes of Dorne and gave us a look inside Myrcella Lannister's life since leaving King's Landing. The season also brought Tyrion and Dany together and some amazing dragon moments. What I'm trying to say is there are a ton of costume ideas that come directly from the most recent season of Game of Thrones. Sorry Eddard, your time has passed.
Here are eight costumes to consider if you're trying to come up with a last-minute idea for Halloween weekend. Some of the examples are pricey, but use them as inspiration to find cheaper versions.
1. Tyrion Lannister
As usual, our favorite Lannister, Tyrion, had quite the adventure this year. He endured being kidnapped, was sold to fight for sport, and was eventually taken in by Daenerys. All you need to transform into Tyrion is a white peasant blouse, a brown sleeveless jacket, and brown pants. To really get the Season 5 look, you can bind your hands in ropes since Tyrion was a prisoner most of the season.
White Peasant Blouse, $20, Amazon, Brown Sleeveless Jacket, $17, Amazon; Brown Pants, $7, Amazon
2. Jon Snow
Jon Snow's untimely death is all anyone has talked about since the season ended. Prove to everyone that he's alive by dressing up as him. He wears all black… how hard could that be to improvise? You could go with a black dress or black leggings and a long sleeved black shirt. Next grab a black cheap fur vest, black shoes, and a sword. Basically just wear all black and tell people you may not be dead all night.
Round Neckline Dress , $20, Amazon ; Black Leggings , $6, Amazon ; Black Long sleeve Shirt , $13, Amazon ; Sword , $10, Amazon
3. Arya Stark
While you can't go around changing your face, Arya Stark has become one of the most powerful females on television and it would be an honor to take on her role for the night. To become Arya Stark you need brown leggings or pants, a peasant blouse, a short sleeved brown cardigan, a belt, and, of course, needle.
Brown Leggings , $11, Amazon ; Gauze Pirate Blouse , $31, Amazon ; Short Sleeve Open Front Cardigan , $22, Amazon ; Women's Leather Dress Belt , $4, Amazon ; Fencing Foil Sword , $9, Amazon
4. Melisandre
She's kind of crazy, but rocking a dark maroon dress and an awesome long-haired red wig for a night would be kind of cool. Just don't burn anyone alive. That's not cool. All you need is a dark maroon dress, a long red wig and deep red lipstick.
Red Cosplay Wig , $10, Amazon
5. Cersei Lannister
I recommend not walking around naked on Halloween. Instead, dress up as Cersei pre-prison to remind everyone that Cersei Lannister is back and stronger than ever. This season she ditched the red and went for a darker look. A you need is a black dress with wide sleeves, a gold necklace, and, if you really want people to know who you are, grab a long blonde wig.
Embroidered Boho Dress , $40, Amazon
6. Sand Snakes
Grab some friends and put together this easy Dorne look. Don't fixate on the details for this one, it's easier than it looks. All you need are brown pants, a dark yellow dress, a few brown accessories, and any brown shoes you have laying around.
Leather Belt Bracelet , $9, Amazon
7. Myrcella Baratheon
No, Myrcella didn't last long this season, but she wore a sweet dress and had awesome hair, so a Myrcella costume would be worth it. All you need is a pink dress and long flowing blonde hair for this one.
Curly Blonde Wig , $13, Amazon
8. Daenerys Targaryen
Season 5 Dany is a queen and she wears a white dress this time around. Also a stuffed animal dragon to bring along with you would only make things way cooler. Oh, and don't forget your wig!
Stuffed Animal Dragon, $7, Amazon; White Wig, $20, Amazon
See? You may only have a few days to assemble your costume, but you can still be an awesome GoT character.
Images: Helen Sloan/HBO (2); Macall B. Polay/HBO (5); HBO/Screenshot; Amazon (23); Walgreens; urban outfitters;