'Smash' Fans, You Need To See 'Brooklyn'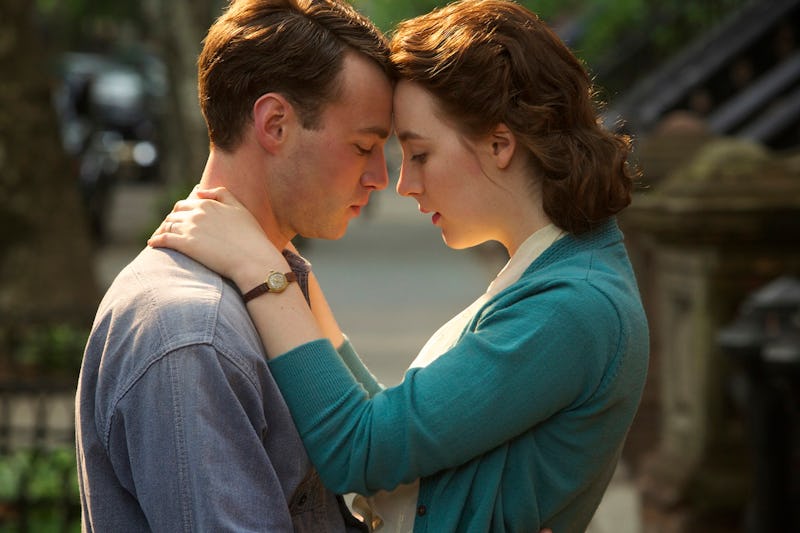 The movie industry has owed me a period romance for quite some time now, and here comes Brooklyn to deliver. The adaptation of Colm Tóibín's 2009 novel stars Saoirse Ronan as an Irish immigrant and Emory Cohen as the Italian-American boy who helps her to finally feel at home in New York City. And if you thought Tony was a dream in the book, get ready to see him in all his two-dimensional glory. Even the hardest, most cynical hearts won't be able to resist the way Cohen plays Tony in Brooklyn , giving an aw-shucks portrayal to Eilis's boyfriend. It's a charming, star-making performance, but Cohen actually isn't a total unknown.
"He's zero to a hundred," Cohen told Hypable of Brooklyn 's Tony. "He lives impulsively. And that was something I identified with." The festival darling film represents the actor's first major romantic lead; and, in my opinion, he slips flawlessly into the genre. After I left the theater, I found myself immediately thumbing through his credits to work out why he was familiar to me. And while I found a respectable list of indie features there, there was one role that immediately stuck out as the one that had been sitting in the back of my mind, waiting to be identified: Emory Cohen played Julia's son Leo on NBC's musical theater drama Smash. From sullen teen to gentle, grown-up hero — the transformation has been quick and complete.
My fellow Smash-ies will remember that Leo was one of the underwritten parts on the show. The only son of songwriter Julia Houston (Debra Messing), he didn't have much to do when the story lived mostly in the showbiz universe. Primarily, I remember him yelling at his mother a lot for abandoning him, before he disappears with the husband Julia eventually cheats on. It wasn't the part all actors dream of; at the same time, I'm always going to associate everyone who's ever been on Smash with that series, not matter what else they do. Such is its dubious legacy.
Smash wasn't the actor's only big project, though. In The Place Beyond The Pines, writer-director Derek Cianfrance's follow-up to Blue Valentine, Cohen plays a different kind of struggling teen. A.J. is the son of Bradley Cooper's political hopeful character Avery, who runs with a rough crowd and has the substance abuse issues of a person twice his age.
You may also remember Emory Cohen from the Mark Wahlberg drama The Gambler, if you were one of the few movie-going souls who actually saw it. The actor plays a skilled young tennis star whose college professor drags him into his high-stakes compulsion. Now this is a trend: Cohen tends to take on parts where his characters face life-or-death risk.
And what could be riskier than falling in love? The Brooklyn role may seem like a departure for Emory Cohen, but I think it's more of a likely progression. The actor has several other projects listed in production, including the violent road trip love story Vincent -N-Roxxy with Emilie Hirsch and Zoe Kravitz, and beachside coming-of-age story Hot Summer Nights.
Brooklyn could be Emory Cohen's breakout role, but his Smash history will always hold a special place in my heart.
Image: Fox Searchlight Pictures