6 YA Books To Get You Excited About Christmas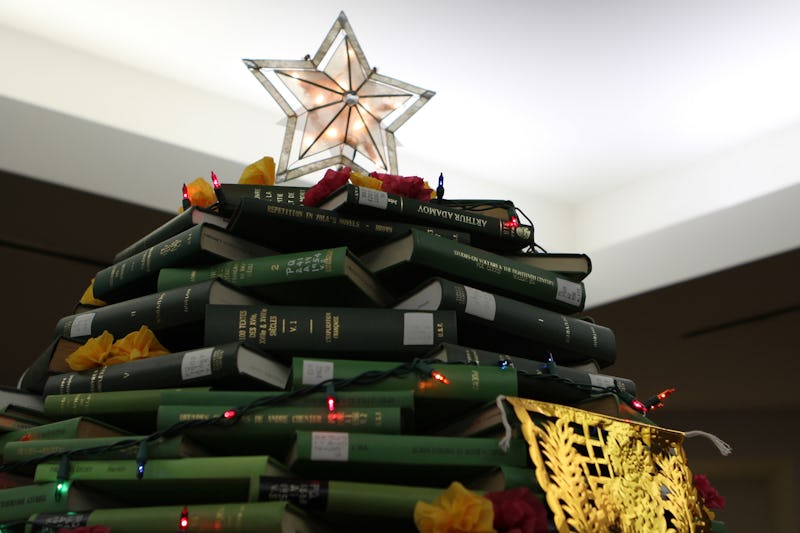 Now that Thanksgiving is over, some of us can turn to give Christmas our undivided attention — because when it comes to decorating, shopping, and getting into the holiday spirit, I just can't help myself. While fall is still my favorite season, there's nothing that quite compares to the first snowfall of the year or putting up the first strand of Christmas lights. If it wasn't too early in the year, I would probably start baking cookies while watching The Holiday right now.
Drinking hot chocolate and listening to the same Christmas playlist for an entire month is something I genuinely look forward to. But, for all of us book lovers, there are so many great festive, holiday-themed books out there to read, too. And if you are also struggling to find ways to indulge in your holiday excitement, these six YA books will do just that.
Not a lot of books take place around a specific holiday, but those that do — and succeed in doing so — are some of the best. With John Green and David Levithan on this list, you won't be disappointed with these romantic, exceptionally seasonal, and cheerful reads:
1. My True Love Gave to Me: Twelve Holiday Stories edited by Stephanie Perkins
This is the best book to read as soon as the first snowfall hits and you can break out your ice skates. Twelve short stories from you favorite YA authors — Holly Black, Ally Carter, Matt de La Peña, Gayle Forman, Jenny Han, David Levithan, Kelly Link, Myra McEntire, Rainbow Rowell, Stephanie Perkins, Laini Taylor, and Kiersten White — what could be better? No matter if you celebrate Christmas, Hanukkah, Kwanzaa, or the Winter Solstice, there's a story in here for you.
2. Top Ten Clues You're Clueless by Liz Czukas
If you're a fan of The Breakfast Club, then you'll love Top Ten Clues You're Clueless. On Christmas Eve, Chloe is stuck in the break room at GoodFoods Market with her fellow teenage coworkers after they were all accused of stealing $10,000. While they try to clear their names, and a secret crush becomes something more, the night turns into one festive and interesting evening that'll put you in the Christmas mood.
3. Dash & Lily's Book of Dares by Rachel Cohn & David Levithan
Lily, a well-read 16-year-old leaves her red journal of dares on her favorite bookshelf in her favorite bookstore, hoping the right guy will pick it up and follow her clues. When Dash, a guy in a bad mood over the holidays, finds it, he follows each dare across NYC, leading him to meeting Lily, but in a way neither of them hoped for. If you're like me and fell head over heels for Nick and Nora's Infinite Playlist, there's no doubt you'll also love Dash & Lily's Book of Dares.
4. Ex-mas: A Love/Hate Story by Kate Brian
This adorable teen romance will definitely put you in the Christmas spirit. As Lila planned to spend the weekend throwing a big party while her parents were out of town, her little brother, Cooper, and his best friend Tyler have other plans. When both boys disappear, it's up to Lila and Tyler's older brother Beau (who happens to be Lila's ex) to find the boys before Lila's parents return.
5. Eleanor And Park by Rainbow Rowell
Rainbow Rowell's touching story of two teens growing up in small town Nebraska will likely turn into one of your favorite books of all time. As the Eleanor and Park fall in love and hold back all at the same time, this novel redefines the meaning of first love. While this book doesn't scream "Christmas" there is a chapter about the holiday and a major portion of the book is Eleanor dealing with family issues, it's also good to keep on hand if the overwhelming family events are getting to be a bit too much for you.
6. Let it Snow by John Green, Maureen Johnson, and Lauren Myracle
This unique novel interconnects three separate love stories within the same frozen town. On Christmas Eve one character finds an ordinary trip to the Waffle House one to remember forever, while another is dealing with a break-up and family drama. These three incredible YA authors each tell a realistic and emotionally driven love story that you'll want to reread every time a snowstorm hits.
Images: Shawn/flickr; giphy (2)