Don't Call Them "Bond Girls"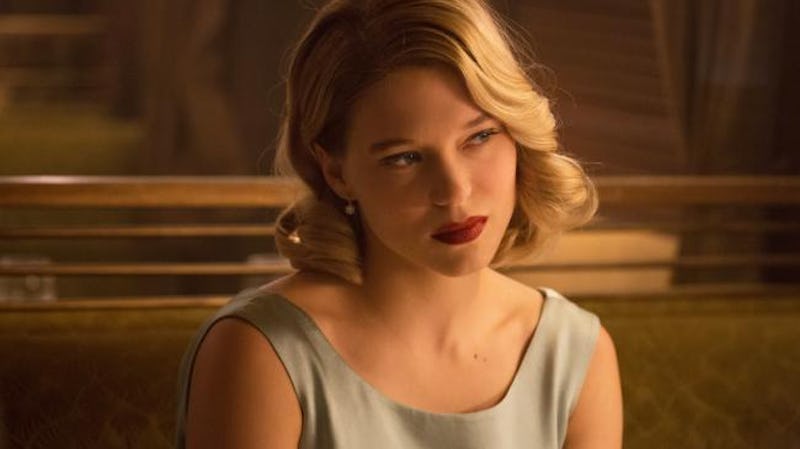 The new James Bond movie is almost here, and Spectre promises to be one of the British secret agent's best outings yet. The film is already clocking in at a strong 81 percent on Rotten Tomatoes, suggesting that the movie is more Skyfall than Quantum of Solace. One aspect of the film that's drawing praise, especially compared to the older entries of the series, is Spectre's treatment of its female characters, traditionally called "Bond girls." Many fans of Bond movies have been critical for the way they depict women, with even star Daniel Craig referring to Bond as a "misogynist" in a recent interview with The Red Bulletin. But with Spectre, the tables have turned a bit on the character as he finds himself surrounded by strong female characters. So, who plays the new Bond girls in Spectre ?
There are four women taking Bond to task in Spectre, and they make up one of the most diverse groups of Bond girls ever assembled in a film. French actress Lea Seydoux has the female lead of Dr. Madeleine Swann, a psychologist and the daughter of Mr. White, a villain from Casino Royale and Quantum of Solace. Italian-born Monica Belluci is Lucia Sciarra, the widow of a criminal who was killed by Bond. Mexican actress Stephanie Sigman plays Estrella, who is on the arm of Bond at a Día de los Muertos celebration in the film's opening scene. And finally, Naomie Harris reprises her role from Skyfall as MI6 agent Eve Moneypenny. But let it be known, there's far more to each of these women than their identity as "Bond girls."
Seydoux, Lea Seydoux
Seydoux is an accomplished actress in France, and is also making a name for herself in Hollywood with roles in films like Inglourious Basterds and The Grand Budapest Hotel. In 2013, Seydoux was awarded the Palme d'Or, the highest award given at the Cannes Film Festival, for her work in Blue Is the Warmest Colour. Fans should expect her star to continue to rise after her role in Spectre, as she has been offered the lead role opposite Channing Tatum in next year's X-Men spinoff, Gambit .
Her character of Dr. Swann is also stronger than Bond girls of the past, as Harris said of Swann to The Independent: "She is supposed to have the traditional role of being rescued, but actually she rejects [Bond's] help and is like 'I've got this, I'll do this on my own.'"
Bellucci, Monica Belluci
Bellucci has had a long and storied career as an actress and model, with her best-known role likely being the character of Persephone in the Matrix trilogy. Bellucci's age and experience are definitely assets in Spectre, as she became the oldest Bond girl ever at the age of 50. In fact, before her there was never even a Bond girl in her 40s — the oldest was Honor Blackman, who was 39 when she portrayed Pussy Galore in Goldfinger.
Some fans consider the term Bond girl to be offensive and outdated, and Bellucci prefers the term "Bond woman" because at 50, she's no girl. "I can't say I'm a Bond girl because I'm too mature to be a Bond girl," she told The Guardian in an interview. "I say Bond lady; Bond woman."
Sigman, Stephanie Sigman
Sigman is also breaking barriers, as she is the first Mexican woman to portray a Bond girl. The 28-year-old, who is currently starring in the acclaimed Netflix series Narcos, was very proud to represent her country in the world of James Bond, as her scenes in the movie were filmed in Mexico City. "It's great to show off my country's culture," she told The Telegraph.
Sigman also spoke of the positive female force behind James Bond: Longtime producer Barbara Broccoli. "The lead producer Barbra is a strong super cool woman and I really admire her," Sigman said in an interview with InStyle. "She told me to keep doing projects that I really like, and only choose ones that I'm really passionate about."
Harris, Naomi Harris
Harris is no stranger to changing attitudes about the women in Bond movies, as she revolutionized the role of Moneypenny in Skyfall not only by being the first person of color to play the role, but also by putting the character on equal footing with Bond as a gifted field agent herself.
Now that she's back for Spectre, she's saying that these days it's even possible to be both a Bond girl and feminist — a controversial notion only a few years ago. "I think you absolutely can [be a feminist and a Bond girl]," she told Cosmopolitan UK in their November issue. "Sam [Mendes, Spectre director] loves strong, multidimensional women; that's incredibly important to him. Barbara Broccoli is at the helm of the franchise too, and she's a strong woman who has a big say in how the characters are developed."
So the question then really shouldn't be, "Who are the new Bond girls?" It should be, "Who are the fantastic women in the new Bond movie?" Because all of these actresses represent far more than the generic Bond girl label, and it's great to see the series treating its female characters with more respect.
Images: MGM/Columbia Pictures; giphy.com