You Need To Watch Taylor's Emotional New Video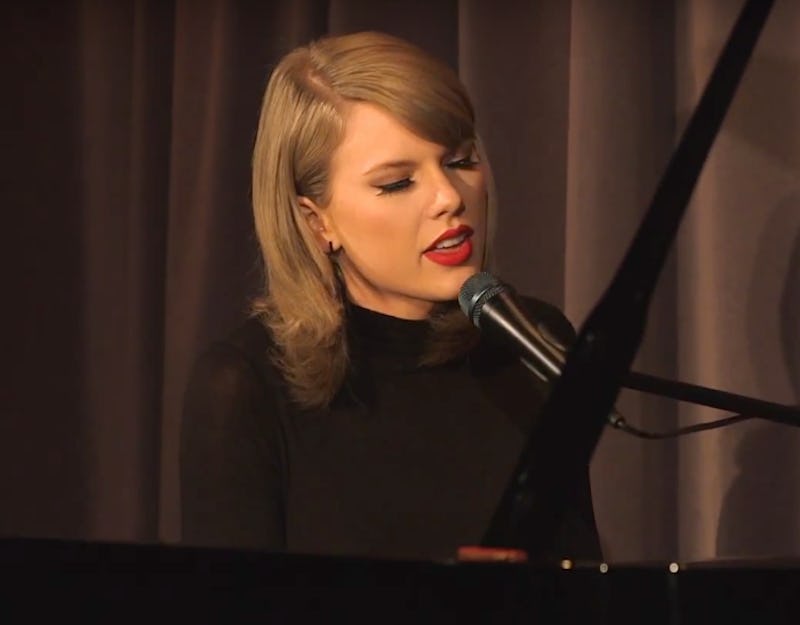 Get out the tissues, Swifties: Taylor Swift's acoustic version of "Out of the Woods" is bound to bring on the waterworks. The 25-year-old singer shared a special stripped-back rendition of the emotional song on Tuesday in celebration of the one-year anniversary of 1989 — and I actually think the new arrangement might be better than the original! Swift performed the track live at the Clive Davis Theater in Los Angeles on Sept. 30 to commemorate the record-breaking success of her exhibit at the GRAMMY Museum, The Taylor Swift Experience. As you may recall, the "Shake It Off" hit-maker co-wrote "Out of the Woods" with Bleachers front man Jack Antonoff, and its lyrics are rumored to describe her turbulent relationship with One Direction's Harry Styles (though we may never know for certain). Swift prefaced her performance with the following eye-opening introduction:
I'm going to play you a song that I wrote about a relationship that I was in that the number-one feeling I felt in the whole relationship was anxiety. Because it felt very fragile; it felt very tentative. It always felt like, "OK, what's the next roadblock? What's the next thing that's going to deter this? How long do we have before this turns into just an awful mess and we break up? Is it a month? Is it three days?"
And so, I think a lot of relationships can be very solid and that's kind of what you hope for: solid and healthy. But, that's not always what you get. And it doesn't mean that it's not special and extraordinary just to have a relationship that's fragile and somehow meaningful in that fragility.
Swift is often criticized for having a "weak" voice, and while it's true that her range is limited, she knows how to emote — and this performance is proof. Her exceptional songwriting skills and non-threatening girl-next-door charm are what made her a star, and over the last several years, she's learned (quite well, I think) how to make up for her vocal shortcomings. Obviously, we'll never hear Swift effortlessly laying down runs like Mariah Carey or Christina Aguilera, but there's a reason why she's amassed millions upon millions of devoted fans all around the world: her music moves people. Love her or hate her, Swift is the real deal.
Just in case you've been living under a rock for the past year: 1989 is available everywhere now.
Image: Giphy