10 Reasons To Be Lazy And Stay In This Halloween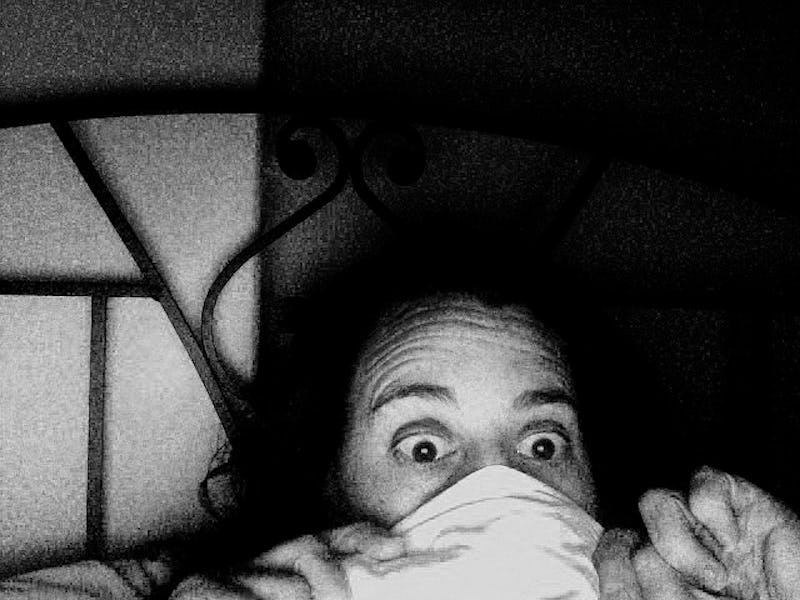 Fact: I haven't celebrated Halloween in years. I would much rather stay home, watch scary movies, and consume candy I haven't eaten since I last trick-or-treated 12 years ago. (I was Foxxy Cleopatra from Austin Powers in Goldmember, in case you were wondering.) For me, there are more reasons to stay home on Halloween than there are to go out to a costume party, parade, or club. Instead, you'll probably find me in the kitchen making candy corn shots with like-minded friends. We're not boring. We're practical. And cheap.
Here's the thing: I secretly miss trick-or-treating. There, I said it. And until I have children or adopt a troop of kids from a friend for the day, I will not be able to enjoy the simple pleasure of dressing up and knocking on neighbors' doors, praying for Nerds and Butterfingers. Can the Peter Pan Syndrome affect women?
So if you'll excuse me, I'll be prepping my own Halloween "party" with a couple of friends to bake Halloween treats, drink Halloween-inspired cocktails, watch scary movies, and give away candy to trick-or-treaters. Need an excuse to stay in yourself? Here are 10 reasons why you should stay home this Halloween instead of going out, fighting crowds, and losing money on club covers and drinks. The couch and Halloweentown has your name written all over it.
1. Crowds Are Terrifying
People who you haven't seen in years seem to come out and show their presence on two occasions: Halloween, and New Year's. Now multiply that by a thousand, and you have Halloween night at the parade, at the theme park, at the club, and at your friend of a friend's house party.
2. Drunk People Are Annoying
You can barely deal with one drunk on an average Saturday night, let alone one who decided to dress up as a slice of pizza and is blocking your way to the bathroom at the bar. Halloween is an occasion for people to go hard. Can someone tell them that YOLO died in 2012?
3. Trying To Find The Right Costume Is Impossible
After spending hours fighting kids and parents for a spot in the dressing room at Party City and other popup Halloween costume stores, you finally give up and recycle your costume from last year. The battle is just not worth it.
4. Spending Money Is Inevitable
If you do manage to find a costume, expect it to cost more than a shopping spree at Forever21. Ditto with ticketed club and bars entries, and drinks. You thought tickets came with a drink? Ha. No.
5. Giving Candy To Trick-Or-Treaters Is Adorable
OK, so for some, this can be a negative. But for those who relish the memories of trick-or-tricking themselves, this is a fun opportunity to make a kid's night. And the kids? They're adorable.
6. You Can Watch Scary Movies
Overrated? Never. You do you, and have fun watching a scary movie marathon, or a Disney Halloween movie. You can never watch Hocus Pocus too many times.
7. You Don't Have To Worry About Costume Malfunctions
How can you expect to have a good time if you're constantly adjusting your blouse for side boob, your mask so you can breath, or your costume head so that it doesn't fall off while you're trying to whip and do the nae nae?
8. You Don't Have To Brave Bad Weather
You know why you'll be dressing in a sweater, a pair of jeans, boots, and a coat the morning of Halloween? Because it's cold. So why would you go out in less clothes after sundown?
9. You Don't Have To See Couples In Costume
It is an annoying thing to see when you're single. Like, how many peanut butter and jelly costumes does a girl have to see in one night?
10. No Hangover
While everyone is nursing themselves back to life on Sunday, you'll be happily enjoying brunch with no wait at noon. The day is yours. Carpe Diem.
For more Halloween ideas, check out Bustle on YouTube.
Images: The Web Princess/Flickr; Giphy (10)