14 Spooky Audiobooks For Halloween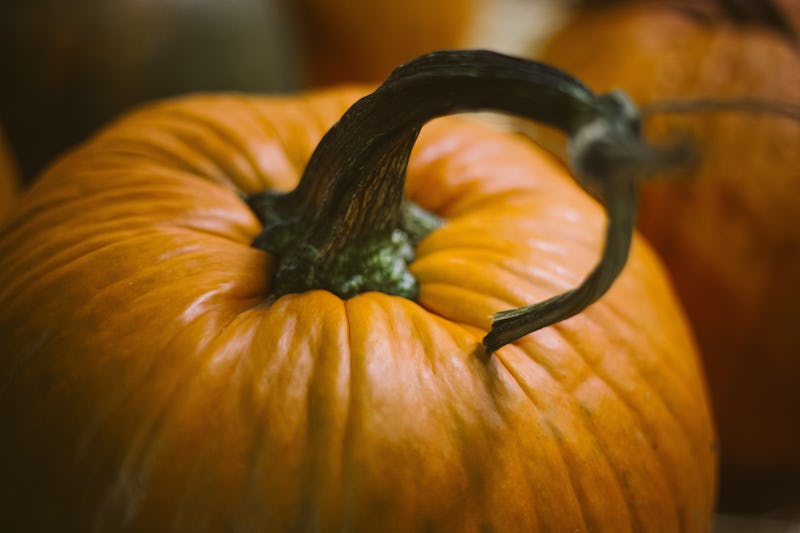 Now that we're all a little too old for trick-or-treating, Halloween can be a bit of a bummer. All these kids are out on the streets getting free candy and having the time of their lives, and you're stuck inside trying not to curse at children who ask you to give them your precious chocolate. But luckily, there's a whole load of adult-only fun to be had on Halloween that those pesky kids don't even know about. Namely: drinking alcohol and getting scared out of your mind.
So if you don't fancy dressing up as a sexy Disney character this year, don't worry. You can still host the coolest Halloween shindig ever instead: staying in with a spooky audiobook. (Because everyone knows books > parties.) Here's how to do this properly. Dim the lights. Shut the blinds. Light some candles. Have everyone sit in a circle on the floor like you're gearing up for some serious campfire horror. Pour the drinks. And press play. These creepy audiobooks will take care of the rest.
Even more awesome is we teamed up with Audible to showcase previews of some of these seriously freaky fables in time for the big night. After all, Hocus Pocus is great — but you've probably seen it enough times by now.
Lock & Key by Joe Hill, read by Haley Joel Osment and Tatiana Maslany
What was the first horror movie you ever watched even though your parents told you it was too scary for you? The Sixth Sense, right? Yeah, me too. And thanks to that one sleepover, I'm still petrified of being grabbed by a creepy arm from under my bed. So what better way to scare yourself senseless than to listen to an audiobook narrated by Haley Joel "I see dead people" Osment himself? Add in the terrifyingly talented Tatiana Maslany from Orphan Black, and cameos from over 50 voice actors including Orange is the New Black's Kate Mulgrew, and you've got yourself a party. (And, shh, it's free until November 4, so hurry!)
Crimson Peak is the film on everyone's lips right now, thanks to its feminist approach to sex, and the fact it's so scary even the actors were feeling jumpy during filming. But you know how things are always even scarier when you can't see them? (Just re-watch Jaws to see what I mean.) Well, listening to Crimson Peak when you can't even see Tom Hiddleston's lovely face is just like watching Jaws.
The Lilith's Brood trilogy is '80s science-fiction at its best. All three books explore the themes of sexuality, gender, and race — all in a scary post-apocalyptic setting. (Yeah, Octavia Butler is a crazy good horror writer.) This Halloween, start at the beginning — with Dawn.
Thought making the vampire a woman in the gender-swapped Twilight was ground-breaking? Think again: way before Dracula, one of the earliest vampire stories was already about a female vampire named Carmilla. This three-hour edition is the perfect length for your Halloween gathering, and is read by the fantastic Rose Leslie ("You know nothing, Jon Snow") and David Tennant of Dr. Who fame.
What could be more Halloween-y than Frankenstein? Nothing, that's what. And this version is read by Downton Abbey's Dan Stevens — so you just know it's good. This is one cliché horror story you'll never get tired of re-listening to.
Just when you thought that epidemic horror stories were pretty much done, Tananarive Due arrived to reinvent the genre. After an infection swept the world, all that's left is a population of mindless zombies, nicknamed Freaks by the few survivors. But the Freaks aren't quite what they seem — and they may not be so mindless after all...
Tom Mison has had us all terrified in his role as Ichabod Crane in Sleepy Hollow, and now he's back narrating the original short story. No Halloween is complete without a reading of this eery tale — and I dare you not to scream every time the Headless Horseman shows up.
Pride and Prejudice might not be the first novel that leaps to mind when you're thinking of spooky Halloween reading material — but add in a handful of zombies and it's exactly what you're after. In this crazy and hilarious re-imagining, Lizzie Bennet doesn't just have to do battle with class prejudice; she literally has to do battle with flesh-eating monsters.
A writer returning to his childhood hometown with his wife and children sounds like the perfect start to a cozy, gentle tale, right? That's what I thought, too — until it became clear there was something very wrong with the children in Colony, West Virginia. These children come out at night… and they're scary enough to make you seriously wary of any young trick-or-treaters that knock on your door.
In the future, where the world is dominated by "Granny Nanny", an Internet-like system that provides users with any information straight into the voice in their head, Tan-Tan Habib is teleported to an alternate universe where humans are the outcasts, and mythical creatures rule. The more Halloween-themed drinks you down, the harder you may find it to keep up with this crazily creative storyline.
Off Season is definitely not for the faint-hearted; its extreme violence and cannibalism made it extremely controversial when it was first published. The novel is based on the legend of Sawney Bean, the same folklore behind the classic horror film The Hills Have Eyes.
For something a little different, how about a Halloween love story? In The Color of Light, art student Tessa falls for the mysterious Rafe, the Academy's founder who everyone is pretty sure is a vampire… But Rafe isn't the only supernatural one in this story; Tessa's sketches seem to reveal clues about the fate of Rafe's long-lost love, who tragically died in the Holocaust.
This is a story about two sisters named Kit and Fancy, who are also best friends — so you'd be forgiven for thinking it would be a carefree and hilarious beach read about the special bond of female friendship. Or something like that. What you wouldn't expect is that these sisters are the daughters of the infamous Bonesaw Killer, who murdered more than a dozen people in his own cellar — and that now his daughters have got a taste for what he started.
Dracula by Bram Stoker, narrated by Alan Cumming, Tim Curry, and more
And of course, the ultimate Halloween tale: Dracula. This audiobook is narrated by a full all-star cast, including Alan Cumming, Tim Curry and Simon Vance. However many remakes of Dracula you've seen over the years, nothing will prepare you for this brilliantly acted production. This is Dracula as Bram Stoker intended.
Image: Jocelyn Maloney/Unsplash