A Familiar Face To Return To 'OUAT's 100th Episode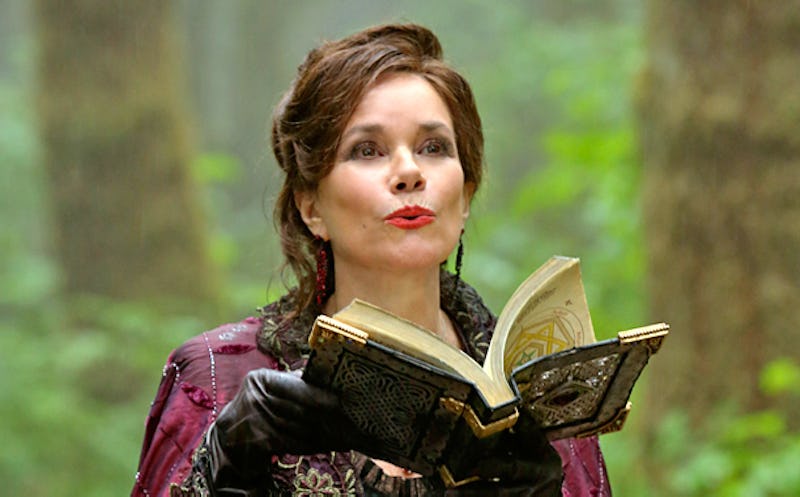 We're really getting into the swing of things on Once Upon A Time Season 5, and needless to say, it's really intense. As the reality of what actually happened in Camelot to make Emma succumb to her new identity as the Dark One begins to come to light and Merlin has been freed from his tree prison, the stakes are getting higher and higher, and that's not going to slow down anytime soon. This is already shaping up to be one of Once's best seasons, and with the series soon reaching an important milestone, things are only going to get better. Don't believe me? Consider this: Barbara Hershey will return for Once Upon A Time 's 100th episode later this season, meaning Cora Mills is coming back and that's bad news for Regina.
Entertainment Weekly confirmed the news of Hershey's return, but not much else is known besides the fact that Cora's coming back. The 100th episode is generally a big deal for any show, and it's doubtful that Once will be much different. Big things are likely to happen, and considering the 100th episode will be the spring premiere and Season 5B has been described as "hell" (with a potential literal visit from the devil himself), this could very well have to do with whoever it is that ends up in Hades.
Am I getting ahead of myself? Let's go back. Here's what we do know: someone (or more than one person) will die this season, but it likely won't be a permanent situation. There's been a lot of buzz about the possibility of Once exploring the Underworld later this season, and it looks to be more than speculation given that we've already seen a figure likely to be Charon when the Fury came to collect "the price" for Emma saving Robin. If that price is on Regina's head now — remember, she's the one who begged for Robin to be saved — then it stands to reason that she's the one who will eventually have to pay up. Is it all coming together now?
It's unclear as to whether or not Cora's appearance will be via flashback or... something else. After all, she's dead — Snow killed her — so it's either that we're looking into Regina's past again, or Regina's going to come face to face with her mother in the Underworld. My money's on the latter, but only time will tell if I'm right. Either way, Cora was an excellent villain and it'll be fantastic to see her again, in whatever form.
Images: Jack Rowand/ABC