Drew Barrymore + Puppies = Everything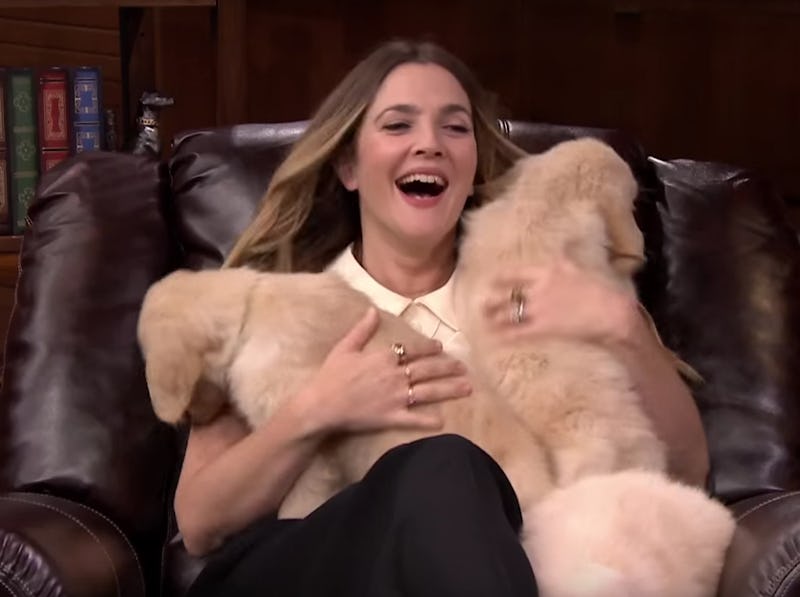 Warning: Extreme cuteness ahead! The always-empowering Drew Barrymore just gave us one more reason to love her while stopping by The Tonight Show Starring Jimmy Fallon. She faced off against her former Fever Pitch co-star in an intense game of Pup Quiz. In case you're not aware, that involves obscure trivia questions and lots and lots of cute puppies. As expected, it left everyone completely overwhelmed by adorableness.
As a refresher, each round of Pup Quiz has a contestant answering a random question. If he or she gets it right, the reward is a puppy. Get it wrong, however, and the puppy is given to the opponent. And, if you're wondering, there is Double Puppardy and Final Puppardy, which ups the ante even more. Both Fallon and Barrymore had their fair share of cuddly golden retrievers. While Fallon's seemed a little on edge, Barrymore's could not have been more loving, licking her ears and crawling under her hair. Given that Barrymore is already a ray of sunshine, adding puppies into the mix is almost — almost — cuteness overload.
You can watch it all go down in the video below. If you're looking for even more heartwarming moments, check out these 11 times Barrymore made us smile.
1. When She Called It Like It Is
Barrymore is known for her upbeat attitude.
2. When She And Fallon Recreated The Dirty Dancing Lift
And it was perfect.
3. When She Spread The Love
By listing things she loves.
4. When She Reminded Us We're Beautiful Just How We Are
Because she'd rather enjoy food than diet.
5. When She Embraced Turning 40
Even when some women shy away from it.
6. When She Radiated Charm As A Child
Does it get any cuter than this? No.
7. When She And Adam Sandler Serenaded Each Other
Reminding us of how amazing their chemistry is.
8. When She Calls Herself "Nerdy" For Being So Happy
And admits she's too enthusiastic to be elusive.
9. When She Talks About Her Children
Because she's the sweetest mom.
10. When She And Fallon Applied Makeup To Each Other
And it was hilarious.
11. When She Published A Whole Book About Finding Hearts
She loves the shape because it's so positive, which is a great outlook.
Here's to Drew Barrymore for always making us smile with her incredible personality.
Images: NBC (screenshot); Giphy