Calling All Wimps Who Love Halloween Movies Anyway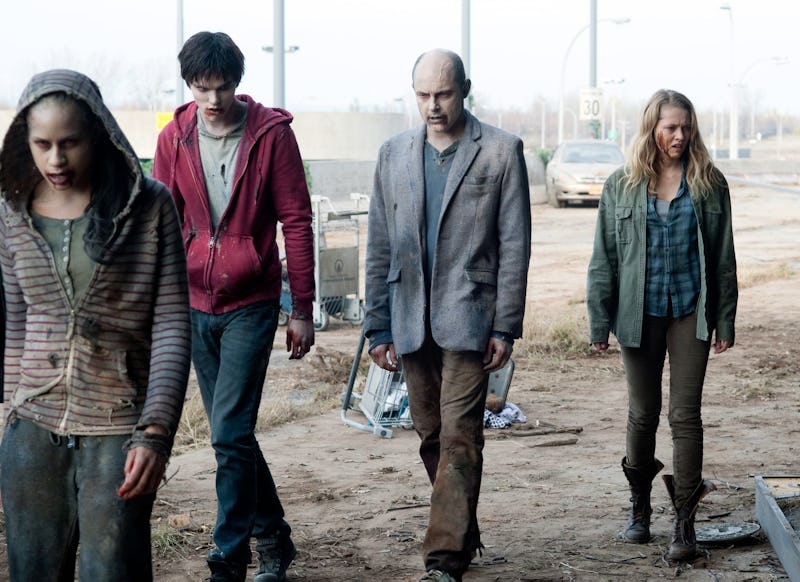 For far too long, Halloween has been a holiday for brave movie fans, or at least the ones who have the most fun scaring themselves to death. But where are the not-so-scary Halloween movies for the babies like me who don't always want bloody psycho-killers jumping out in front of their faces? Though the abundance of Halloween horror marathons on TV may imply otherwise, there's an awesome canon of holiday-appropriate movies that aren't at all scary. Who says you have to be a horror fan to get to celebrate Halloween the way it was intended, with an all-day movie marathon? And don't feel relegated to children's Halloween entertainment either. These non-scary Halloween movies are all geared toward adult audiences, and range from the uproariously funny to the moody and atmospheric.
So whether your tastes run more towards zombie romantic comedies or magical grown-up fairy tales, there's a Halloween-appropriate movie here for you. I can guarantee that all nine of these films go great with a popcorn and candy-corn snack mix, and a spiked apple cider certainly couldn't hurt. No longer should the wimps feel ostracized by this awesome holiday. These non-scary Halloween movies for adults will become a new part of your autumn tradition.
1. Warm Bodies
The standard romantic comedy may be struggling, but the genre romantic comedy is alive and well. Or un-dead and well, as it were. Warm Bodies is adapted from the novel of the same name and stars Nicholas Hoult as a zombie who falls for a living girl. It's a sweet metaphor for all the ways that love can bring you back to life. A second novel is on its way, so hopefully a sequel to the movie is as well.
2. Beetlejuice
Vintage Tim Burton, a tour de force comedic performance from Michael Keaton, and one of the best dinner scenes ever put on film: What more do you need in a Halloween movie?
3. Arsenic And Old Lace
For my classic girls, here's a Cary Grant comedy about a newlywed who learns that his harmless old aunts spend their days poisoning elderly bachelors, and that he may have inherited their bloodlust. "Insanity runs in my family," he tells his new bride. "It practically gallops."
4. Ghostbusters
And by this time next year, you'll have the Kristen Wiig/Leslie Jones/Kate McKinnon/Melissa McCarthy Ghostbusters reboot to add to the list, too, but for now, the classic will do.
5. Young Frankenstein
Try not to watch this Mel Brooks comedy with your friend who's seen it 200+ times. Trust me, she will recite every single line of its absurd and pun-heavy dialogue.
6. Practical Magic
If Halloween is ladies night, queue up this '90s romantic comedy that stars Sandra Bullock and Nicole Kidman as a couple of witch-y sisters looking for love.
7. Stardust
Not all fairy tales are for kids. Stardust comes from a novel by modern fantasy master Neil Gaiman and stars a pre-Daredevil Charlie Cox as a young orphan who has a meet-cute with Claire Danes's fallen star. Too bad for them Michelle Pfeiffer steals the entire show as a badass witch.
8. Sleepy Hollow
Tim Burton's adaptation of the Washington Irving story is classified as horror, but it's really about the dark romance between Johnny Depp's Ichabod Crane and Christina Ricci's Katrina Van Tassel more than it is about spooking you half to death.
9. Dracula: Dead And Loving It
You'll need to unlock your cheeseball sense of humor to enjoy this '90s horror parody. Another Mel Brooks production, Dracula: Dead And Loving It isn't as highly regarded as Young Frankenstein, but will probably be the funniest thing you've ever seen once you're three or four themed cocktails in.
Play it safe this Halloween and watch one or more of these totally not scary but still totally great movies.
Images: Lionsgate; Giphy (9)