Easy Pop Culture Costumes For Procrastinators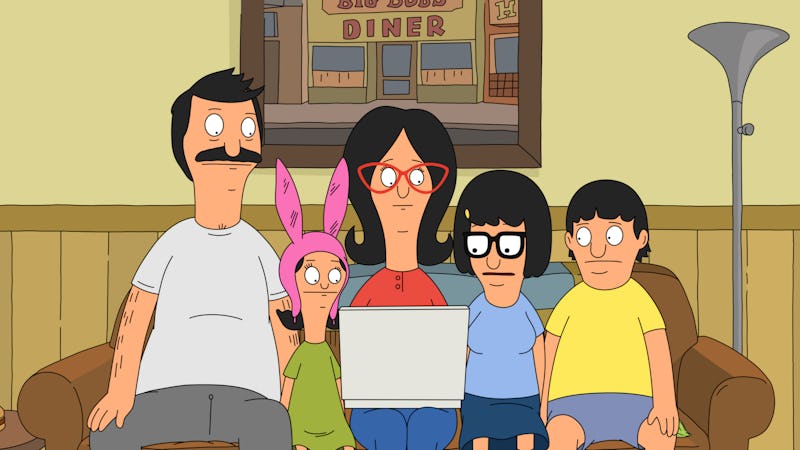 So, you totally waited until the last minute to pick out your Halloween costume, didn't you? Don't worry, I am not here to scold you — as a fellow procrastinator, I feel your pain and I am here to help. There are plenty of pop culture Halloween costumes you can throw together with minimal effort or shopping. It may be too late to bust out a perfect Left Shark, sure — but a member of Bob's Burgers Belcher family is totally doable. After all, dressing up for Halloween isn't about pulling off the most elaborate costume, it's about pulling off a cool costume — or, you know, any costume, because the clock really is ticking, guys.
These no-pressure costumes are comfortable, fun, and they will prevent you from having to make a last minute run to the Halloween pop-up store to buy a glorified bed sheet so you can try to convince your friends you're Casper. From recognizable TV characters to au courant pop culture figures to oldies but goodies, the choices for no-stress costume are endless. So, put down the brown paper bag you are hyperventilating into and prepare yourself for a Halloween miracle, because these nine costumes are totally going to save your holiday.
1. Tina Belcher (Bob's Burgers)
The Belcher family is instantly recognizable to TV fans and there is a 75 percent chance you have everything you need to pull off one of their looks in your closet. Since Tina is a fan favorite (and super easy to pull off), let's go with her look. For Tina you just need a plain blue t-shirt, a darker blue skirt, a yellow hair clip, black Keds (or a knockoff brand), hipster glasses, and a pair of gym socks. If you really want to standout, grab a plain composition book, write "Erotic Friend Fiction" on the front and carry it around with.
2. Have You Seen Michelle Tanner? (Fuller House)
The lack of the Olsen twins involvement in Fuller House was a huge topic of conversation this year. You can stand out from the crowd by not only being Michelle, but missing Michelle. Grab some cute overalls, an adorable '80s blouse from the back of your mom's closet, and pull your hair up with an old school tacky barrette (still sold at Dollar Stores everywhere). Congrats, you are Michelle!
If you want to get a little more creative buy a piece of poster board and make a "Have you seen Michelle?" poster to hang around your neck. The devil is in the details, so make sure you add little notes like, "last seen in San Francisco" and always says "you got it dude."
3. Bad Blood
Unless you've got a lot of leather or fake fur in your closet, you don't have time to throw together a traditional Taylor Swift-approved "Bad Blood" look. However, you can pull off the punniest "Bad Blood" costume ever. Grab a plain white t-shirt you don't care about and some red paint and write Bad Blood across the shirt in the creepiest manner possible. Add some "blood" splatter for good measure. Finish the look with a faux leather jacket.
Want a classier look? Take a plain red t-shirt and bedazzle the front with black rhinestones that read "Bad Blood," pair with your coolest black jeans, black boots, and maybe temporarily dye your hair red for the evening.
4.Susan Cooper (Spy)
Spy was a monster hit this summer, and Susan Cooper became an instant hero. She had some kooky undercover outfits you could recreate — but personally, I loved her serious spy outfit. Grab a grey trench and pair with a dark pair of pants/leggings and simple black flats. Focus on making your hair as wavy and flawless as possible, and pepper your conversations with some salty language.
5. Kate Middleton & Baby Charlotte
No, you are not going to be able to find Kate Middleton's dress — but I bet you have something yellow in your closet. Bonus points if it is floral! Add a baby doll wrapped in your most delicate white tablecloth (who has time to track down fancy baby doll clothes?) and start practicing your royal wave. This costume will be even better if you can rope someone into being your Prince William for the night. I mean, all they need is a white shirt and a blue sweater — you're the one that has to try to nail Middleton's hairstyle.
6. Joy & Sadness (Inside Out)
Like the Belcher family, the Inside Out cast is incredibly easy to pull off. Grab a friend and go for a Joy/Sadness combo. For Joy, you just need a cute yellow dress (with flowers, if possible — re-purpose your Kate Middleton dress!) and some hair gel to achieve Joy's ruffled hair. For Sadness, grab the blandest turtleneck possible and those Harry Potter glasses I know you have displayed on your shelf. Add a pair of blue jeans or blue tights and you are ready to go. If you want to add "memories" to the look, fill a knapsack full of spray-painted Styrofoam balls (or if you have them sitting around, some of those weird decorative balls people put in baskets).
7. Big Brother Twin Twist
Julia and Liz were big news when it was revealed they were twins on Big Brother. If you are a twin, you and your sibling can wear the purple/white tank top combo and stick together all night. If you're not a twin, then subtly change your look ever so often to keep your friends guessing. Are you Julia? Are you Liz? They'll never know!
8. Kit Harington's Hair Watch
This is going to take a small amount of DIY, but I believe in you. Break out your best powersuit (and add a Stark/wolf pin to the lapel if you have one) because you are a news anchor on Harington hair watch. Now, either print out pics of Harington's evolving hair style over the past year or break out the crayons and color his black locks at different lengths on a strip of poster board. Now beside each look add a little note about what each length means for Jon Snow's survival chances. Full curls: Jon lives! No curls: Full on "Jon is dead!" panic.
9. Kimmy Schmidt (Unbreakable Kimmy Schmidt)
Go to your closet and grab all the brightly colored clothes you have. All you need is a yellow cardigan, a floral shirt, pink jeans, a purple backpack, and eternal optimism.
Now you have nine costume ideas to choose from, so it is time to get cracking — your Halloween look is waiting.
Images: Fox; CBS; Giphy (7)