7 Shadows To Shop Instead Of The Sold Out UD Vault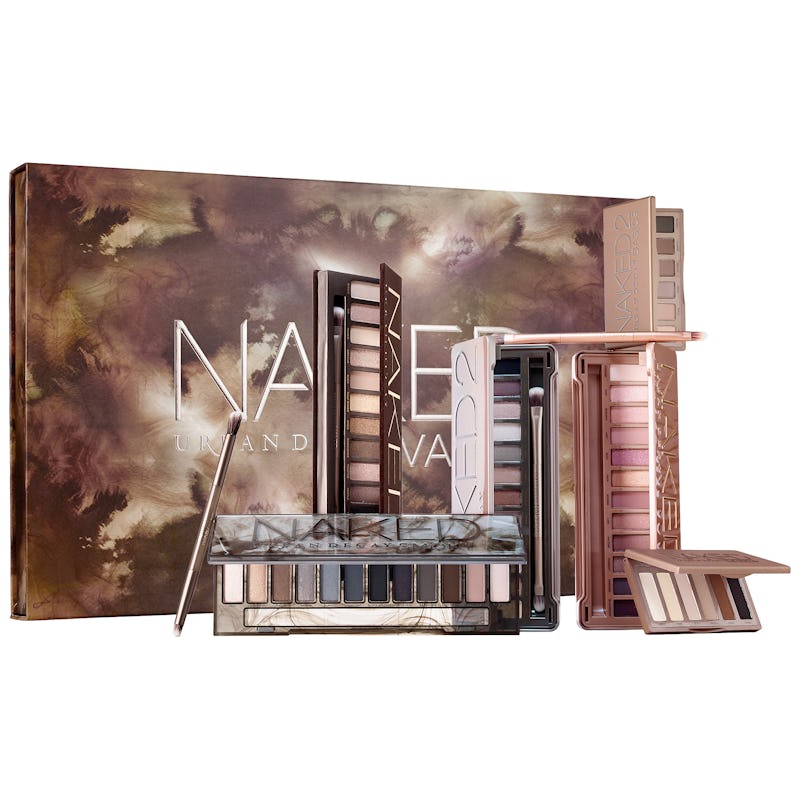 As I'm sure you already know, the Urban Decay Naked Vault II is sold out. Basically, you've got one more chance to get it until the foreseeable future, but if you didn't get your hands on it yet, you still got options. These seven shadows to shop instead of the Naked Vault — or in place of — can offer cheaper prices, incredible pigmentation, and flawless consistency. So while you may not be able to get the Vault any longer, you can nab equally as amazing cosmetics in the meantime.
The Urban Decay Naked Vault II launched on Tuesday with thunderous applause and a sellout that was practically instantaneous. It's not hard to see why. When you compare the first volume to the latest, there's actually even greater savings. While the 2014 Vault gave you $80 in savings, the 2015 counterpart gives you a full three digits at $109 in savings. Plus, the new vault extended its reach of shadows. It not only features the four full-sized Naked Palettes — including the Naked Smoky — but also the two Naked Basics. Essentially, you've got everything you need in a great, compact case. If reading about the benefits of the Vault II has now got you down, though, don't worry too much. There are other great shadows on the market that can help fill the void in equally as amazing ways.
Here are seven similar dupes to shop if you didn't get your hands on the sold-out UD Vault II!
Morphe 35K Palette
Morphe 35K Palette, $22.99, Morphe
I can't rave enough about Morphe eyeshadows. They're creamy, highly pigmented, and I can't even begin to describe the bang for your buck. These shadows are of equal quality to an Urban Decay shadow, in my opinion. The 35K palette is one of the newest from the brand, and the neutrals are an incredible mix of shimmers and mattes. They're not exactly like the Naked Palettes, but they're just so darn good.
Makeup Geek 9-Shadow Starter Kit
9-Shadow Starter Kit, $49.00, Makeup Geek
Makeup Geek shadows were started by one of my favorite YouTube gurus, Marlena Stell. These shadows are YouTube guru faves, and it's not just because she's a fellow YouTuber. It's, in fact, because the shadows are easily some of the best on the market. Creaming and highly pigmented, they're guaranteed to give great pay off. This starter palette is perfect for both natural and smokey eyes, much like Urban Decay's Naked Palettes.
Colour Pop Where The Light Is
Where the Light Is, $20.00, Colour Pop
This Colour Pop palette was created by YouTuber Kathleen Lights, but the reason it's on this list is because of the shimmering golden tones in it. They remind me quite a bit of Half-Baked from Urban Decay.
Lorac Unzipped Gold Shimmer & Matte
Unzipped Gold Shimmer & Matte, $42.00, Ulta
The beauty of this palette knows no bounds in my opinion. It's stunning gold tones in mattes and shimmers are basically like a palette based totally around Half-Baked — one of the most popular shadows from Urban Decay's Naked Palettes.
The Balm Nude'Tude
Nude'Tude, $36.00, The Balm
While The Balm definitely has some questionable names for their shadows, they're nonetheless amazing. From the frosty white to the deep brown, this palette has great variety, and quite a few of the shadows are similar to those in the Naked 3.
NYX Nude on Nude
Nude on Nude, $25.00, NYX Cosmetics
Talk about variety! This palette features great cool toned shadows that I love, and they harken back to the cool tones in the Naked 2 palette. Plus, this palette comes complete with lips colors!
Coastal Scents Revealed 2
Revealed 2, $19.95, Coastal Scents
For me, this palette is an incredible dupe for the Naked 3. While it's obviously not exact and not designed to be a dupe, it is nonetheless a rose gold and neutral brown dream. I adore the colors in this palette, and I think it's a great way to get Naked 3 looks for a fraction of the price.
Images: Courtesy of brands.