The Night Stalker May Be Done On 'AHS'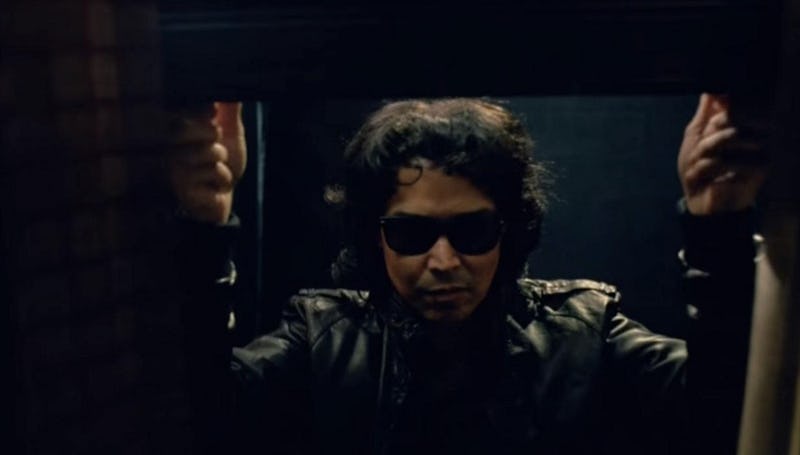 While it's certainly true that Mr. March's "Devil's Night" dinner party on AHS: Hotel wasn't exactly my cup of tea, I'm not above admitting how intriguing it was to see all of these serial killers come together for a meal. It was like one big psychotic family. And the fact that they were all based on real-life killers made the experience all the more fascinating/terrifying. But just like with any good thing, I want more. One evening with these diabolical characters simply isn't enough. But can we expect characters like Richard Ramirez to return for more AHS: Hotel episodes? Unfortunately, the odds of that happening are looking slim at best.
That's not to say that Ryan Murphy won't decide to bring The Night Stalker or any of the others back in some small capacity later on, but as of right now it seems like this week was their main time to shine. Anthony Ruivivar (who plays Ramirez) doesn't even have AHS: Hotel listed on his IMDB page. And while that may not be an outright guarantee (IMDB isn't always the most up-to-date), it certainly indicates that he won't be playing a bigger role on Hotel down the line. Which is too bad because his craziness in particular was really enjoyable to watch. I mean, I may need therapy because of it, but still. Totally worth it.
As for the other killers, it seems as though the sun has set on their roles for this season as well. John Carroll Lynch, who played John Wayne Gacy and Lily Rabe who portrayed Aileen Wuornos are both listed as only appearing in "Devil's Night." Nothing more, nothing less. But hey, I wouldn't put it past Murphy to surprise us with a cameo or two at some point this season. These characters are just too good to get such a small dose of screen time. And something tells me they'd deliver quite the killer encore.
Image: Suzanne Tenner/FX