This Dress Is Going Viral For A Hilarious Reason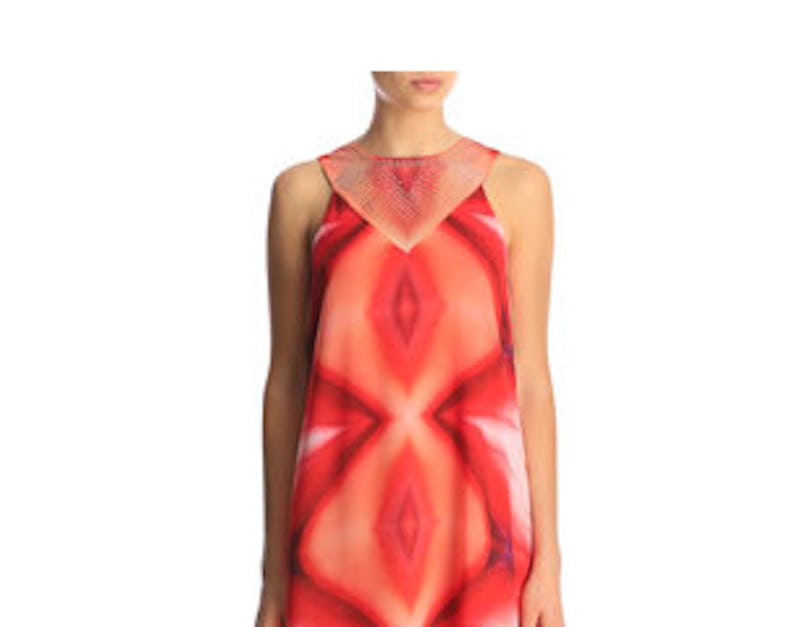 This is either a rather unfortunate accident or a total genius trolling move on the designer's part. Perhaps he was waiting to see when customers noticed? Well, the time has come. At first glance, Wayne by Wayner Cooper's Sahara Beaded Maxi looks like a pretty, flowing dress, with a pink and white swirl pattern. But upon closer inspection, the dress looks like a vagina print. Sort of.
Is this "vagina dress" the new version of the "Is it white and gold or is it black and blue?" dress drama that broke the Internet this past winter? Maybe, since the frock has gone viral.
Sam Jockel, a mother of three, bought this dress. She was excited about both the fit and the look. She told Buzzfeed that she has high hips, so finding a suitable dress can be a challenge for her. The struggle is real for many women when it comes to finding a perfect fit, so I get it.
"The dress was a great fit and beautifully made and the color suited me, so it was feeling like a winning day to have found a dress I needed for some upcoming events," Jockel told Buzzfeed. "Once I got home, I put it on to show my hubby and within half a second he was already laughing."
That's night a nice reaction, right? Well Jockel continued, telling Buzzfeed, "I asked him what the laughing was all about and he said, 'It looks like you are covered in giant vaginas!'"
Whoa. Ignore the beaded neckline. Forget the mullet hem. Focus squarely on the print. Is it an optical illusion? Are you seeing lady parts because the dress has gone viral because someone else looked at it and saw lady parts? Or are you really seeing lady parts?
The Internet is talking about the vagina dress, which retails for $155 USD, and the perception of it. After all, perception is reality, right?
I mean, the shape and the shades sort of resemble female genitalia. But here are three other things the pattern looks like.
1. Eyes
It's like diamond-shaped eyes flipped on their side. Since there's a lot of pink, it's eyes with conjunctivitis, maybe? Or eyes with pink pupils? IDK.
2. The Lips On You Face
If you squint and tilt your head, it might resemble the lips on your face with a bit of tongue showing and while swiped with bright pink lipstick.
3. Masquerade Ball Mask
Could it be innocent, geometric shapes enhanced by tie-dye coloring? Perhaps. From this vantage point, it looks like an eye-covering, masquerade ball mask.
Earlier this year, Demi Lovato dealt with controversy when she covered up a lips tattoo that she said was always mistaken for a vagina. Is there a market opening up for vagina-inspired fashion? Would it be the worst thing in the world? I'll leave that one to you guys to discuss amongst yourselves.
Images: Wayne by Wayne Cooper (5)