How Sandra Bullock Defied Hollywood Norms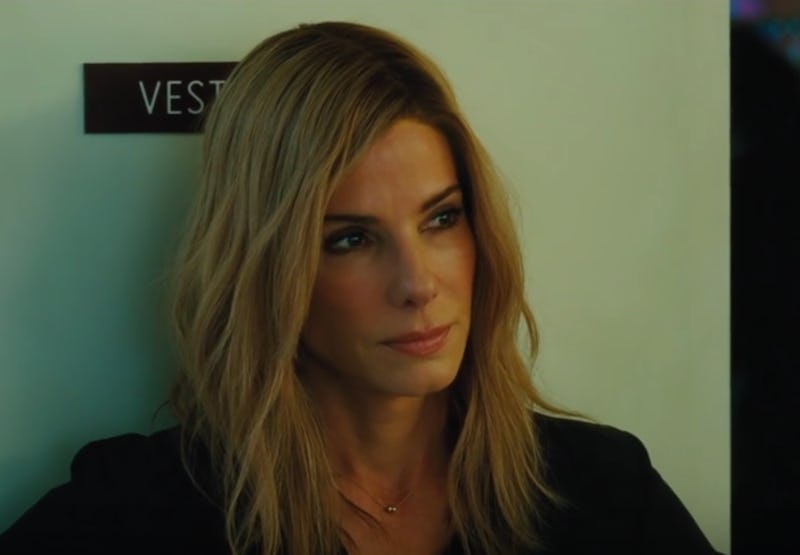 Sandra Bullock made headlines at the Toronto International Film Festival this summer with the premiere of her newest film, Our Brand Is Crisis. More specifically, she made headlines when she, along with the filmmakers, confirmed that her starring role in Our Brand Is Crisis was originally written for a man — and not just any man, George Clooney. Bullock said she is hopeful that Our Brand Is Crisis will inspire other studios and actresses not to shy away from potentially gender-swapping roles. In fact, the trend has already grown this year alone. Our Brand Is Crisis is the third major release of the year with female leads originally written for men — parts in Tomorrowland and Magic Mike XXL were also tinkered with to change genders. It should be noted that most of the gender-swapping roles happens either at a lower level (i.e. not the lead) or for massive stars like Bullock. According to her festival discussion, it was years after Bullock won her Oscar for The Blind Side , and just after her starring turn in Gravity, that she began asking to read for male parts. The weight of Hollywood clout was behind her — a luxury not many women in show business enjoy. That said, here are seven other powerful women who got the chance to do their thing with a role originally intended for a male actor.
Sigourney Weaver — Alien, The TV Set, Vantage Point
Sigourney Weaver is practically the queen of gender-swapping roles. She's done it over and over in her career — most recently in The TV Set (2006) and Vantage Point (2008). The first, and most iconic, time this occurred was in Alien (1979), when Weaver took over the role of Ripley — originally intended to be a man. Both Weaver and Ripley went on to become huge feminist icons in the film industry and the sci-fi genre. Since the original Alien, Weaver has played Ripley three times, and is set to reprise the role in Neill Blomkamp's upcoming Alien sequel.
Angelina Jolie — Salt
Angelina Jolie's kick-ass role in Salt, spy Evelyn Salt, was originally named Edwin Salt. Tom Cruise was actually close to closing a deal for the role before he dropped out, but before you think Jolie's casting in Salt is just a lesson that women have to wait for men to drop out to grab their roles, consider this: it was ex-Sony head, Amy Pascal, who suggested sending the script to Jolie in the first place.
"Well, Tom [Cruise] was never signed, but he was really thinking about it. We needed a start date, so we needed an actor. Amy Pascal, head of Sony Pictures, said 'Let's send it to Angelina.' It seemed for a moment to be an outrageous idea!" Salt director Phillip Noyce told E! News of the switch.
Jodie Foster — Flightplan
Flightplan (2005) was originally written about a widower who loses his daughter on an airplane and is told his daughter is long dead. After starting with an actor in the main role, director Robert Schwentke said that there was just something missing, and soon the filmmakers decided to rework the script with a woman in the lead.
Glenn Close — The Paper
Ron Howard's 1994 film about a tabloid paper in New York originally had Glenn Close's cut-throat manager Alicia Clark written as a man. Writer Stephen Koepp has said that the role was barely altered to suit Close, and in fact, Close reportedly fought to keep a fight scene between her character and that of Michael Keaton in the script.
Jane Lynch — The 40-Year-Old Virgin
Jane Lynch may be a standout in The 40-Year-Old Virgin (2005) as the store manager Paula, but she almost wasn't cast in the role. According to Lynch, it was Steve Carell's wife, Nancy Walls, who suggested that they bring in the actress to read for the part of the store manager. "She said, 'You have so many men in your movie, at least read Jane for the store manager,' and they did and we improvised and we had a good time and they cast me," Lynch told Marlo Thomas in an interview.
Britt Robertson — Tomorrowland
According to Tomorrowland writer-director Brad Bird and co-writer Damon Lindelof, there was a moment during development that Britt Robertson's leading character, Casey Newton, was a boy. But, once they decided to make the protagonist a young woman, the writers made a conscious choice to exclude any romantic plot lines for her character from the film. "It'll be nice in 10 or 15 years for this not to be a thing anymore," Lindelof told Vulture, speaking on the expectation of romance with a female lead. (amen, man.)
Jada Pinkett Smith — Magic Mike XXL
In Magic Mike XXL, Jada Pinkett Smith's Rome, the owner of a private strip club where the goal is to serve women, was originally written for a man. It's unclear exactly how Pinkett Smith ended up with the part, but both Channing Tatum and director Greg Jacobs reportedly convinced her to take the role, which turned out to be one of the best parts of Magic Mike XXL.
Many other actresses have played roles originated by, or intended to be played by actors. Viola Davis plays a role originally written as male in Ender's Game (2013) and Rosalind Russell's iconic role in His Girl Friday (1940) was also written as male, and performed as such as the play The Front Page. And, while it's comforting to know there are filmmakers willing to tweak scripts and be more flexible when it comes to the gender of characters, it's time we had more female-driven scripts to begin with.
Images: Warner Bros. Pictures; Giphy (7)