9 Designers & Brands That Expanded To +Sizes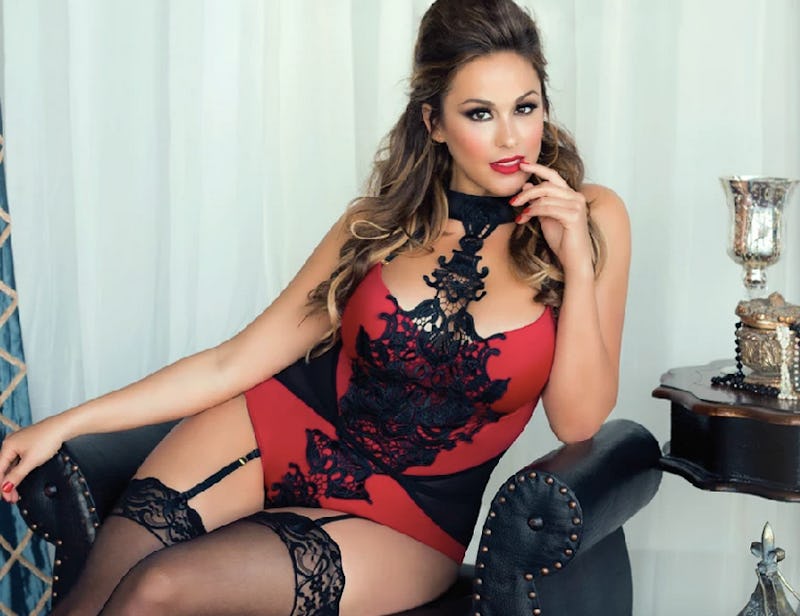 As someone who is deeply entrenched in plus size fashion as both a designer and a writer, I feel like I am always bemoaning the lack of plus size fashion options available as compared to our straight size counterparts. Change is definitely happening, but when you look at it by the facts, it's clear to see where that frustration stems from.
In an Oct. 2010 interview with New York Mag, chairwoman of fashion design at Los Angeles' Otis College Of Art And Design Rosemary Brantley told the publication that most design students aren't even taught to make plus size clothing. "Design students have no interest in plus size design, and as a result, few schools offer extensive courses in the specialty," she said. While one can hope that interest has increased in the five years since, plus sections of the few fast fashion or department stores that actually have them are still tucked away in back corners of brick and mortar stores with only a handful of options. The reality is that being plus size in today's society is still deemed as less desirable than being straight size, and I can't help but wonder if that stigma outweighs the clear need for more options.
In many ways, indie designers are carrying the torch by being size inclusive or plus-focused, but they aren't the only ones. Though it may not always make headlines, more and more designers and brands are continuing to add plus options. This list of straight size designers and brands that turned size inclusive is hopefully only the beginning.
1. Dorothy Perkins
Dorothy Perkins is a UK-based brand with a 90-year history in the fashion game. The addition of its new line DP Curve offers pieces in U.S. sizes 14-24. It's a change so new that the brand's about page still lists its size range as only going up to an 18. DP Curve features a fairly large selection, and while prices aren't quite fast fashion levels, all items range from $21 to $135.
2. Rachel Pally
Rachel Pally is a designer known for blending simplicity with glamour and has been sold in over 500 stores worldwide. Upon reading up on this 12-year-old brand, I learned that it's been doing plus sizes since 2007 as Rachel Pally White Label. While you can't find every single piece available in plus sizes, the online store stocks the season's best-sellers in sizes 14 to 22.
3. Michael Kors
Michael Kors is pretty much a household name when it comes to fashion designers. But what most people probably don't know is that he does plus sizes. In a Sept. 2014 statement to the New Yorker, however, a rep for Michael Kors said that they have been doing plus since 2007 and that "Michael prides himself on being able to dress women of all shapes and sizes." Armed with that knowledge, you can find plus size options on the Michael Kors website, albeit only shown on straight size models.
4. Oh La La Cheri
When I think fashion-forward sexy lingerie in a size 4X, Oh La La Cheri is one brand that quickly comes to mind. Although the brand itself was founded in 2006, it didn't add plus sizes until Feb. 2015. The brand's creative director Nicolas Attard told The Curvy Fashionista that they did eight years of extensive market research before releasing their curve line. From the looks of it, all that research gave plus size women exactly what was lacking in the market.
5. ModCloth
ModCloth was founded in 2002 and first added plus size options back in 2013. I have praised ModCloth for its body positive efforts in the past, though recently the brand sparked debate when it decided to remove the word "plus" from its site and replaced it with an "extended sizes" category on the sidebar in an effort to have all shoppers be able to shop together. That being said, M.C.'s inclusivity in its photo campaigns, namesake brand, and campaigns is always worth taking note of.
6. Chromat
If you've seen an increase in caged bras, bralettes, and crop tops in plus, I can bet that Chromat's influence is responsible. This brand started crafting its now signature silhouette and structure in 2010 as an extension of designer Becca McCharen's background in architecture and urban design. It first extended to curve in fall 2014 when plus size model Denise Bidot made headlines opening its NYFW show. While every item Chromat makes is not available on site in plus, it does offer custom sizing, which, excuse the pun, is a big plus.
7. Jenny Packham
I've read a lot about how shopping for plus size bridal-wear is even more of a headache than everyday shopping. Through my research, I found that British designer Jenny Packham was not just a favorite of Kate Middleton, but that like Chromat, she made headlines by using plus size models at a fashion show in April 2015. Its online store does not feature any gowns, but from the runway pictures alone, I am here for this brand doing plus.
8. Kate Spade
I hesitated putting Kate Spade on this list because its plus size section doesn't house a full range of sizes. However, since the size extension for the brand is something that was only added in Feb. 2015, I thought it was worth noting that it extended all of its items online to a 16, which is approximately a 1X. If you're on the smaller side of plus and have a preppy sophisticated style, then this is a win for you!
9. Rent The Runway
In a world where rental is quickly becoming the norm, it seems important to mention that one of the innovators of fashion rental company Rent The Runway is offering plus. I remember first learning that the brand carried plus sizes thanks to blogger Kelly Augustine's fabulous 2014 holiday lookbook featuring gowns from Rent The Runway. But upon doing some more research, I found that it had launched its plus division a year prior in Sept. 2013. Its current plus section features over 200 gowns from designers like Marina Rinaldi, Badgley Mischka, and Tadashi Shoji in sizes 14 to 22.
Although there remain limitations to the size ranges and offerings of some of the designers on this list, plus size is on their radar. And that is a great place to start.
Images: Courtesy Brands