How +Size Women Feel About ModCloth's Latest Move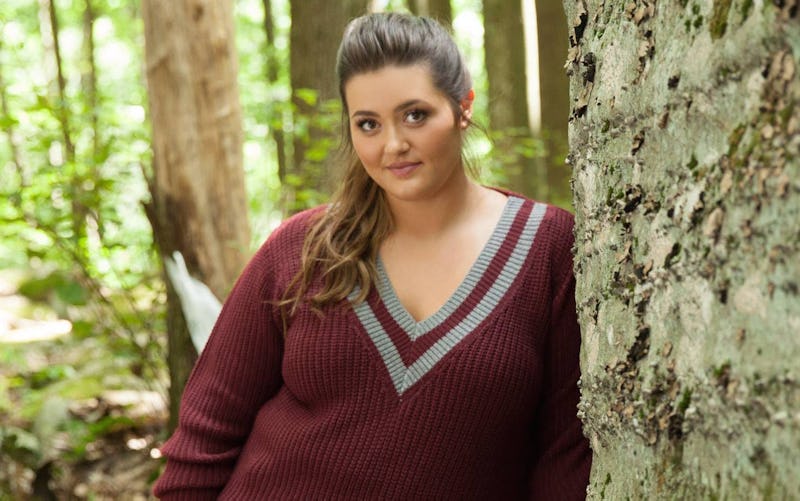 On Oct. 6, vintage-inspired retailer ModCloth announced that it would be retiring its plus size section. Upon first hearing those words, I thought my heart was going to burst out of my chest like it nearly did after realizing there would be no Season 6 of Breaking Bad. ModCloth, after all, was supposed to be one of the more body positive places to shop out there. From its crusade against Photoshop to its employee-modeled swimwear lookbook, M.C. has been pioneering the movement to make larger brands and designers more inclusive and diverse (something that's largely been spearheaded by the indie retail community up until this point). How could it — of all stores — abandon plus size women at a time when the mainstream fashion and beauty industries are finally starting to embrace them?
Of course, my borderline panic attack came before I read the official announcement. ModCloth wasn't "retiring" plus size clothing. It was eradicating the label, choosing instead to sell both straight and plus size garments under the same categories, with an option to refine the results via an "extended sizes" category on the sidebar.
According to the press release accompanying the news, ModCloth surveyed customers about their relationship with the word "plus," finding that approximately two-thirds of women were "embarrassed by having to go to a separate section of the store to find plus," while just slightly over half "no longer wanted to be labeled plus" at all. As with anything pegged to labels, branding, self-description, and the empowerment of women, though, ModCloth's move has stirred up a conversation amongst the plus size community.
It's important to first note where the inspiration behind this decision came from. It resulted, in part, from customer reactions at the ModCloth Fit Shop, the brand's San Francisco shopping experience for which folks can book appointments, get their measurements taken alongside fit assistance, and shop a full size range in 90 percent of the garments. "We had this realization as customers were coming in that there was this incredible reaction to being able to shop everything," Susan Koger, ModCloth's co-founder and Chief Creative Officer, tells me on the phone. "And being able to shop it all together."
Koger admits, "Personally, I'm not plus size and I haven't been plus size, so I can't empathize with the experience of walking into a store and worrying that there won't be products that fit me. But I can certainly relate to the experience of feeling othered, and of walking out of a store feeling worse about my body [than when I came in]." In the end, this is why the choice to remove "plus" from the main category bar atop the site was rooted in one thing: Creating a more inclusive, self-love-inducing shopping experience.
However, not unlike when model Stefania Ferrario and The Biggest Loser (Australia) host Ajay Rochester teamed up in Mar. 2015 to launch the Drop The Plus Campaign, fuller-figured women (many of whom have actively embraced the term "plus") have had pretty conflicting feelings about ModCloth's news. While some see it as a progressive step to combat sizeism in retail, others feel uncomfortable with the fact that there's still an option to search "extended sizes" rather than full-on integration of XXS through 4XL on a singular page.
Blogger, designer, and writer Alysse Dalessandro of Ready To Stare expresses concerns with the terminology via Facebook. "'Extended' implies that it is beyond the 'normal' range of sizes, which is pretty much the same as 'plus,' except that 'plus' is the term people know to look for when shopping," she says. Plus size blogger and model Natalie Hage echoes the sentiment, saying, "'Extended sizes' sounds like when people use 'overweight.' Over what weight? Extended beyond what size?" When I asked Koger about her decision to opt for the term "extended" sizes, she suggested that it felt more neutral — less creating of a divide than "plus" has been. She also indicated that ModCloth hopes to include other sizes that are often considered extended (like tall, short, and petite) in the future in order to cater to as many humans as possible.
ModCloth's decision isn't without its praise, though. "I'm going to be overly optimistic and say that this is, perhaps, one of the first steps a major retailer has taken to acknowledge plus size women as people and not a lower, unlovable caste that must be sequestered to a lonely rack in the corner near the restrooms," Bustle's own Suzanne Samin writes me on Facebook, "It isn't revolutionary and it isn't enough. But it's something and I can be appreciative of that."
It's times like these that I feel it's important to consider a brand's history. Although body shaming is still an engrained aspect of contemporary living, body positivity — the term arguably more than the activism — has been a buzzword throughout 2015. This means that some retailers have jumped on the bandwagon, seemingly co-opting body positivity without necessarily understanding it.
ModCloth, however, has taken active steps (especially in the last three years) to embody the message it preaches. Even before model Tess Holliday was signed to Milk Management in Jan. 2015 and "body positivity" started popping up on practically every women's publication on the web (including those still telling readers how to "lose their belly fat now" on the next article down), ModCloth was actually being body positive — doing things like signing No Photoshop pledges to ensure its editorial practices were as inclusive and celebratory of all bodies in their natural states as possible.
This isn't a brand that's been isolating plus size women for decades, only to Instagram a couple of photos with the #bodypositive hashtag and calling it a day. This is a brand that's always seemed to care. As Koger tells me, "Shopping should be a fun experience, and you shouldn't come away from it feeling bad about yourself in any way."
One of the ways it has demonstrated that care is by conducting customer surveys. "We have to remember that the statistics [ModCloth] collected helped to determine this decision, so they are attempting to listen to their customers and client base," says Courtney Mina, model, blogger, and writer, over Facebook. "I don't really care what you call it/refer to it as long as you carry it with integrity." In a way, it's "integrity" that makes M.C.'s move seem progressive. Because the brand has proven that it has its customers at the heart of every major decision, this seems like a "next step," if you will. The "extended sizes" label still exists for searching purposes, but ultimately there's still more integration. As Chrystal Bougon of Curvy Girl Lingerie says, "Every single retailer that has plus sizes and straight sizes has a separate category for each on their websites. Why shouldn't they all just be blended together?"
As someone who actively supports the reclamation of terms like "plus size" as well as "fat," it feels almost counter-intuitive to support anything remotely tied to #DropThePlus. Reclaiming the term "plus size" has been one of the most progressive moves in my own life. I've learned that being plus size certainly isn't anything to feel ashamed of. If anything, the steps plus size women have taken to love their bodies and inspire others to do the same is nothing short of radical — something that should generate pride. ModCloth's move doesn't feel like an invalidation of that, though. It feels more like an attempt to try something new, see how the communities (both of customers and of size acceptance advocates) respond, and take note of further changes that can be implemented.
Granted, labeling something "extended sizes" after thousands of women have finally started to embrace and show the beauty in all things "plus size," feels a little weird. What might have been more positively received could have been for M.C. to keep the filtering option to search for specific sizes without needing any size-related categories at all. Blogger Mel Chillag of Upon The Sea tells me via Facebook that the change makes it more upsetting for her to shop there. "Now it means you have to look at options not available in your size," she explains, referring to the fact that you must hover over a category before you can choose the extended styles section, rather than clicking directly from the main menu bar. We can likely assume, however, that ModCloth — just as it's always done — will continue to listen to customer critique.
What's arguably crucial to remember when we think about what size inclusive, body positive retail will look like in a couple of years is what plus size babe Zoë Meers hints at on social media, "There's a lot else that needs fixing in the industry and the term 'plus size' isn't one of them." Something that does need to be fixed is the still-lacking options for plus women out there. While indie brands are arguably doing more for body positivity than their fast fashion or big name counterparts, ModCloth is one of the only larger brands out there doing its part in an industry that might finally be ready for some sort of shift. And that's definitely something. For me, that something feels pretty big.
Images: Courtesy ModCloth