Get To Know Bond's Newest Friends & Foes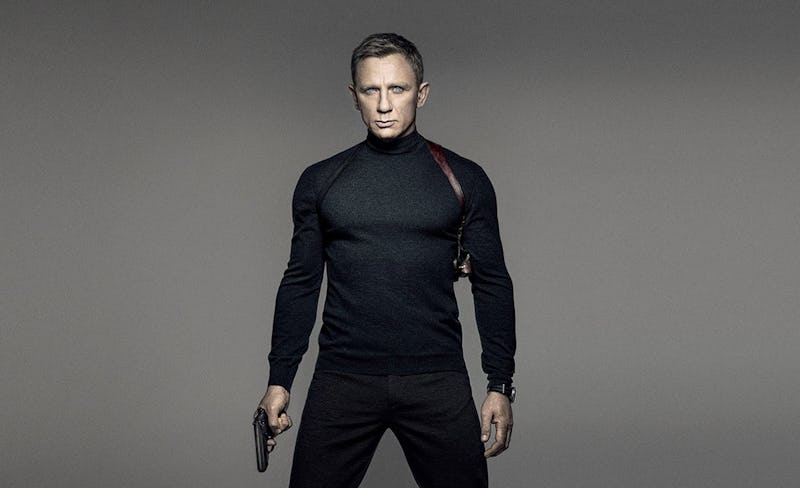 A James Bond film is still a major cinematic event, and thus, it still calls for a major cinematic cast. Spectre is no slouch in the casting department, surrounding four-time 007 Daniel Craig with an astoundingly talented and worldly ensemble. The impact of a Bond mission (or its failure) is set up to be felt on a global scale, so it makes sense that the Spectre cast, which includes Monica Bellucci, Christoph Waltz, and Léa Seydoux, would be as international as the story's scope.
There's a certain distinction for making it into the Bond universe. It's a tradition that's now over 50 years old. The cast of Spectre is joining the ranks of not just famous Bonds like Sean Connery and Pierce Brosnan, but also supporting actors like Diana Rigg, Eva Green, Christopher Lee, John Cleese, and Dame Judi Dench. And this new line-up has their work cut out for them. Spectre follows 007 on mission deep into the heart of an unknown enemy, the villanous organization from the title. Of course, as always, he'll have a few martinis and wrinkle some sheets on the way. Read on to get to know the cast of Spectre.
Daniel Craig As James Bond
Craig is often credited with reinvigorating the Bond franchise with Casino Royale, Quantum Of Solace and Skyfall. He also brought a literary phenomenon to international movie screens in The Girl With The Dragon Tattoo and saddled up with Harrison Ford in Cowboys and Aliens. Bond fans should check out his breakthrough work in the 2004 crime drama Layer Cake.
Léa Seydoux As Madeleine Swan
This French actress is working on making a global name for herself. Festival audiences went crazy for her in the lesbian romance indie Blue is the Warmest Color, and she joined Wes Anderson's quirky cast of regulars in The Grand Budapest Hotel. Now, she's a psychologist with a powerful family in Spectre.
Christoph Waltz As Oberhauser
Waltz has two Oscars to his name and a devoted following, so he's a no-brainer for Spectre's mysterious genius who might have personal ties to Bond.
Monica Bellucci As Lucia
At 51, Italian actress Monica Bellucci is breaking barriers as the oldest Bond girl in the franchise. She plays the widow of one of Bond's in-the-line-of-duty victims, and according to Craig, being romanced by her was certainly no chore.
Ralph Fiennes As M
Oscar nominee, experienced stage actor, and a damned scary Voldemort, Fiennes brings his posh charm back to Bond universe as 007's boss.
Ben Whishaw As Q
You may not know the name of the actor who plays this Bond's gadget guru, but you've almost certainly seen Ben Whishaw's face. Outside of this series, he's appeared in the British television drama The Hour, the newest adaptation of Brideshead Revisited, and the trippy ensemble movie Cloud Atlas, among many other projects.
Andrew Scott As C
Could C be a double agent? I don't know, but Andrew Scott sure does play a delightful bad guy, as evidenced by his turn as Moriarty on the BBC's Sherlock.
Dave Bautista As Hinx
Former wrestler Bautista gained mainstream cred as Drax in Guardians Of The Galaxy, and is set to appear in the sequel as well. His acting roles usually skew towards the action-packed, so look out for some stuntwork for his Spectre assassin.
Naomie Harris As Moneypenny
This British actress is also making her return to Bond as M's right hand. You may have seen her in Southpaw this year, or possibly in one of Disney's Pirates Of The Caribbean sequels.
Will Spectre be as huge and impressive as its cast would suggest? You can find out when it comes to theaters on Nov 6.
Images: Columbia Pictures; Giphy (8); heroes-get-made/Tumblr