'Hocus Pocus' Cast Reunited For Halloween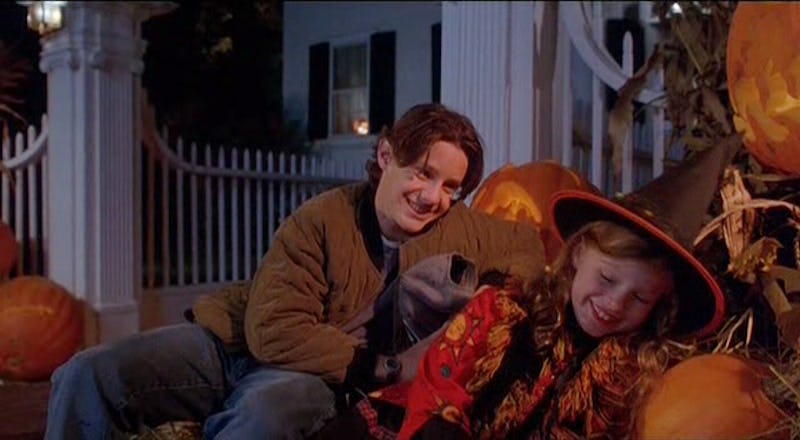 Did Halloween feel a little extra magical this year? That's because somewhere out there Dani, Max, and Allison got together for a Hocus Pocus reunion — and they documented the joyous occasion on Instagram. See kids, Halloween miracles really do happen! The adorable Thora Birch, Omri Katz, and Vinessa Shaw reunited for Halloween, and yes, it is the cutest thing you will see this Nov. 1. Since the Hocus Pocus sequel is still reportedly on hold, per Winifred Sanderson (Bette Midler) herself, this is the closest you are going to get to seeing a grownup Dani, Max, and Allison hanging out together, at least for now.
The sweet photo would be enough to make even the Sanderson sisters reconsider sucking out the souls of children for at least an afternoon. Knowing the cast is still friendly warms my heart, and seeing them together gives me all of the nostalgia. Seriously, prepare yourself to have a lot of feelings when you see this group shot. Remember, this was taken on Halloween, which means the stars of your favorite childhood Halloween classic spent the holiday that their movie always makes better together. Yes, this reunion is basically the greatest thing that has ever happened to '90s kids, and it may be the absolute pinnacle of the decade's nostalgia. Take a look at these cuties all grown up:
It seems like it was just yesterday that Allison and the Dennisons were trying to keep the Sanderson sisters from running amok in Salem. Now the actors are busy adults who apparently still make time to hang out with each other occasionally. Hocus Pocus means so much to so many people, and it's the best possible treat to know Birch, Katz, and Shaw have stayed in touch. While both Birch and Shaw still have busy acting careers, Katz hasn't been on-screen since 2002, so getting a glimpse of him is an especially nice surprise. Even though he appears to have left his acting days behind, '90s kids and, thanks to Halloween showings, today's generation too, will always remember him as the best reluctant big brother a kid could have this side of Binx (Sean Murray).
In fact, the only thing that could have made this Hocus Pocus reunion better would have been an appearance by Murray, or the voice of cat Binx, Jason Marsdan. Still, the three core non-witch actors ventured out on Halloween night one more time and shared a little piece of their bewitching evening with their fans. If that's not enough to make you declare Halloween 2015 the best Oct. 31 ever, then I don't know what is.
Image: Disney; Giphy