Cures For Your Hopelessly Dry Winter Skin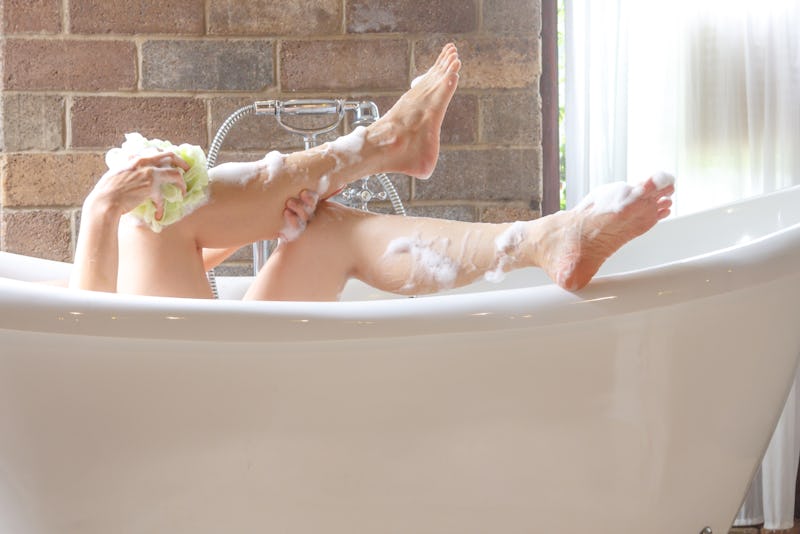 This frigid weather has not only taken a toll on our souls, but it's also made everyone's skin as dry as sandpaper. Unfortunately, it doesn't look like it's going to be getting warmer any time soon, so instead of continuing to slather bottles upon bottles of lotion on your itchy, crackled hands and legs, we suggest soaking yourself in a warm, soothing bath.
The best part about it? You don't have to leave the heated indoors to go out and buy an expensive bath soak. All of the ingredients can be found inside your kitchen cupboards and will have your skin feeling soft and rejuvenated, stat.
MILK AND HONEY
Milk and honey — do we really need to tell you how good these two ingredients are for your skin? Milk is great for nourishing and exfoliating, while honey is super-hydrating and has anti-fungal and anti-bacterial properties. Pour a half-cup of honey into a big mug. Next, pour boiling water into it and stir until it melts. Add 1-2 cups of milk into the mug (depending on how big it is) and stir them together. Swirl this mixture into a warm bath, sit, soak and enjoy!
CORNSTARCH
Sure, you use cornstarch to thicken up your sauces and stews, but, according to the NIH, it may actually be the key for curing winter's itchy and dry skin. All you have to do is sprinkle a handful of it into the bathtub and soak. It's really as simple as that.
OATMEAL
No matter what kind of skin you have, Natural News reports that oatmeal can help heal dry, itchy skin. Take a large coffee filter and fill it with 1/2 cup of oatmeal (preferably not instant). Tie it tightly at the top and place it in a warm bath. Let it soak for a couple of minutes before you get in. Squeeze the oatmeal bag to release some of the juices. If you're feeling extra dry, you can also add some milk to this bath.
COOKING OIL
The idea of soaking in an oil-infused bath makes you feel kind of like a piece of meat. But if you can get over it, certain oils that usually live in your kitchen may actually be good for your skin. Choose a cooking oil like olive oil, grapeseed oil, or sunflower oil, Rodale News suggests, then mix a few spoonfuls with some sugar and pour it into a warm bath. Scrub your knees, elbows and hands with any extra sugar and oil mixture you have leftover.
Images: Fotolia