The Best Heist Films Come Out Of Nowhere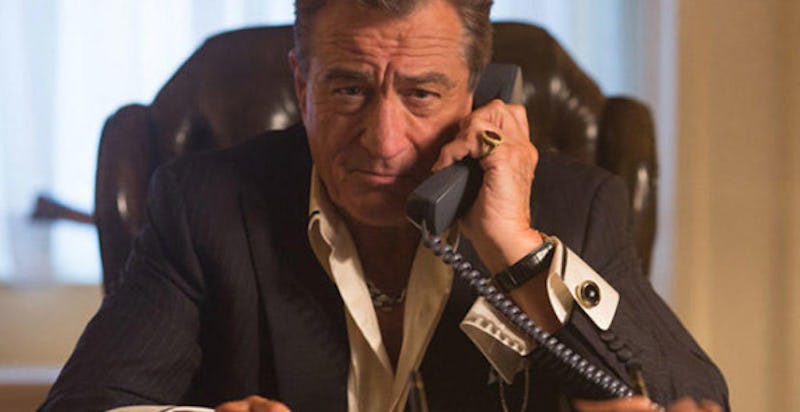 Hollywood loves a good heist movie, and the latest film to fall into that thrilling tradition is appropriately called... Heist. The movie's plot is pretty crazy, but sometimes truth can be stranger than fiction. So could Heist be based on a true story? The story goes like this: A desperate father (Jeffrey Dean Morgan) robs a casino (owned by Robert DeNiro, naturally) in order to cover his sick daughter's health expenses. But things quickly get out of hand, and he ends up hijacking a bus at gunpoint. Like I said, pretty crazy, but is it based in reality?
If this one seems just a little too bonkers to be true, that's because it's not. Heist is a complete work of fiction, written by Stephen Sepher. It's only the second feature penned by Sepher after the 2005 indie boxing film One More Round, and the first with big name actors. But just because the events in Heist didn't happen in real life, that doesn't mean it's not continuing the film industry's legacy of these types of movies. On the contrary, some of the best heist movies have sprung from the minds of their creators, and that creativity is why the films are so popular. Just how popular are they? Well, there are currently around 30 heist movies in development, if that serves as any indication. So in honor of Heist becoming the latest, but certainly not the last, heist movie to come from Hollywood, here are six of the best.
Ocean's Eleven
Probably the best known heist movie franchise, the original from 1960 starred the "Rat Pack" in their most famous on screen outing as a group of impossibly cool guys who rob a casino. George Clooney headlined an all-star cast in a trilogy remake of somewhat uneven quality throughout the early 2000s, and now a new reboot is planned with Sandra Bullock leading a female group of thieves.
The Italian Job
Another 1960s heist movie that earned a modern remake, the original Michael Caine starrer from 1969 is about a group of British thugs who set out to steal a lot of gold from the Italian mafia, and the film is widely renowned for having some of the best car chases ever on film. The 2003 version starred Mark Wahlberg, and was considerably less British.
Heist
No, the new Heist is not a remake of this 2001 film. This Heist is about a professional thief (Gene Hackman) who is lured out of retirement for "one last job," a recurring theme in many heist movies.
Inception
Christopher Nolan's trippy 2010 dreamscape may appear to be science fiction, but it's still a heist movie at heart. This time though, instead of stealing something, the film's protagonist (Leonardo DiCaprio) has to sneak into someone's mind and implant something. And yes, it's even crazier than it sounds.
Inside Man
This 2006 film starring Denzel Washington drew acclaim for its insanely complicated and clever heist, outdoing most other films of the genre in its execution of a bank robbery.
Ant-Man
Isn't Ant-Man a superhero movie? Well, yes, but like several other Marvel movies, it mixes up the formula by also incorporating another genre into the fold. The film plays largely like a classic heist movie, with Ant-Man using his new powers to steal a similarly powered suit, after having already stolen his first one. Got that?
It remains to be seen if Heist will be as fondly remembered as, um, Heist, but it definitely has tradition in its favor. People like heist movies, and Heist has just the type of winding plot and stellar cast that could make it the next great film of the genre.
Images: Lionsgate