11 '90s Songs You Listened To After A Breakup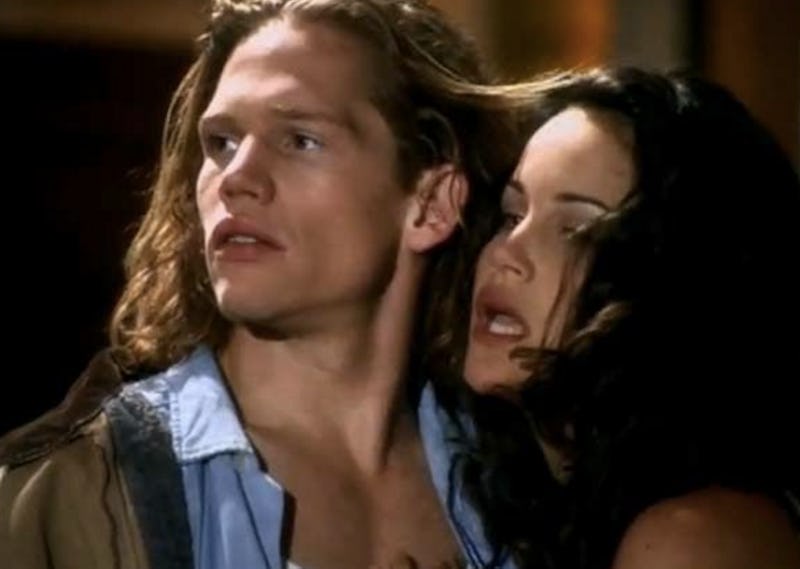 As the '90s are the gift that keeps on giving, it's time to remember all the songs we used to listen to back when we wished our love lives would turn out like Zack and Kelly. Don't know about you, but I never found my Mark Paul Gosselaar. Instead, I listened to these musical masterpieces, which helped me through my romantic calamities in the '90s. Putting these songs on and reminiscing will remind you of a way simpler time. It's also pertinent to remember that crying is therapeutic. Like, totally. That's why '90s breakup songs were written to begin with, OK?
If you've recently been through a breakup, you'll understand better than anyone the need for certain rituals to get you through the most painful time, like, ever. Hopefully, your friends have been on hand to bring you Starbucks in bed (a girl can dream, right?!) and lend you copies of books like He's Just Not That Into You (total classic!). What you're also going to need is an all-important playlist of the saddest songs of all time. It's weird, because listening to sad music when you've just been through a terrible breakup sounds like the worst idea ever. But there's something super healing about finding the right song for a particular situation. Especially one that can speak to the empty space where your heart used to be. Here's a selection of '90s wonders for anyone who just had their heart broken.
1. "You Oughta Know" — Alanis Morissette
First up, it's healthy to get a little angry with your breakup. It's over, and whether you did something wrong, or they did, it's good to remember the reasons you're not with that person anymore. Let Morissette vent for you.
2. "Without You" — Mariah Carey
For that stage when you're sitting at home in your pajamas on a Saturday night, eating ice cream right out of the tub, just like Bridget Jones, and pretending you're on American Idol with your rendition of a Mariah Carey classic. You go, girl!
3. "Stay" — Lisa Loeb
From classic movie Reality Bites, and with a music video directed by Ethan Hawke, Loeb's "Stay" is a '90s staple.
4. "Un-Break My Heart" — Toni Braxton
I remember slow dancing to this song at the end of year dance with a guy whose name I don't even remember now. Lifetime plan to make a movie of Braxton's life with this very title, in fact.
5. "End of the Road" — Boyz II Men
A classic that spent 13 weeks at the top of the Billboard Top 100 way back in 1992.
6. "Nothing Compares 2 U" — Sinéad O'Connor
The totally minimalist video to this song is definitely what inspired Miley Cyrus' "Wrecking Ball." Major kudos! And it'll have you in tears before the end.
7. "Angel" — Sarah McLachlan
So many of McLachlan's songs are the perfect music to weep to, but "Angel" in particular is heartbreaking. The fact that it was on the soundtrack to City of Angels only adds to the misery.
8. "High and Dry" — Radiohead
This, and "Fake Plastic Trees," were my go-to breakup songs throughout the '90s. Sure, it doesn't hurt if your breakup playlist contains some songs with credibility, right?
9. "Think Twice" — Celine Dion
A total legend who owns the entire genre of breakup songs. Dion legit deserves that Vegas residency, which one day I will definitely get to.
10. "Don't Speak" — No Doubt
With Gwen Stefani's comeback hit, "Used To Love You," being every bit the breakup anthem, it's important to remember classic Stefani in the form of one of No Doubt's best remembered songs.
11. "Always" — Bon Jovi
What can be said about "Always"? Not only does the video star Keri Russell, the song is the perfect antidote to a breakup. Listen to Jon Bon Jovi croon away several hundred times and you'll be ready to move on with your life. Trust me. The '90s are here to help.
Images: Giphy; BonJoviVEVO/YouTube