Justin Bieber's Album Teaser Raises Some Questions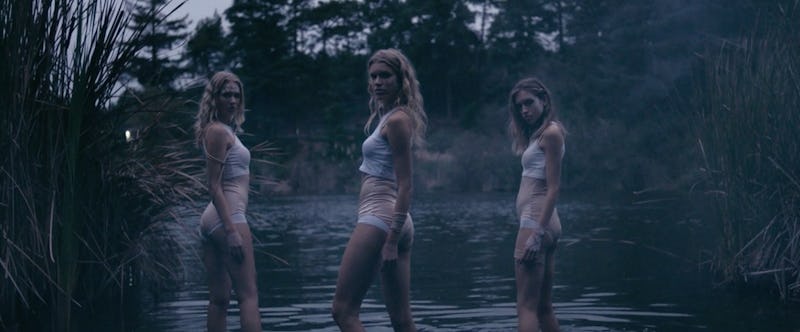 If there is one thing that is making this month amazing — aside from the promise of pie at the end — it's that Justin Bieber is releasing his new album, Purpose , right smack dab in the middle of it. And just in case you could ever forget that fact, or the title, or the date of its release, Bieber has gifted us all with aPurpose teaser trailer (see below). You know, to keep us foaming at the mouth in the lead up to the big day.
Purpose will be released on November 13th — but on Friday, one week before the big day, Bieber dropped a little bit of social media magic into all of our laps. The teaser is a minute and a half long and gives us a few hints at the music that is forthcoming on the new album (many thanks for that, Biebs!), but otherwise the whole thing is leaving me with a lot of questions.
I mean, I guess the whole purpose of a teaser trailer is just to tease you with a little bit of information/entertainment to get you excited for the real thing. And, in that way, the video is totally effective. I'm excited! I'm totally entranced! But the video? It made me cock my head to the side, furrow my brow, and wonder, "What exactly is happening here?"
There were other questions that the video raises, too. Questions like…
Who Are Those Scantily-Clad Women In The Woods?
Are they the female fans who are coming out of the woodwork because of Bieber's new album? Or are they the Sirens, those musical goddesses whose music led men to their death? I kind of like that last one, not gonna lie. Especially since, if they are sirens, the Biebs is definitely the one being tamed in this video.
Did Kanye West Dress Them All?
Because I've haven't seen so many neutrals/crop tops since his runway show.
Is That The Tree Of Knowledge?
And are they about to sin in a major way?
How Did Justin Bieber End Up Lost In The Middle Of The Woods?
Doesn't he have a handler to prevent things like that from happening?
When Did Bleached Blonde Tips Come Back Into Fashion?
I'm going to have to call Lance Bass to consult with him on this.
How Did This Piano End Up Outside?
I think I could believe it a bit better if it were a little more roughed up.
Is Justin Bieber Wearing Pants?
Because that shirt is at that awkward length where you can't really tell.
See what I mean? As much as I am delighted to have a little taste of what's to come on Justin Bieber's new album, I have to say, this teaser definitely raises more questions than it answers. I guess we'll all just have to wait until next Friday to find out what it all means.
Image: Justin Bieber/Twitter (7)